Last year in late September, Nathalie (@nathalie_wanders) and I escaped Paris for a summer weekend in Seville.
It was my first time in Andalusia and I couldn't wait to discover its capital! Here's what we've done with some other highlights, in hopes that it helps you for trip planning!
Itinerary
Real Alcázar
When you ask anyone who's been to Sevilla for their recommendations, they will almost all say Plaza de España and/or Real Alcázar, as both are main landmarks. The Real Alcázar is a royal palace set in the heart of Seville. UNESCO registered it in 1987 as a World Heritage Site. It is on almost everyone's recommended list and for a good reason: this palace is a masterpiece. The amount of tile work truly is mesmerizing. The gardens are also immense, offering a nice time away from the crowds.
I suggest you to buy your tickets in advance online, because even by doing so, you will have to wait. We wanted to do so but unfortunately decided too late. We arrived before the opening and the queue was already forming. Luckily we only had to wait about 20 minutes.
The patio in the photo is the sublime Patio de las Doncellas (Patio of the Maidens), at the heart of the palace. Surrounded by beautiful arches, plasterwork and tiling, it is my favorite part of the palace.
Casa de Pilatos
Same as the Real Alcázar, Casa de Pilatos also has an impressive display of tiles. It is a beautiful palace in the historic Santa Cruz neighborhood, that seemed to be much quieter and less crowded, perfect to check out on an afternoon. Built in the 15th century, this Andalusian palace incorporates a wonderful mixture of Mudéjar, Gothic and Renaissance decor, with some beautiful tilework and artesonados (ceilings of interlaced beams with decorative insertions).
I couldn't get enough of all the details- inspiration overload! From the mix of colors to the geometric shapes and intricate carvings, there is something to be noticed in just about every corner.
Catedral de Sevilla & Giralda
Seville's immense cathedral is awe-inspiring in its scale and majesty. The Cathedral of Saint Mary of the See was built between 1434 and 1517 over the remains of what had previously been the city's main mosque. It is the world's largest Gothic cathedral.
The Giralda, the mighty bell tower, was the minaret of the mosque, constructed between 1184 and 1198 at the height of Almohad power. Its proportions (it tops out at 104m), delicate brick-pattern decoration and color, which changes with the light, make it perhaps Spain's most perfect Islamic building.
Metropol Parasol
Since opening in 2011, the Metropol Parasol has divided the opinion. Designed as a giant sunshade by German architect Jürgen Mayer H, it is said to be the world's largest wooden structure. From the top, you can enjoy killer city views.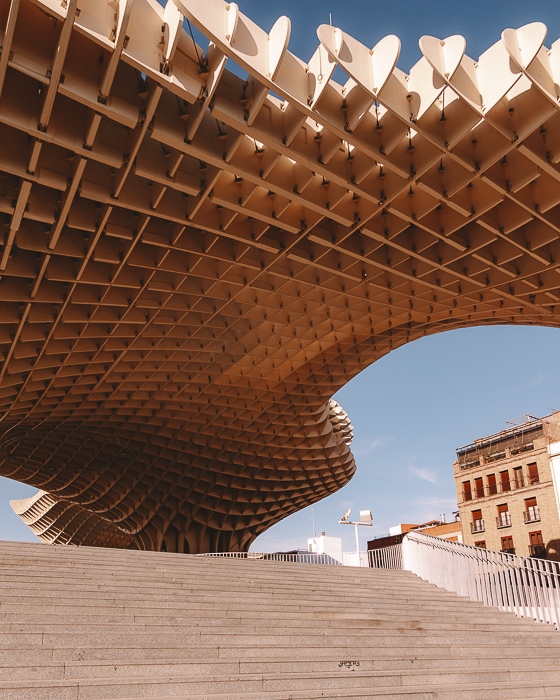 Plaza de España & Parque de María Luisa
We woke up early to visit Real Alcazar at opening, and so did we for Plaza de España. Located in Maria Luisa Park, this beautiful plaza is covered in yellow and blue ceramic details. During the day it's usually filled with people, but at sunrise you'll have it all to yourself. The buildings really light up and glow with the morning golden sun.
It was the most grandiose of the building projects completed for the 1929 Exposición Iberoamericana. A huge brick-and-tile confection, it's all very over the top, but it's undeniably impressive with its fountains, mini-canals and Venetian-style bridges.
You will also find tiled alcoves representing maps and historical scenes from each Spanish province along one side of the plaza.
Archivo de Indias
The Archivo de Indias (General Archive of the Indies) provides fascinating insight into Spain's colonial history. Established in 1785, it houses documents and maps relating to Spain's American empire. It is a vast 7km of shelves, 43,000 documents, and 80 million pages dating from 1492 to the end of the empire in the 19th century. There, you can have a look to some fascinating letters and hand-drawn maps!
Other highlights
Hospital de los Venerables Sacerdotes: this museum, housed in a former hospice for ageing priests, is a gem.
Museo de Bellas Artes: it provides an elegant showcase for a comprehensive collection of Spanish and Sevillan paintings and sculptures.
San Luis de los Franceses: it is the finest example of baroque architecture in Seville.
Where to eat
---
Those are the highlights from our trip (aka what I found to be the can't-miss moments). But there is so many other things to do! Just around, stopping when something caught your eye (especially the colorful Spanish tiles), beautiful doorways, floors and courtyards of the homes, is alone worth the stay! I personally can't wait to go back to explore more of Andalusia!
I hope this weekend guide to Seville will be useful for you and if you need, feel free to reach out with any questions! And don't forget to tag me in your stories and posts on Instagram if this article inspires you !
With love,
Marina
P.S.: Looking for weekend getaway inspirations ? Find out about other perfect destinations here!
---
If you liked this post, pin it for later!