Holà from Barcelona! I started the year in this wonderful city, undoubtedly one of the most beautiful European cities and one of my favorites! I am very excited to share with you the best photography spots you cannot miss while in Barcelona! If you have yet to discover the Great Enchantress, let me tell you that Barcelona has it all. Imagine an enchanting seaside city, with boundless culture, fabled architecture and a world-class drinking and dining scene.
I'm putting together those photography spots that I managed to shoot in one single day, from sunrise to sunset. Of course it all depends on the weather conditions and the season you're visiting. Barcelona is a year-round destination and off-season like mid-winter is probably my favorite. The weather is warmer than the rest of Europe and despite having the shortest daylight span, it is probably the less-crowded time as well.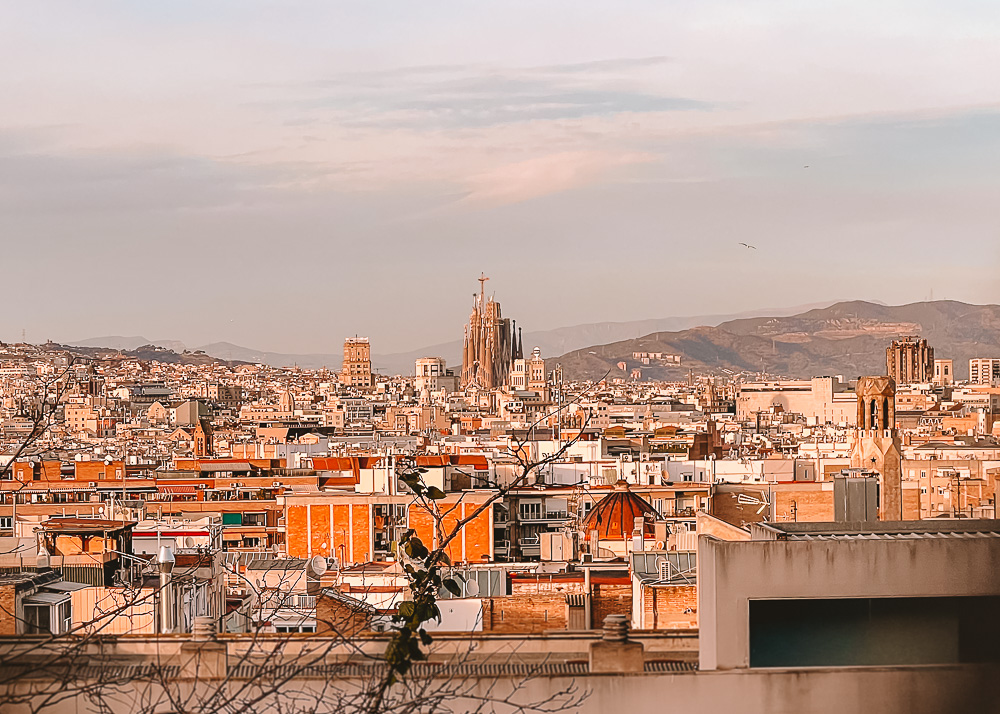 Sagrada Família
Symbol of Barcelona, the Temple Expiatori de la Sagrada Família (Expiatory Temply of the Holy Family) is probably the one place you shouldn't miss when visiting the Catalan capital. It is Gaudí's most famous work, even if unfinished, and is absolutely stunning!
Photo tip: Being a very touristy spot, sunrise is ideal if you want to have it all for yourself. The Sagrada opens at 9am and people starts queuing at 8:30am. So if you're coming during winter like me, you'll only get a 20-30min day-light window, which is still so worth it!
Façana del Naixement
The view from the front is certainly the most impressive spot to capture the scale of the Sagrada Família! If you want to have a picture without people, try to visit between 7-8am. I arrived at 7:55am, right at the end of the blue hour and it couldn't have been more ideal. If you want to capture the entire cathedral, you will need a wide angle lens. This photo was taken at 24mm and I could barely fit everything in the frame!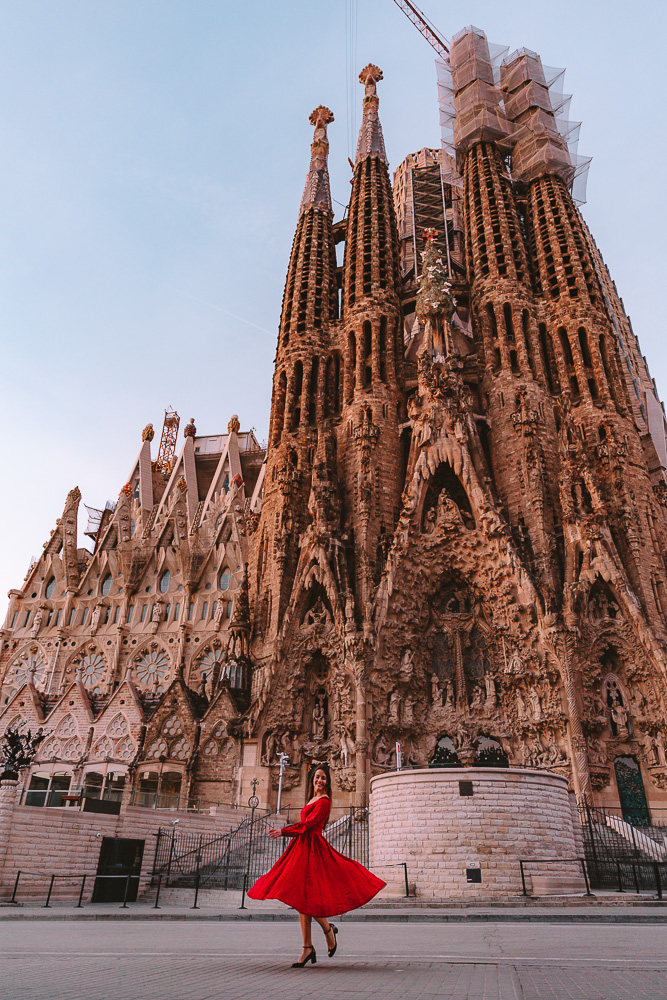 From Plaça de Gaudí
Plaça de Gaudí is probably my favorite place to take pics of the iconic Sagrada Família! It offers a different perspective, and if you're lucky, you'll get a wonderful reflection of the cathedral.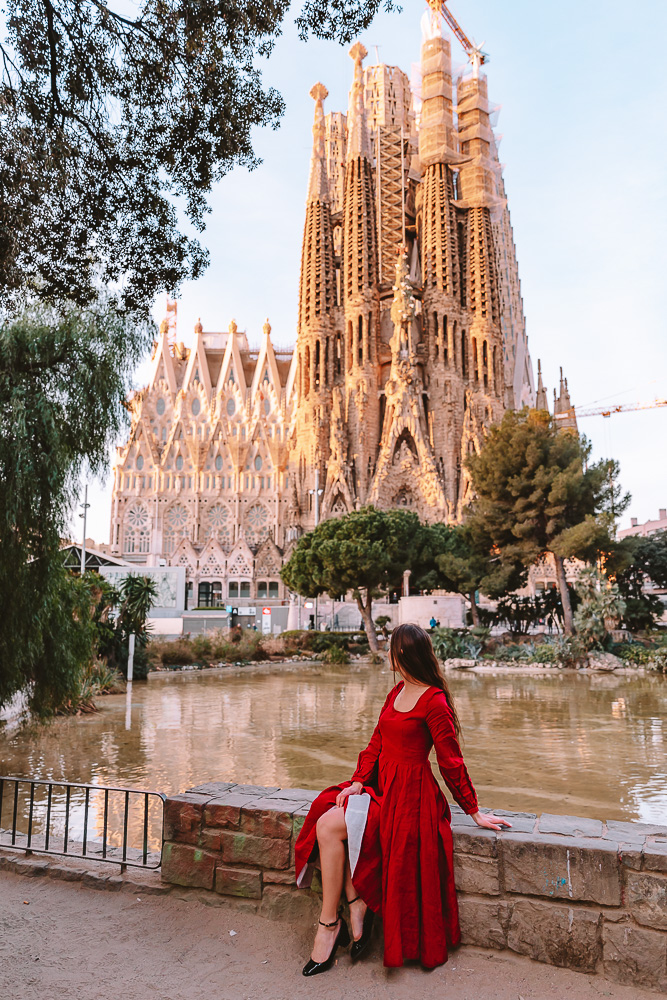 Palau de la Música
The Palau de la Música is one of the most overlooked gems in Barcelona. Built in 1908, the Palau de la Música Catalana is an architectural jewel of Catalan Art Nouveau. It is the only concert venue in this style to be listed as a World Heritage Site by UNESCO!
You can also plan your visit on a concert day or book a ticket for a ballet show there. You will undoubtedly be mindblown!
Note that it is open from 9am to 3:30pm (3pm for guided tours) and costs 16€ (20€ for guided tour) for an estimated visit time of 50min.
Photo tips:
– I highly recommend you go there at opening time.
– The concert hall & terrace are the most photogenic places and the ones that get the busiest. I suggest you go first to the highest floor for the concert hall then go down one floor for the terrace.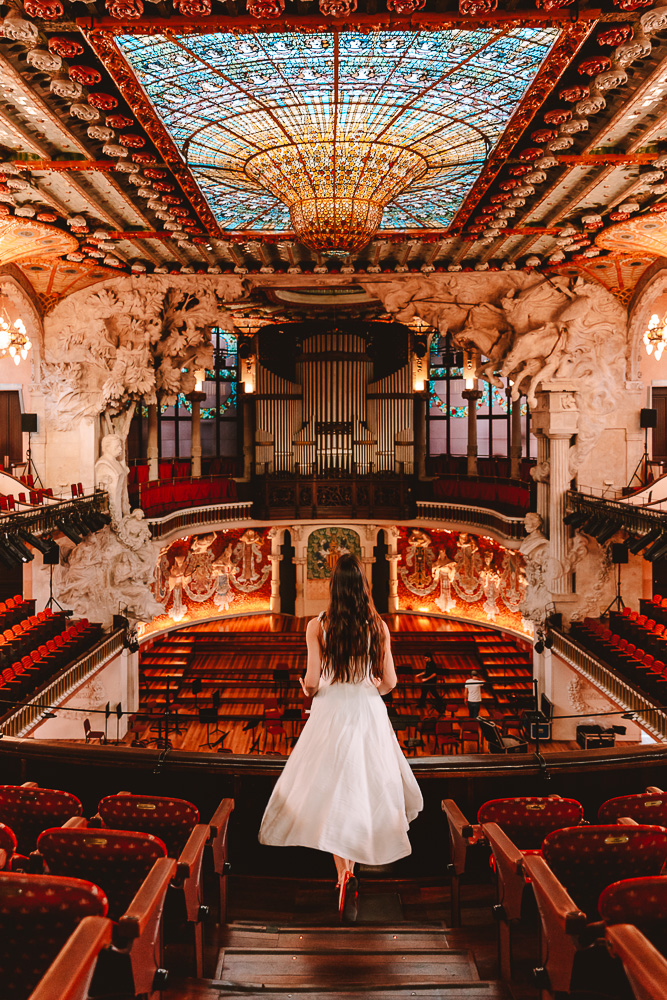 Arc de Triomf
Built in 1888 for Universal Exhibition, the Arc de Triomf is the gateway to the Parc de la Ciutadella, another of the best photography spots in Barcelona. The combination of red brick with the series of friezes around the arch make it a singularly beautiful landmark.
Photo tip: Agains all odds, it is best during the day (especially on a cloudy day) to avoid all the people of the morning/evening rush hour.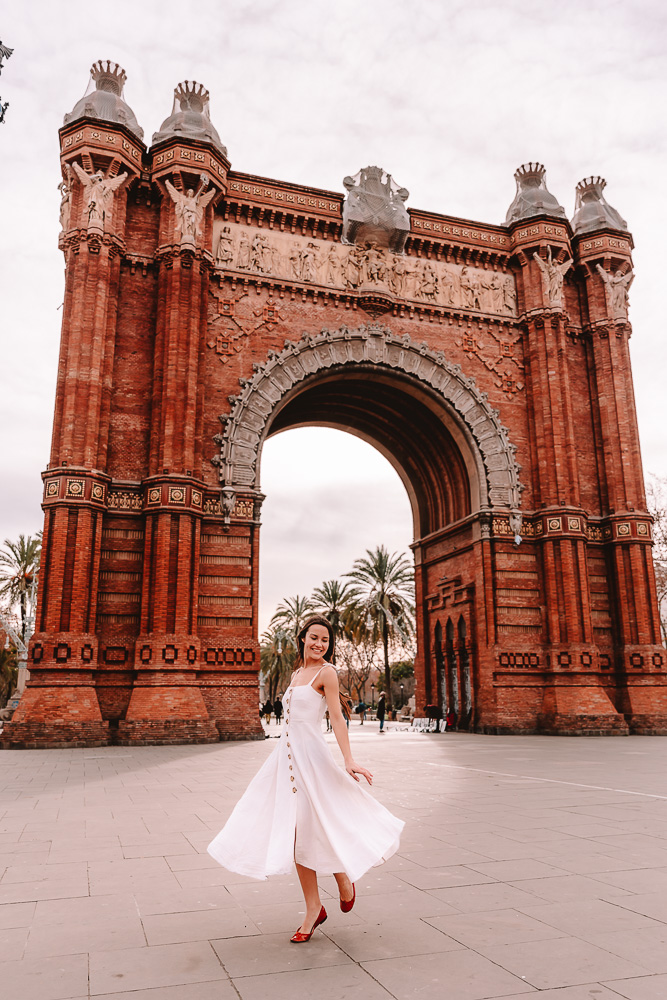 Parc de la Ciutadella
The Parc de la Ciutadella is Barcelona's most central green lung. It was built in the mid-19th century on the former site of the much-hated huge fortress (La Ciutadella) on the eastern side of La Ribera. You can come for a stroll, a picnic, a boat ride, a tour of Catalonia's parliament or just to marvel at the monumental fountain, la Cascada.
Also known as the Horse Fountain, the Cascada was created between 1875 and 1881 by Joseph Fontsére with a little help from young Antoni Gaudí. This very photogenic fountain is a dramatic combination of statuary, rugged rocks, greenery and thundering water, all of it perfectly artificial. The golden statue of the Roman dawn goddess Aurora atop of the fountain reminds us of Rome's famous Trevi Fountain. The little pond offers a perfect mirror opportunity on a non-windy day or an early morning.
Photo tip: We came at mid-day and were able to take all the photos and videos we wanted without having many people around. If your goal is to get the perfect mirror reflection, I'd suggest to come early, before the ripples start picking up.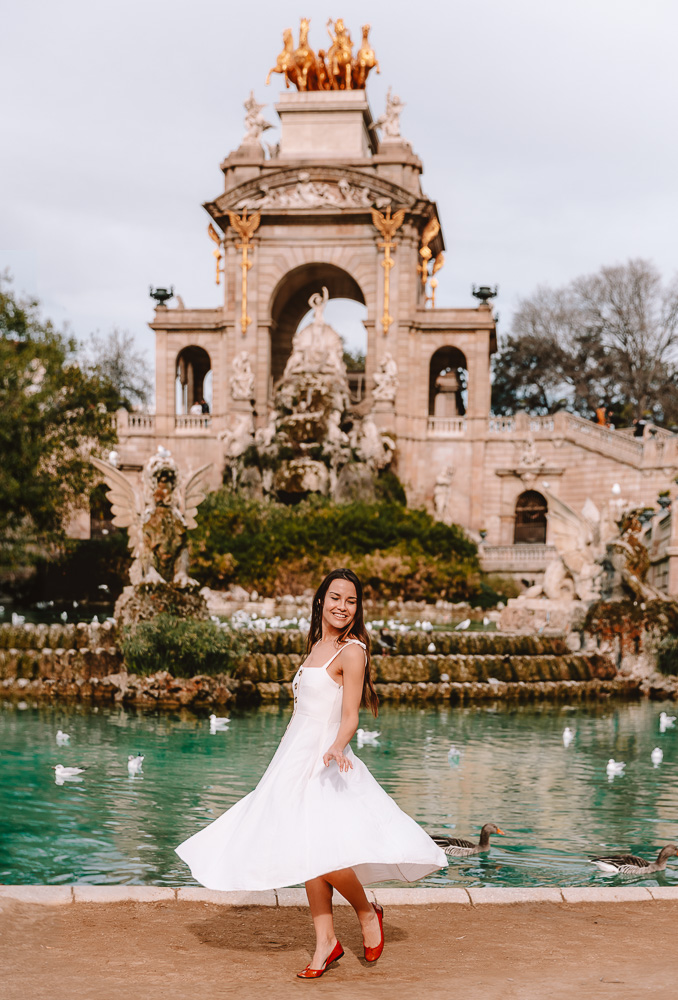 Barcelona Cathedral
Barcelona Cathedral is as magnificent as the rest of the city. Barcelona's central worship place has a richly decorated main facade while its other facades are simpler. It reminds me of a northern European Gothic's churches, setting it quite apart from other Barcelona churches. The main building was built between 1298 and 1460 while the facade was actually added from 1887 to 1890.
The view from the square is quite impressive but I find that the best view from is from the Hotel Colon rooftop bar! You can have lunch or just a drink and enjoy the beautiful view!
Photo tip: Once you get to the last floor with the elevator, make sure to find the staircases to go to the very last floor. Most people stops at the elevator floor but I find the view better from the very top!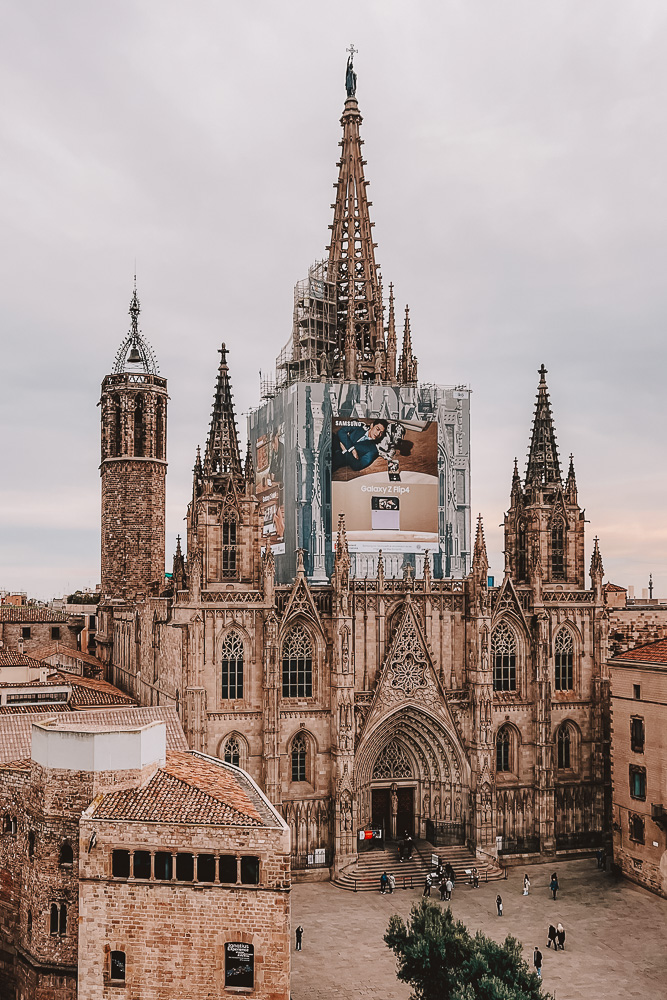 Park Guell
Last but not least, Park Guell is my favorite photography spots in Barcelona and one you shouldn't miss! With its waving balcony and colourful Guard House, it is a perfect architectural example of Catalan Modernism and one of Gaudí's most famous works. Tree-shaped columns and undulating forms merge in perfect harmony, and colourful broken tile mosaics make those shapes come to life. Built on top of a hill, it also offers one of the best views of Barcelona!
It is open from 9:30am to 6pm and entry costs 10€. Depending on the time of year you're visiting, closing time can be right around sunset time. This would be your only chance to capture the golden hour or the blue hour over the city.
Photo tips:
– This spot is named "Greek Theater" and is the one that gets the busiest. Ask a staff member to show you the way when you enter the park.
– If you want to have the place with as less people as possible, either come right at opening (and book your tickets online) or come an hour or so before closing time. FIY, those photos were taken between 5 and 6pm, sunset time in winter.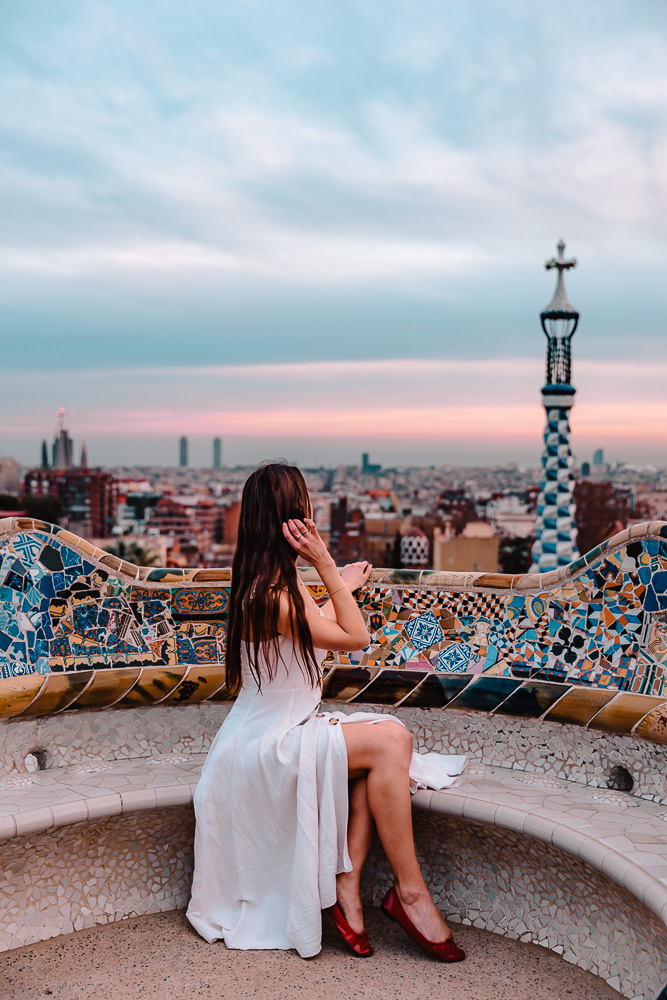 ---
Those are the best photography spots you cannot miss in Barcelona! But there is so much more to see and the city has endless photo opportunities! I would highly recommend you to walk and enjoy the city vibes. You will also get a wonderful view over the city from Montjuïc, as you can see in the photo at the beginning of this article! If you are spending a week or so there, you can also catch the train to go south and explore other coastal towns such as Sitges!
I hope this Barcelona photography guide will be helpful for you! If you need, feel free to reach out with any questions. And don't forget to tag me in your stories and posts on Instagram if this article inspires you!
With love,
Marina
P.S.: Looking for weekend getaway inspirations? Find your next destination here!
---
If you liked this post, pin it for later!