In the north of Italy, nested between Iseo and Garda lakes, lays the city of Brescia, second biggest city of Lombardy region after Milan. Only 35min away from Milan by train, it is often overlooked by tourists yet Brescia is Italy in a nutshell. From Roman ruins to Renaissance squares, medieval buildings and remnants of the country's Fascist period, it is a city rich in history with a stunning architecture.
I was lucky enough to spend a few days there with a local so here are my top things to do in Brescia!
24h in Brescia: the best things to do
The historical city center is fairly small and easily walkable. However apart from museums, it might be a bit tricky to get all the history about each place. I would recommend booking a guided tour of Brescia to get the most out of this Italian hidden gem!
Piazza del Foro
Start here for the archaeological complex of the Capitolium, a Roman Forum built in the 1st century B.C. It is a UNESCO World Heritage Site which features one of the most important collections of Roman relics found in northern Italy.
Santa Giulia Museum
Continue with this million stars museum for more history of Brescia & Lombardy, not far from the Forum. The building itself is impressive as it is a former Benedictine monastery. This museum features a vast collection of art and artifacts from Brescia's history, from the 4th century B.C. to the 1700s. It includes Roman ruins, medieval frescoes and Renaissance paintings, but the most impressive is the Romanesque Oratory of Santa Maria in Solario.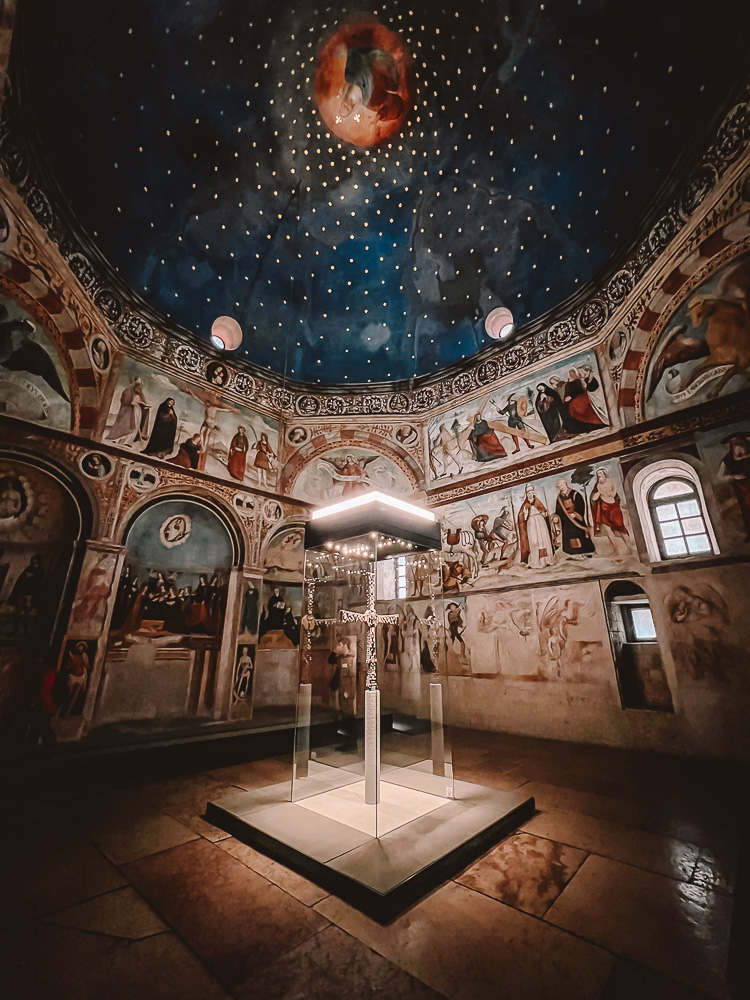 Piazza Paolo VI
This square is the religious heart of the city with not only one but two cathedrals! You will find the neoclassical Duomo Nuovo and La Rotonda or Duomo Vecchio from 12th century. The later features a mix of Romanesque and Gothic styles and beautiful frescoes and sculptures inside.
Biblioteca Queriniana
Biblioteca Queriniana takes its name from Cardinal Angelo Maria Querini, who commissioned the building and established the library in 1747. The library eventually opened to the public in 1750, becoming one of the first public libraries in Lombardy. As the provincial library, it keeps a copy of every document published in the province of Brescia, representing the documentary memory of Brescian culture, history, art and tradition.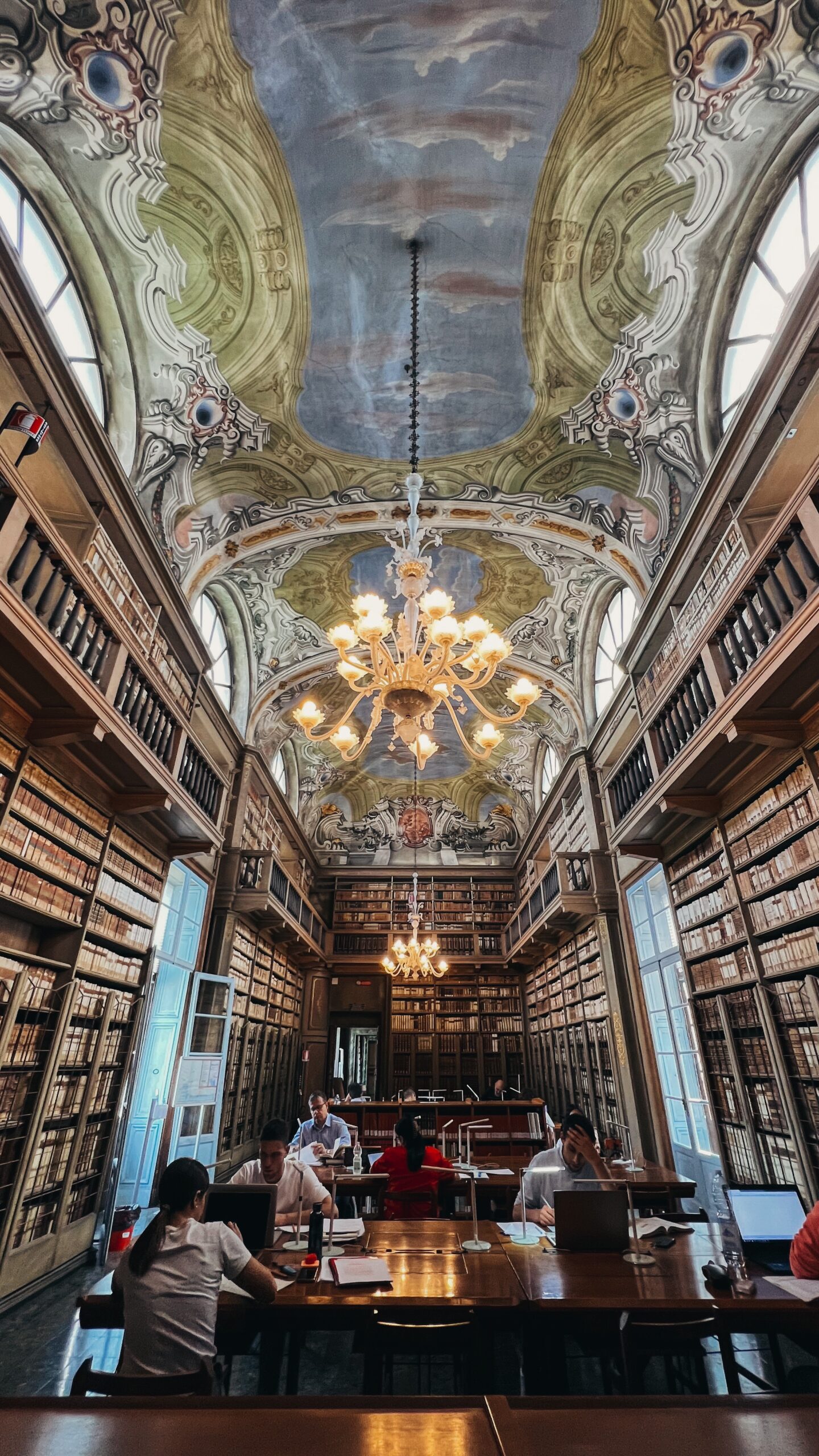 Piazza della Loggia
Piazza della Loggia is Brescia's most refined square with arcades, cafes, restaurants and shops. It features the Palazzo della Loggia is a beautiful Venetian-style building that now houses the town hall, and an exquisite clock tower.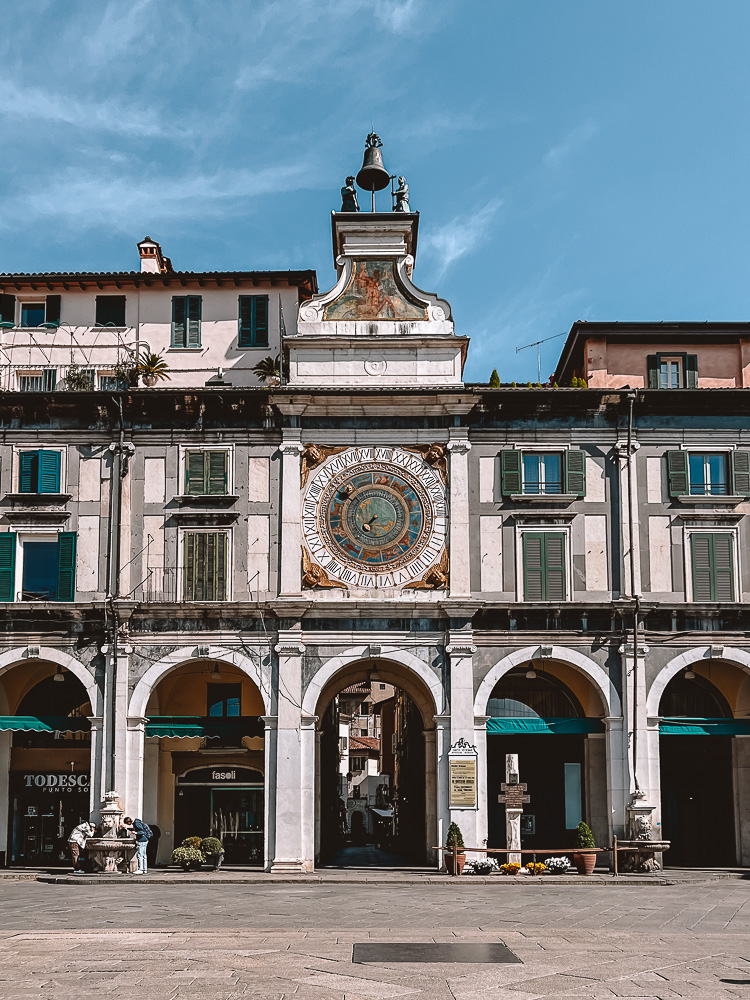 Piazza della Vittoria
This square has a very different architecture than all the others. Designed by Piacentini, it was opened in 1932 according to the new Fascist urban plan. This is where you find the imposing Post Office and the Torre della Rivoluzione. There is also this 60-metre high building, which is one of the first Italian skyscrapers. The speaker's stage arengario is decorated with bas-reliefs narrating the history of Brescia.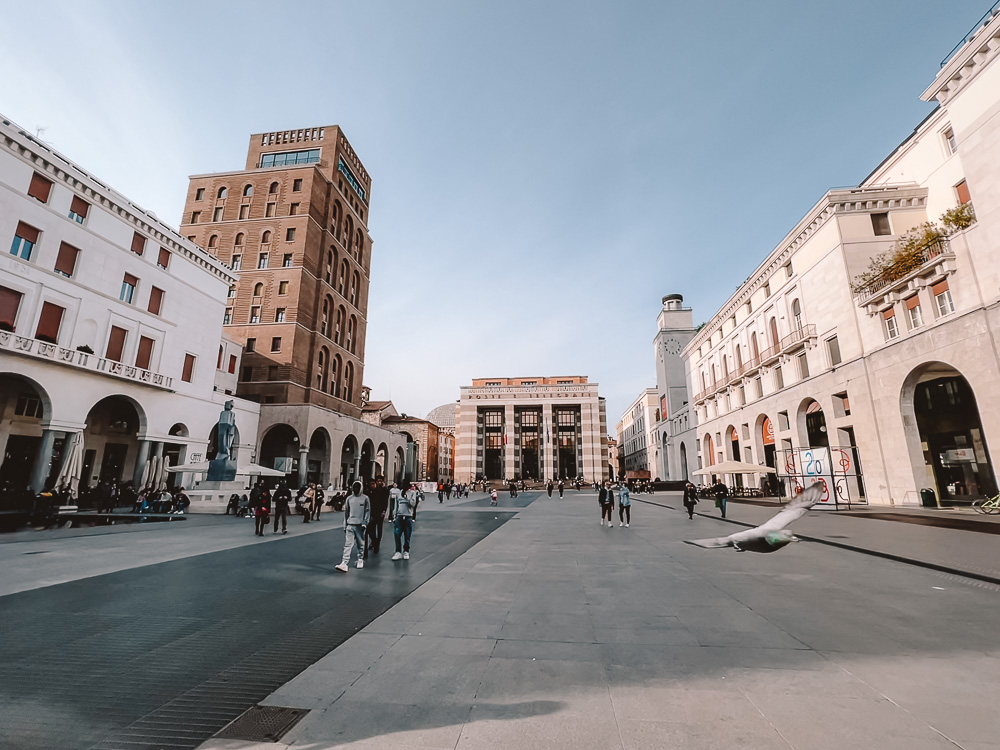 Teatro Grande
This impressive theater built in the 19th century is known for its beautiful neoclassical architecture. Unfortunately, I wasn't able to visit it as the only option is to book a guided tour (not available when I was there) or to catch a show. However every weekend you can enjoy a lunch, coffee or afternoon tea at the Caffè Berlucchi and admire the incredible architecture! (Definitely worth the 2€ of the espresso!)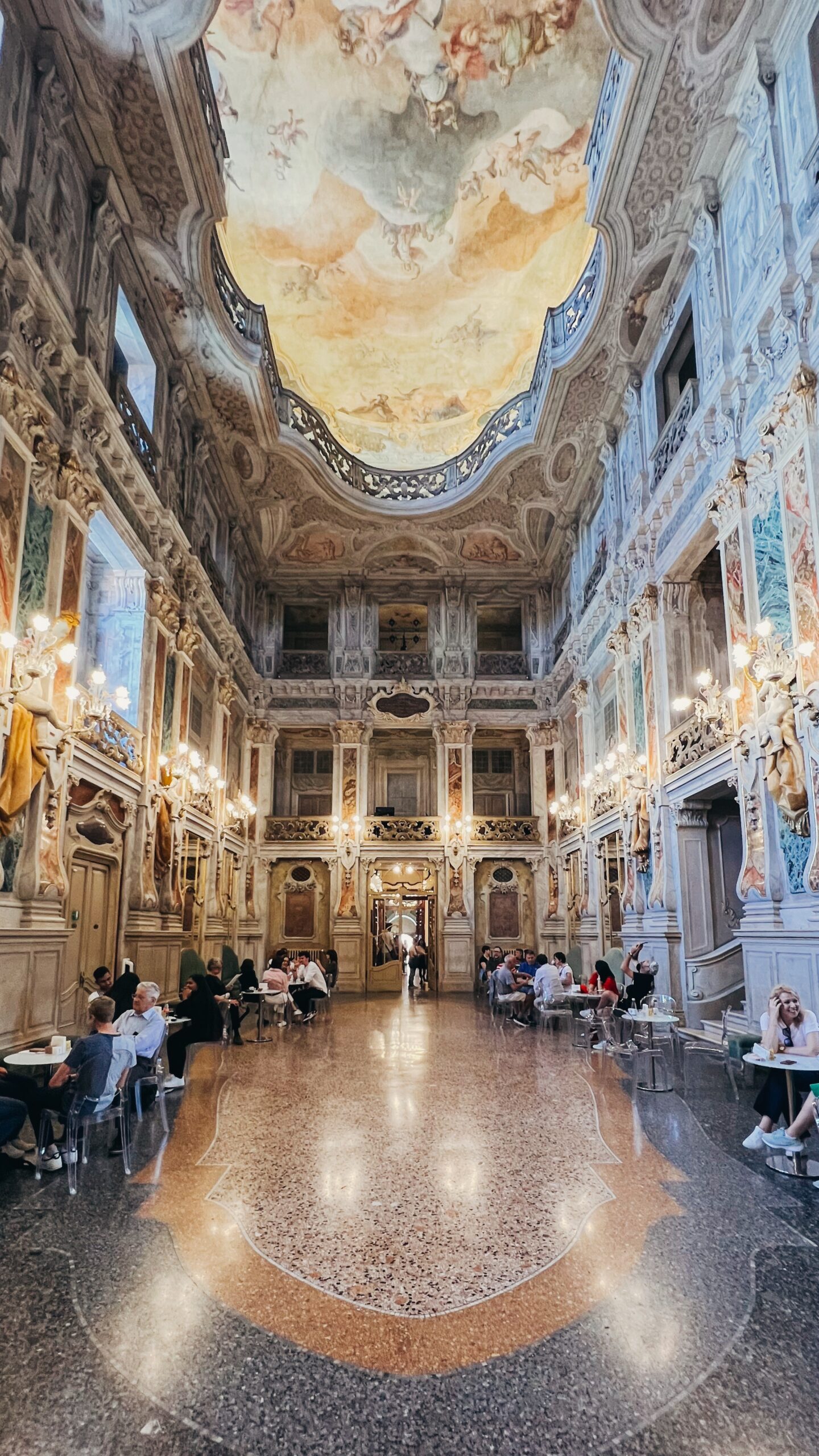 Historical city center
Brescia's old town is a beautiful maze of narrow streets, beautiful piazzas and colourful buildings. I really enjoyed just wandering around, soaking it all in.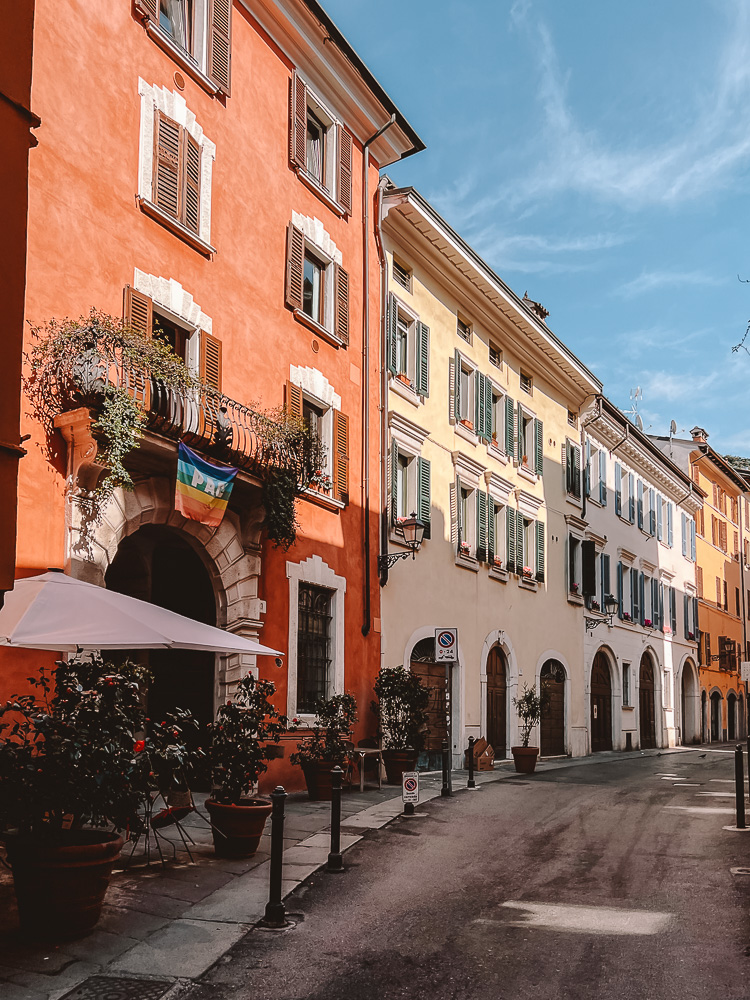 Castle of Brescia
This impressive castle dates back to the 14th century and offers panoramic views of the city, especially from the Torre Francese. It is also the best sunset spot, from the locomotiva which offers a beautiful view over the city and the mountains.
The best things to do around Brescia
Lago di Garda
This stunning lake is just a short drive from Brescia and offers plenty of opportunities for swimming, boating and hiking. Don't miss the charming towns of Sirmione and Peschiera del Garda on the lake's southern shore. On the north, Limone Sul Garda is beautiful but also very busy. It is also a good idea to do a boat tour around the lake to get closer to the Isola di Garda and get different views of the mountains! Rocca di Manerba is a beautiful spot for sunrise & sunset.
Lago d'Iseo
Located in the center of the two provinces of Brescia and Bergamo (the other Capital of Culture for 2023), its two shores are respectively in the two provinces. It's the perfect place for walks, water sports, trekking and cultural visits. Some of the best spots are Lungolago Iseo, Sebino Torbiere, Clusane and Solto shore. Unfortunately, I didn't get a chance to visit but I will for sure do it next time!
Experience Brescian cuisine
Brescia is known for its casoncelli (a type of stuffed pasta), polenta e osei (a dessert made with polenta and marzipan) and Franciacorta sparkling wine. "Casonsèi" (as they are called in local dialect) were born in the 15th century. They have very thin dough, which enhances the flavour of the filling, typically made with grated stale bread and cheese (Grana Padano of Bagòss). They go well with the local wine as well! So the best way to discover it is to take a wine tasting and lunch tour in a winery! Also, be sure to swap your Aperol Spritz for the Pirlo, a local aperitivo made with still white wine and Campari (a bit more bitter than the most common Aperol Spritz though!).
How to get there
Brescia is just 90km away from Milano, an hour or so driving, or just 35min with the high-speed train! It's also very affordable and runs quite often from Milano Centrale. Once you arrived at the train station in Brescia, follow the signs for the subway line that will take you to Vittoria, right in the historical city center.
An other option is to fly to Bergamo and take the bus from there to Brescia, which costs around 12€ and takes an hour but only runs every two hours or so.
---
I hope this travel guide will inspire you to visit Brescia, a true hidden gem in Italy! I've put everything that I thought was necessary for you to plan your best trip there. But if you need, feel free to reach out with any questions! And don't forget to tag me in your stories and posts on Instagram if this article inspires you!
With love,
Marina
If you liked this post, pin it for later!