During Christmas, Paris really becomes a fairytale and I love enjoying the holiday season in the City of Lights! That's why I'm putting here my favorite photo spots in Paris during Christmas. If you're planning to visit the French capital soon, make sure to keep this guide with you while visiting !
Galeries Lafayette
Each year, Galleries Lafayette does everything to make the holiday season unforgettable, inviting us to dig into the warm feelings of Christmas. This is why this legendary Parisian department store is always the first place I go to, when Christmas season is here.
The first thing that you usually notice is the fabulous window displays. They are each year different but both parents and children are queuing on all side to take a closer look at the fascinating installations.
Then you pass through the front doors and a smile spreads on your face: in front of you right in the center of the Galleries, under the famous blue stained-glass dome, rises the biggest and most beautiful Christmas tree! In 2017, it was full of countless huge candy balls. In 2018, sponsored by the luxury watchmaker Piaget, it was all green and gold glitter. 2019 featured a beautiful red and gold Christmas tree with fairies, bees and winter flowers! 2022 was a hit-or-miss, some people didn't like it while some others loved it; the theme was Sapin (pine tree) and sustainability.
Place Vendôme
Every year for Christmas, Place Vendôme, one of the most beautiful squares of Paris proudly displays its 8 Christmas trees, pairing at each corner of the square. As beautiful as elegant, echoing the place, the epicenter of Parisian elegance, it is always a pleasure to pass by and admire their splendor.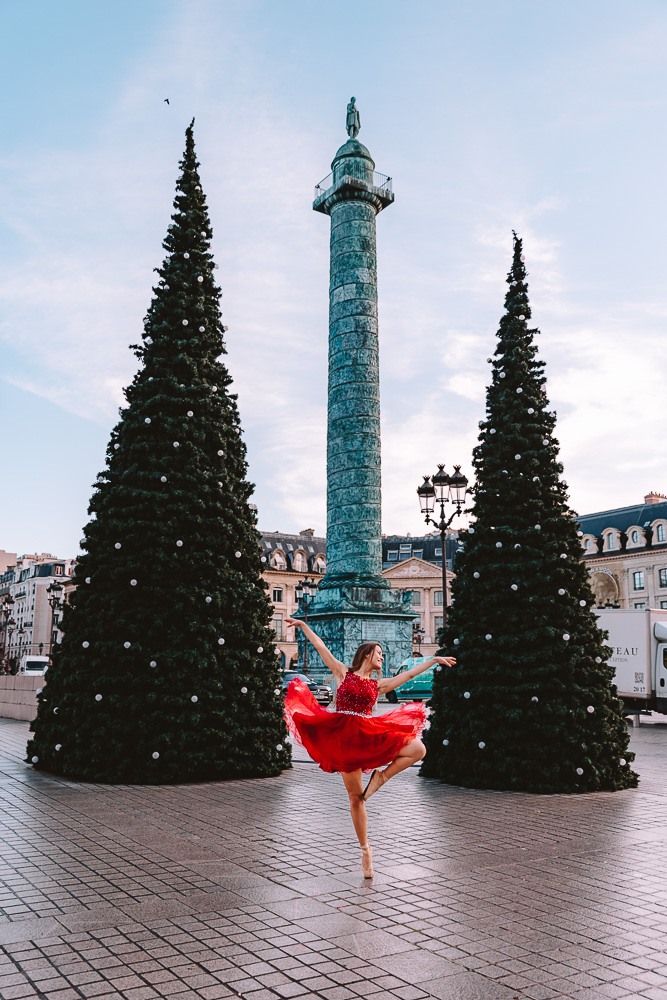 Village Royal
A few steps away from the Place Vendôme is one of the most beautiful hidden gems in Paris, the Village Royal. Back in the late 18th century, this unmissable passageway was a former typically Parisian market which evolved to become a more elegant place keeping the atmosphere of a typical village road. Their display alternates between two cute and a very impressive Christmas tree.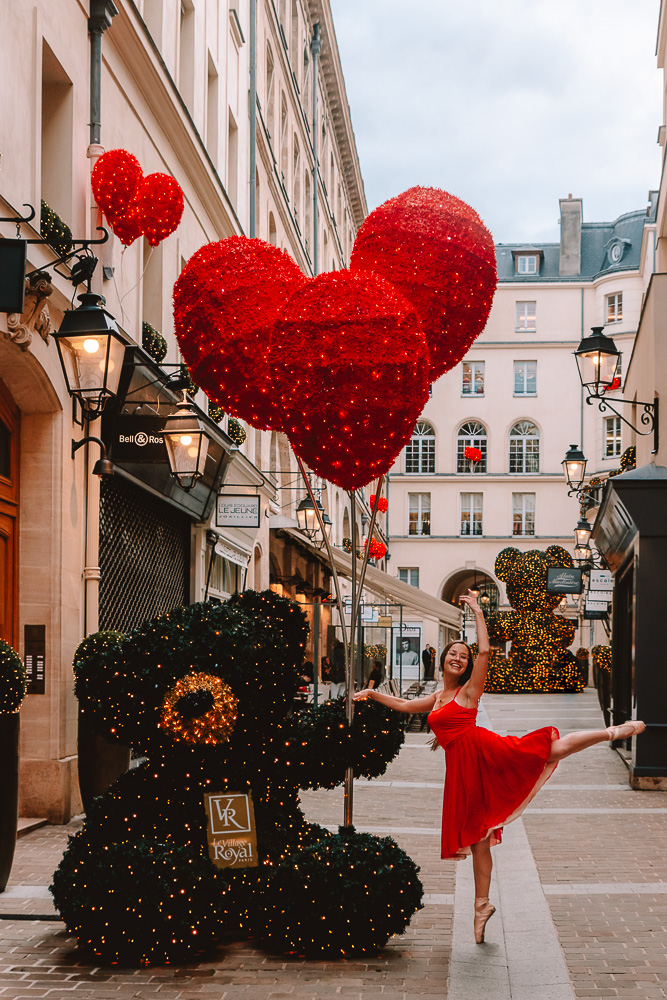 Galerie Vivienne
The Galerie Vivienne is my personal favorite covered passage in Paris. I just love the neo-classical style with its elegant glass dome, mosaic floors and paintings. And it is even more magical with all the Christmas lights!
Dior – Paris Montaigne
The Avenue Montaigne homes lots of high fashion stores, such as Dior, which always have the best taste in their Christmas displays! In 2017, they displayed a stunning hot-air balloon, and in 2018, the most elegant white Christmas tree of the city before going under renovation for a few years. In 2022 they finally opened up again and the Maison Dior decided to display a gorgeous compass rose. It represents Christian Dior's lucky charm: the star detached from a horse-drawn carriage wheel he stepped on rue du Faubourg St Honoré on April 18th, 1946. It was the sign he was waiting for to start the Dior fashion house.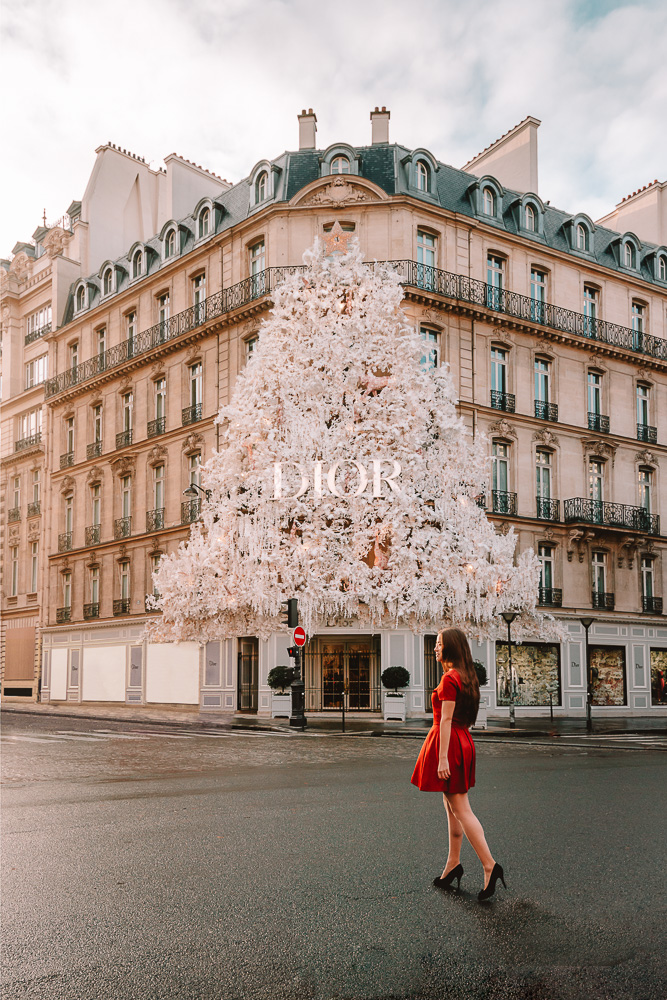 Le Bon Marché
Every year, this famous department store put its Christmas decorations on. Their famous suspended trees look gorgeous in this art-deco Parisian store. Same as the Galeries Lafayette, you will usually notice first their fabulous window displays, different each year.
Jardin des Tuileries – Christmas market
This year again, the Tuileries welcome the Christmas Village. I just love wandering between the artisan's stands, while sipping some mulled wine and eating some raclette cheese!
Four Seasons George V
The famous 5-star hotel right next to the Champs Elysées and Arc de Triomphe is always full of festive vibes for the holidays. In 2019 they had a stunning dome of lights in their courtyard, it was like a fairytale bubble! In 2022 they installed a stunning lights path that look like a Christmas tree from the outside.
---
I hope that this photo spots guide will help you taking beautiful pictures during your magical journey through Christmas in Paris!
Don't forget to tag me in your stories and posts on Instagram if this article inspired you !
With love,
Marina
P.S.: Find out what are my favorite photography spots in Paris in my seasonal guides!
---
If you liked this post, pin it for later!