As much as New Zealand is photographers' paradise, it is also hiking heaven! It is even truer in the South Island. Te Waipounamu (the South Island in Māori) has so much to offer! Even if you're not into long and challenging multi-days hikes, there's plenty of short walks to full day hikes, that will always feed you with breathtaking views! Because, let's be honest, you cannot come to New Zealand without feeling its sheer vastness, so make sure to pack your walking legs!
The South Island of New Zealand is hiking heaven, with something to offer to everyone: from multi-days hikes to as stunningly beautiful short walks to full day hikes.
I'm sharing with you 15 of my favorites day hikes in the South Island, from 2 to 8 hours. I listed them anti-clockwise so it makes it easier for you to plan your road trip around (and keeping the best for the end!) If you also want to check the best photography spots, you can combine this guide with my photography guide around the South Island.
1. Mount Fyffe
Elevation gain: 1400m
Duration: 5-7h return (16,7km)
This not very popular hike is actually one of the best day hikes in the South Island. It offers amazing views over the Kaikōura plains and peninsula towards the Pacific Ocean to the east, but also along saw-tooth jagged Seaward Ranges to the west.
From Mt Fyffe carpark, it is a wide road continuously uphill until you reach the tiny Mt Fuffe Hut. It is a great place to stay if you have an extra night. From here, it's another hour or so to the summit. The summit views are even better and on a clear day, the view also includes Banks Peninsula (Christchurch) and the North Island.
More informations on the Department Of Conservation Mt Fyffe page.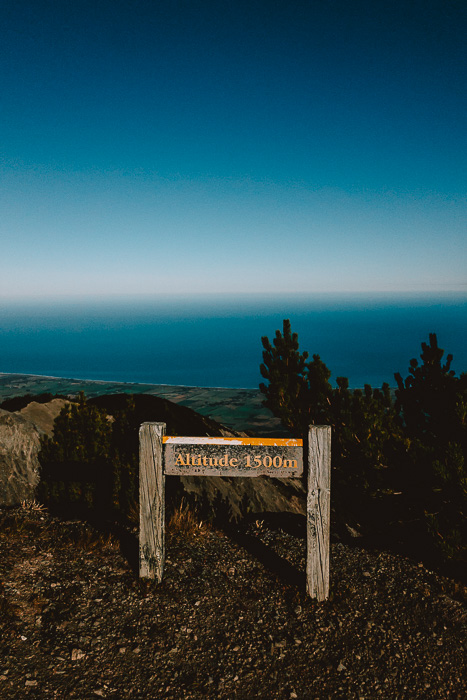 2. Queen Charlotte Track day hike
Elevation gain: 150m
Duration: 1h30 return (6km)
Located in the middle of the stunning Marlborough Sounds, the Queen Charlotte Track is one of the most accessible tracks in New Zealand, making it the perfect place to do a day hike for those on a shorter time frame.
Most people will recommend you to take the boat to the very secluded Meretoto/Ship Cove. The track here involves beaches, a largely unmodified forest with a high canopy, and a stunning lookout over both the inner and outer Queen Charlotte Sound.
However, those on a budget can start at Anakiwa carpark and go as far as the Umungata Bay viewpoint. This easy walk takes you through mature beech forest while offering stunning views over the Marlborough Sounds, the best one being at the viewpoint.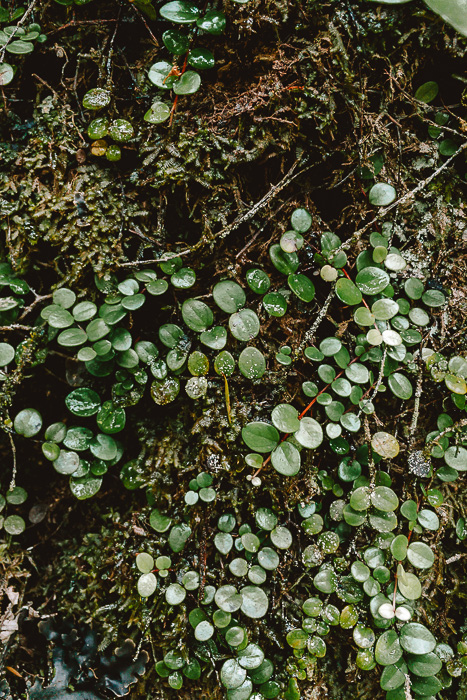 3. Abel Tasman Coast Track day hikes
The Abel Tasman Coast Track is one of the 10 New Zealand Great Walks. This relocation multi-days hike (60km one way) will take you through golden beaches and lush coastal native bush. However, if you don't have 4-5 days to complete the hike, you can do two breathtaking day hikes at either ends of the Great Walk, making for two of the best day hikes in the South Island! This Information Map of the Abel Tasman Coast Track (Department Of Conservation) will help you picture the walks.
Marahau – Anchorage
Elevation gain: 150m
Duration: 8h return (24km)
The path starts at the Marahau carpark, crossing the estuary before entering lush beech forest with large kānuka trees. Several little paths go down to secluded beaches, including my favorites Stilwell Bay and Observation Beach (photos below). The track eventually turns inland, winding in and out of several little gullies before emerging to a stunning view of the beautiful Anchorage Bay.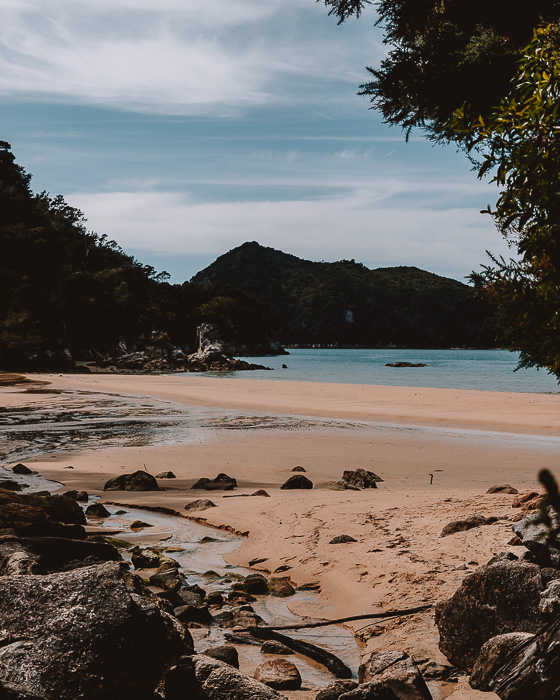 Wainui – Tōtaranui loop via Gibbs Hill
Elevation gain: 405m
Duration: 6h30 loop (19km)
It is quite a moderate-easy day hike which starts at Wainui carpark. The track winds up following the estuary before climbing edge above the bay, offering beautiful views over the Wainui Inlet. Soon you'll arrive at an intersection where you'll take right to Gibbs Hill. The track goes through native bush before going down to Tōtaranui campground. It is a beautiful beach, perfect for lunch!
From Tōtaranui, the scenery alternates between sandy beaches and rocky headlands of regenerating kānuka until Whariwharangi Bay. Then the track follows a trickling stream and climb above the bay to a saddle overlooking the serene Wainui Inlet. From here, you just need to go down back to the carpark.
4. Mount Robert
Elevation gain: 600m
Duration: 3-5h loop (9km)
Mount Robert in the Nelson Lakes National Park is an easy half day loop circuit. You will have stunning views over Lake Rotoiti, one of the best photography spots in the South Island, and the nearby mountains, which separate the Tasman/Marlborough regions. It is a well-marked and well-formed loop, a great option if you're not an avid hiker but want something different than just walking around the jetty. It is also a good option for families with kids.
As always but especially there, be prepared with warm and waterproof clothing. Nelson Lakes National Park is in an alpine area where freezing conditions can occur at any time of year (we had below 0℃ at night in early March, end of summer/beginning of autumn here). More details on the DOC Mount Robert Circuit page.
5. Arthur's Pass day hikes
Bealey Spur
Elevation gain: 550m
Duration: 3-5h return (6km)
The Bealey Spur track is a quaint little hike near Arthur's Pass village that offers stunning views around the rest of the valley. It is a more gradual track than most alpine tracks around Arthur's Pass village, as the Avalanche Peak featured below, and does not climb above the bush line.
The slowly ascending path, well marked, is a great day walk through mountain-beech forests, tussock grasslands, subalpine scrub and several tarns. It offers expansive views of the Waimakariri River valley and of all the surrounding mountains, including Avalanche Peak.
The track ends at the historic Bealey Spur Hut, used by musterers in the days when this area was used for summer grazing for sheep. More informations on the DOC Bealey Spur track page.
Avalanche Peak
Elevation gain: 1050m
Duration: 6-8h return (5km)
This is a demanding tramping route that requires light scrambling over large boulders whilst navigating along a (well maintained) path through the forest.
You will start from behind the Visitor Center and after about 1h30 of a climbing track, rocky and steep in parts, you'll emerge from the bushline with spectacular views down to the valley floor, including the Bealey valley.
From here it's another 2 hours to the summit. However, if visibility is becoming poor or if you have found the track difficult so far, you should enjoy the views and turn back here, as the going becomes more exposed.
From the summit the panoramas are expansive and rewarding. Several huge peaks, a light blue cirque glacier and the winding Bealey River will catch your attention, as will certainly do all the Keas (alpine parrots)!
This tramping hike can be turned into a loop using the Scotts Tracks down, offering great views of the Devil Punchbowl Waterfalls (a 30min-1h return easy walk). More details about the routes on the DOC Avalanche Peak Route page.
Note: This tramping track/route is steep and exposed to the weather, with sheer drops in some places. It should not be attempted in poor visibility or high winds. The route to the peak is prone to avalanches in winter and spring. Do not to attempt this hike during snow conditions, unless you are sufficiently equipped and experienced enough to assess the conditions and choose a safe path through avalanche terrain.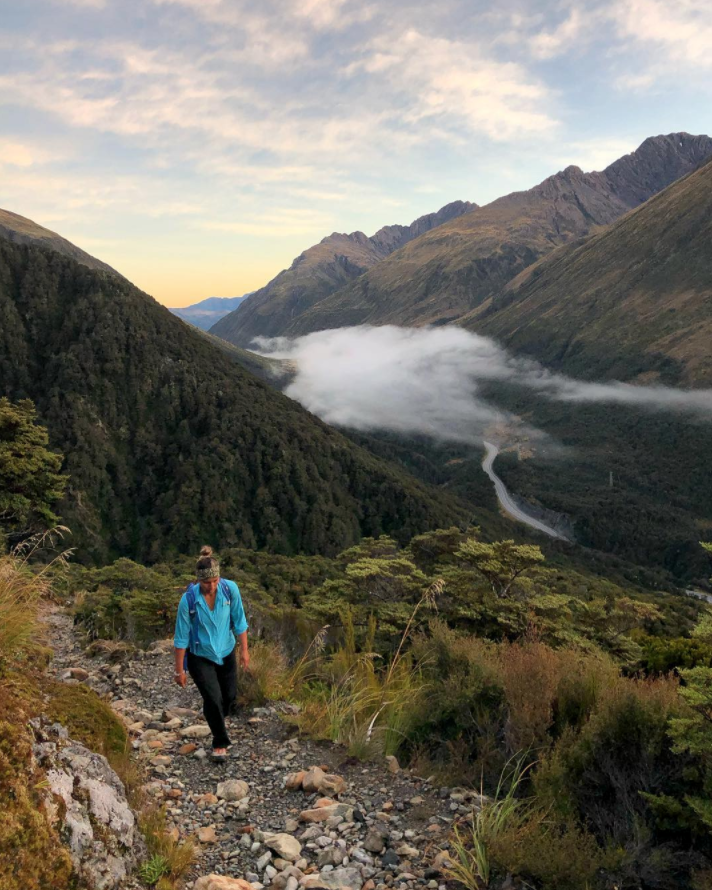 6. Alex Knob
Elevation gain: 1100m
Duration: 5-8h return (17km)
Alex Knob is a west coast hike in Glacier country that offers incredible views over the Franz Josef glacier and valley. This is a difficult track, often rocky and slippery, and the DOC recommend that it is for experienced and well-equipped trampers only.
The steep climb, from lowland forest through sub-alpine crub and alpine meadows, offers incredible views of glaciers, mountains and seascapes at various viewpoints. At the summit, you'll be rewarded with stunning views towards different peaks, including the famous Franz Joseph Glacier. More informations on the DOC Alex Knob Track page.
Among the best day hikes in the South Island that I didn't get the chance to do, this one is for sure my biggest regret.
7. Isthmus Peak
Elevation gain: 1000m
Duration: 5-7h return (16km)
Isthmus Peak is by far one my favorite day hikes in the South Island! Located in the mountain range separating Lake Wānaka with Lake Hawea, the path will lead you to the summit mostly through private farmland. It has a nice balance between steep climbs and easy walking tracks. The summit offers a breathtaking panorama over both lakes and is (for me) more impressive than Roys Peak – with a tenth of the people up there.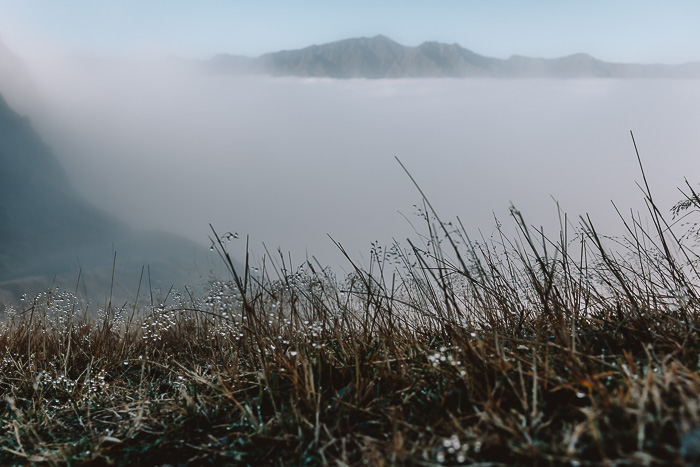 8. Roy's Peak
Elevation gain: 1250m
Duration: 5-7h return (16km)
The most popular day hike from Wānaka is Roy's Peak, located just 5km from the small lake side town.
Although very popular (and hence not my favorite), this relatively easy hike is definitely worth it. The walk itself is not very interesting but gives great views throughout the hike. The most famous viewpoint along the undulating ridgeline is at the lookout, 1,5km and +300m away from the actual summit. You will probably have to queue, giving that it's one of the best photography spots in the South Island. However, do not stop here and miss the views at the summit, as they offer breathtaking views over Mount Aspiring and the surrounding peaks.
Be warned though, it is 100% exposed so take sun screen (even in winter), wind proof clothes and plenty of water. For your information, we did the hike beginning of June and the summit was already covered with snow so bringing small crampons can be a good idea.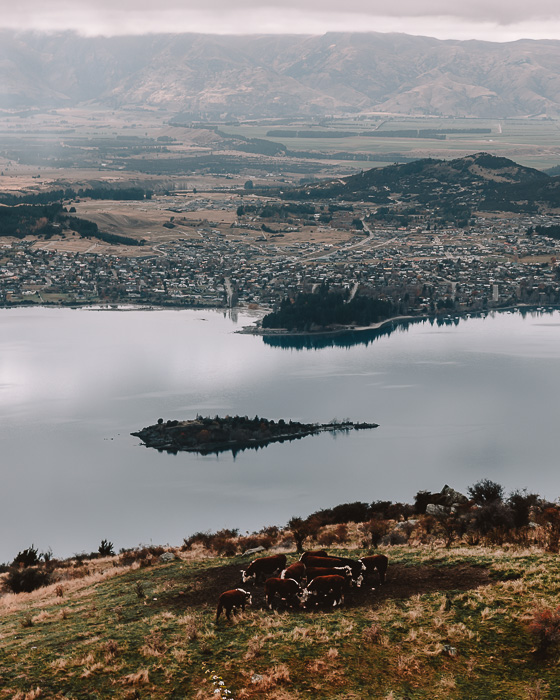 9. Rocky Mountain
Elevation gain: 450m
Duration: 2-3h return (7km)
Rocky Mountain, though well formed and not very long (it only takes ca 1,5 hour to the summit), has sections that can be steep and slippery even in summer. Because of ice, those sections are not recommended during winter.
The track starts with beautiful views of the Diamond Lake before climbing steeply to a viewing platform. From here, you can either go to the Lake Wānaka viewpoint with great views of both the lake and its islands. This is where extreme care is required for the ice. Or you can wind your way to the top of Rocky Mountain. It will offer you stunning views over the Southern Alps and Mount Aspiring.
If you're looking for a bit more challenge, you can do it for sunrise (but come prepared!). The lookout at the top faces directly east over Lake Wanaka, and towards the sunrise.
10. Queenstown Hill
Elevation gain: 500m
Duration: 2-3h return (3km)
The Queenstown area has some of the most spectacular sceneries of New Zealand, and Queenstown Hill is one of the most incredible places to enjoy this amazing part of the country. It is one of best day hikes in the South Island and one of the best photography spots in Queenstown, that has a great effort to views ratio.
This short walk will take you first through pine forest and then through open fields to the summit, where you'll be rewarded with sweeping views of Lake Hayes, Coronet Peak and of course, Lake Wakatipu. I definitely recommend taking your lunch up and basking in the sun while enjoying this iconic view.
11. Ben Lomond
Elevation gain: 1437m
Duration: 6-8h return (11km)
The Ben Lomond track is a demanding tramp but is probably THE ultimate hike from Queenstown. Emerging from the forest quite early, this very well maintained track meets up with the Ben Lomond Saddle. From here, the terrain becomes steeper and rougher as it approaches Ben Lomond's summit.
The summit offers unique views of the Remarkables Mountain Range to the south east, Walter and Cecil Peak across Lake Wakatipu in the south. In fine weather, you might even spot Mount Aspiring in the distance. It's a 360 degree panorama offering a breathtaking view feast.
For those of you not looking for such a big challenge, the route can be shortened by taking the Queenstown Gondola up the first section. It will take off 500m of elevation gain and a good 2h of your time. Find more informations on the DOC Ben Lomond Track page.
12. Lake Marian
Elevation gain: 300m
Duration: 3h return (3km)
It is a short tramping track from the carpark to the brilliantly iridescent Lake Marian. The trail is often laden with tree roots and you have to be careful and concentrate at times. The track will take you away from the horde of tourists at Milford Sound. You'll pass a spectacular series of waterfalls before ascending a steep/muddy track to Lake Marian.
Lake Marian is an alpine lake in a hanging valley formed by glacial action, in one of the most beautiful settings in Fiordland. The lake is above the bush line and is surrounded by mountains with magnificent reflections if the weather is calm.
In the winter avalanches can happen, please check the DOC Lake Marian Track page and the avalanche conditions with the Visitor Center before you go.
13. Stewart Island/Rakiura day hikes
Stewart Island/Rakiura is the third main islands in New Zealand, located 30km south of the South Island. Over 80% of the island is the Rakiura National Park, New Zealand's newest NP. Because there are few introduced predators, the island is thriving with native birds and plants, including the flightless kiwi birds. It is often skipped by tourists (and locals), but it should be on everyone's itinerary, even if only to have a taste of what was New Zealand before settlers came in.
The Rakiura Track is one of the 10 Great Walks in New Zealand, and probably one of the easiest! It is probably the best one to do as a first multi-days hike (3 days), where you'll be able to relax and unwind in the peaceful surroundings with the bush, birds and beach at your side. However, if the weather is not on your side, there's plenty of easy short day hikes to do, from panoramic views to beaches and native forests.
Oban – Horseshoe Point – Lee Bay
Elevation gain: 550m
Duration: 3-4h return (10km)
My favorite is the Oban to Horseshoe Point walk that you can extend to Lee Bay, the start of the Rakiura Track. The path round Horseshoe Point is undulating and well maintained, winding above secluded bays and crystal clear water. You will also pass by Dead Man Beach, which despite the name is a very pleasant spot for a rest.
Lee Bay is the perfect spot to watch the sunset, with the sun setting straight in front of you.
Ulva Island/Te Wharawhara
Elevation gain: 100m
Duration: 2h return (4km)
From Stewart Island, a trip to the iconic Ulva Island, the jewel of Rakiura National Park, is a must-do! This open sanctuary will take you back in time, when New Zealand's bird fauna was still largely intact. This predator-free island is not only a bird's paradise, it is also home to a largely undisturbed podocarp forest.
All the tracks are well-formed and easy, starting from Post Office Bay (where the boat arrives). I recommend walking all the way to West End Beach through Boulder Beach. Allow yourself a generous amount of time to listen to the birds and look for them.
We chose to do a guided tour walk with Angela (beaksandfeathers) and it was the best decision! Angela is absolutely lovely and is so knowledgeable about the flora and fauna of New Zealand. We loved our time with her and learned so much about the island!
14. Hooker Valley Track
Elevation gain: 100m
Duration: 2-3h return (10km)
This walk has by far the highest amazing views to effort ratio! The 2-3 hours return journey to the Hooker Lake is mind bogglingly beautiful. It is one of the best, if not THE best, day hikes in the South Island and you shouldn't miss it!
The hike starts with views over the Mueller Lake. If you listen, you might hear the rumbling of avalanches from the distant Mount Sefton. You may even be able to spot them before they crash into the Mueller Glacier below. It then takes you northbound along the Hooker River but it honestly doesn't matter if you are looking up stream or down stream, left, right, east or west, everything is just breathtaking at all times of the year.
The track ends with an amazing view over the iceberg-speckled Hooker Glacier Lake and up to majestic Aoraki/Mount Cook and the Southern Alps. It is one of my favorite photography spots in the South Island. At dawn, it gives you a view of the first rays of the sun creeping over the Southern Alps, including over New Zealand's highest peak, Aoraki.
The Hooker Valley walk is a very easy 5km one way, mostly flat and highly recommended even for families with small kids!
15. Mueller Hut
Elevation gain: 1050m
Duration: 6-8h return (10,4km)
The Mueller Hut Route is a demanding hike including 1806 steep steps and loads of steep switchbacks. It is not the easiest day hike and although it is doable in one day in summer, I would always recommend staying in the hut overnight. You will even be able to enjoy a sunset / sunrise / stars combo!
The track starts at the White Horse Hill carpark and begins gently until you reach the foot of the Mueller Range. The track then zigzags steeply up to Sealy Tarns. You'll be rewarded with spectacular views of the Hooker Valley and the peaks in the area, including Aoraki/Mt Cook on a good day. This is a great spot to assess your fitness and ability: the track only gets harder from there on.
The track will then change for a rocky route zig-zaging through alpine scrub, herb fields and tussocks to a large rock field. Then the route ascends a loose gravel slope of about 50 metres, to the skyline ridge.
It's "only" 5km one way to the hut, but it is no easy feat by any means. It is a very steep and exposed hike and you should always check with the Visitor Center before you go. It is definitely best to do it in summer and is not recommended in winter, unless you have a good level of mountaineering experience. More details on the Mueller Hut Route page of the DOC.
---
These are only a few of my favorite day hikes in the South Island, making for the perfect itinerary! I always love the feeling you got when hiking, this sense of completion and this feeling of having surpassed myself, especially here in New Zealand and even after 18 months! Seeing the world from above, especially this stunning country, is just mind-blowing. If you're already a hiking lover, then you probably know what I mean. If you're not, I highly recommend you to get out of your comfort zone and try. It will be painful at times, and you might even regret starting the hike, but you'll never regret this feeling of conquering mountains and the adrenaline you get.
The hikes in New Zealand are generally easy to follow, well formed and maintained. However, always be prepared for all weather conditions and know your own abilities before heading into the backcountry! When attempting a day hike, it is best to check the conditions with the local Visitor Center. As in every mountainous environments, weather is unpredictable and things can become dangerous if you don't act appropriately.
Have you done any of those day hikes in the South Island? Which one is your favorite?
---
If you liked this post, pin it for later!