Halló! Iceland has always been a huge dream of mine : all its untouched nature, the infinite landscapes, the diversity of Mother Nature, and most of all, the Northern Lights.
Iceland was on top of my travel list and I didn't hesitate one second when I found some affordable tickets for late-October and early-November 2018. We would only spend 5 days there, but it would be a perfect Icelandic introduction!
Although my trip was 3 years ago already, it still feels like it was yesterday, and I am so excited to finally write about it! I knew I was going to love Iceland but I wasn't expecting to love it that much. This short trip was packed with places that surpassed my expectations, and some that we didn't have time to visit, but I want to share them all with you!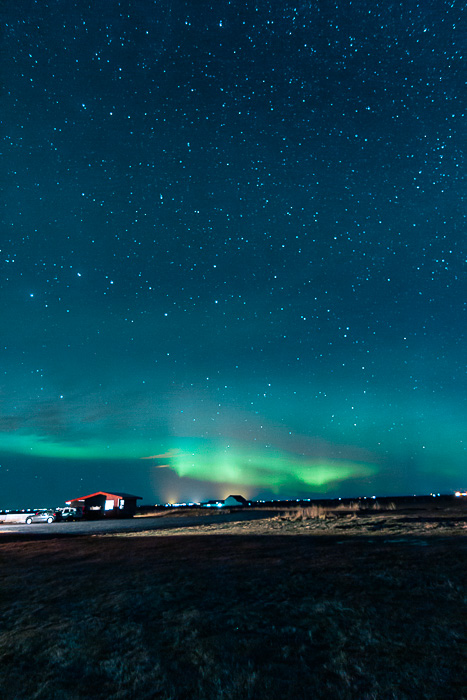 General Info
Just below the Arctic Circle, Iceland, the most sparsely populated country in Europe, is still a country in the making. The entire island is a vast volcanic laboratory: geysers, mudpots, ice-covered volcanoes and glaciers are mighty forces that shape the earth. Its splendour seems designed to remind visitors of their utter insignificance in the greater scheme of nature.
According to ancient manuscrits, the settlement of Iceland began in 874 A.D. when the Norwegian chieftain Ingólfr Arnarson became the first permanent settler on the island.
Language: Icelandic is the official language but English is widely understood and well spoken. As Icelandic shares its ancestry with English and Germanic languages, there are actually many cognate words in both languages (apple-epli, mother-móðir, daughter-dóttir, etc), although the pronunciation is quite different! Another fun fact is that the written language has not changed much, so nowadays Icelanders can still read classic Old Norse (an extinct North Germanic language) literature from the 10th-13th centuries! As always, I would recommend you to learn a few words, like takk ("thank you").
Note: Waterfall in Icelandic is "foss", so if you find a place which name ends with -foss, it will be a waterfall! Similarly, "jökull" meaning glacier, every places finishing with -jökull are glaciers!
Money: Iceland is an almost cashless society. Since our card doesn't have foreign transaction fees, we barely used banknotes, only in the most rural parts (and because we came with them!). For reference, in 2021, 1€/$=152 IKR (Icelandic króna).
Clothes: Master the art of layering. Even in summer, you will need a warm top layer and a waterproof shell, hat and gloves. For outdoor exploration, fleece, wool or synthetic layers are best (Merino wool is the best; avoid cotton). Take a swimsuit with you no matter what time of the year you visit, as there are hot springs literally everywhere!
Tip: I would HIGHLY recommend you to come with some small nanospike crampons, all year long but especially in winter. Those removable crampons will make you feel much more comfortable if you want to get a little closer to the waterfalls/geysers where everything is frozen with the splashing water.
Water: Tap water in Iceland is one of the cleanest in the world and is perfectly safe to drink.
Driving: Renting a car is the most common way to visit and get around the country. However, vehicles are often expensive to rent, especially if you're going for a 4WDs (required to go into the highlands and on F roads). We went with Budget car rental for a large 2WDs and it was all good (300€, insurance included, for 4 days). Check road.is for road conditions before hitting the road.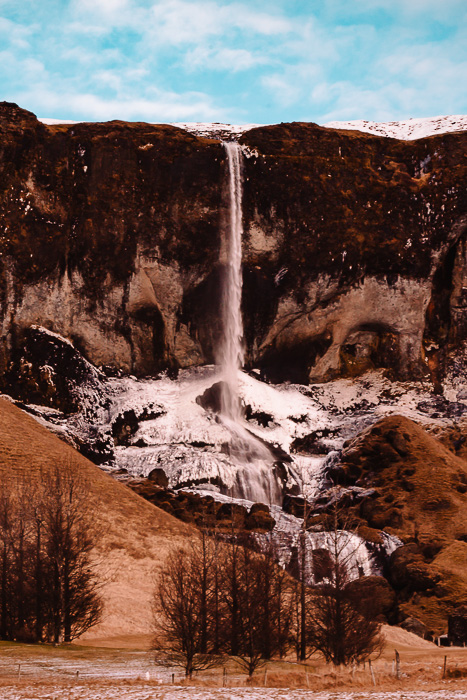 Best time to visit
Being just outside the Arctic Circle, Iceland's high latitude and marine influence keep summers chilly and most of the time, close to a polar climate. I chose the beginning of winter (end of October-beginning of November) to visit because it is a good time (if not the best) to chase the Northern Lights. The weather is milder and the days still longer than during mid-winter. Depending on what you want to do, you might choose to visit Iceland at another time of the year! Each season has its charms. You can check the amount of daylight per month right here.
Winter
The aurora borealis season itself technically runs from October to March, but you always need clear sky to see them. November-December-January are the darkest and longest nights, allowing you to start seeking the aurora borealis from mid-afternoon until mid-morning/noon the next day. However, mid-winter is also the worst weather, with clouds often blocking the sky for days. February is the best month for skiing, and days are getting a bit longer.
Iceland in winter can be a fairytale though! The long twilights and golden hours around sunrise and sunset create magical light, and stunning colours. Winter is also the optimal time to explore ice caves. Also known as crystal caves, you can take an ice cave tour and go inside the glaciers, which you cannot do during the summer months. Picture landscapes covered by a blanket of snow, crystal blue ice caves, and a breathtaking sky; dreamy isn't it?
Temperatures will go down from 1.3°C (35°F) in November to -1°C (30°F) in January, January being the coldest month.
Spring
Spring time can be beautiful with a milder weather but can also be cloudy and grey. March is often rain or snow but April-May are the drier months. It is the season to go if you are looking for green hills, fishing, golfing, and waterfalls chasing! From end of April until early September, you can also look for the Puffins, those beautiful small birds with an orange flat-sided beak, in the north of Iceland!
Average temperature is around 5°C (42°F).
Summer
In the Northern Hemisphere, June holds the longest day of the year, and here it is 22 hours, the month of the midnight sun! You can expect less wind and rain, and sunnier/warmer weather. The highland mountain roads through the interior of the country usually open in late-June (4WDs). June & July are also the best months to see the vivid purple lupine flowers. Waterfalls are going strong, and from mid-June to early-September, it is also the best time to do whale watching! However it is the peak season so expect crowds, overbooked hotels and higher prices.
Average temperature is 10°C (50°F).
Autumn
Autumn is a mild weather, although still very unpredictable. With September comes shorter days (still 13 hours of sunlight) and by mid-September, some of the interior roads will close. October is the best month for autumn colours, although the temperature and average daylight drop significantly for 9 hours of sunlight.
Average temperature is around 4°C (40°F).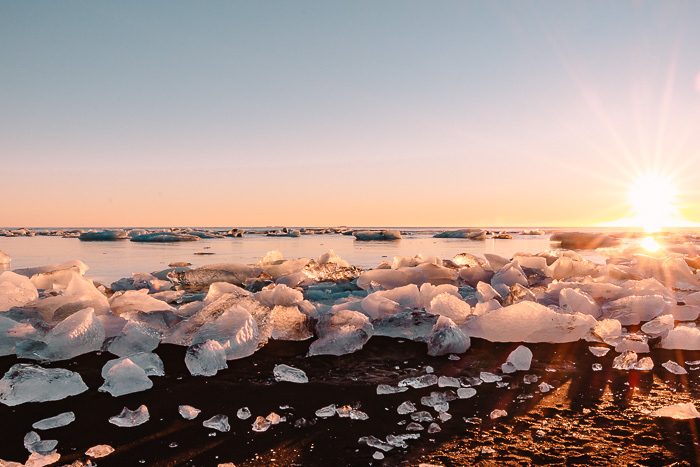 The best things to do in South Iceland
The capital Reykjavík is compact and can be easily explored in one day. Then if you have only a few days left, I would recommend focusing on one specific area rather than driving all around Iceland. We chose the South Iceland region because you can easily do it in winter ; but another idea would probably be West Iceland!
Although it is surely an outdoor lovers' paradise, don't think Iceland is only about that. There is so much beauty in Iceland's cultural life! Live music, festivals, visual arts, handicrafts and locavore cuisine, intriguing architecture there seems to be no end to the talents of Iceland!
The world's northernmost capital, Reykjavík
Glaciers, earthquakes, volcanic eruptions and other natural phenomenons have shaped the landscape and thus given the city the name of Reykjavík, meaning "Smoky Bay". The country's oldest inhabited area is a hot spot of culture, festivals, art events, museums, and impressive architecture. It is the best way to soak in the atmosphere of the country before starting your road trip around South Iceland.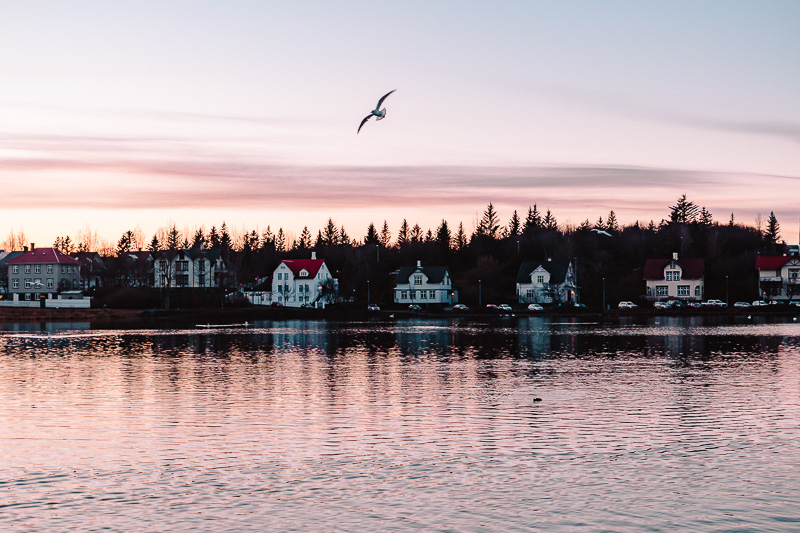 What to do
Hallgrimskirkja church
Standing proud at 74,5m tall, the Hallgrimskirkja tower offers a spectacular panoramic view over the city. It took 41 years to build, from 1945 until 1986. Its architecture was inspired by the elements of Icelandic nature, especially the basalt columns you can find in Svartifoss and Vatnajökull National Park.
Just right in front of the church, you can find one of the most famous statues of Iceland: Leifur Eiríksson, Iceland's most legendary children. In the Scandinavian mythology, Eiríksson was an explorer from Iceland who discovered the continent of North America in 1000 A.D., more than half a century before Christopher Columbus.
9am-9pm May-Sept, -5pm Oct-Apr; adult/child 1000/100 ISK to go to the top of the tower.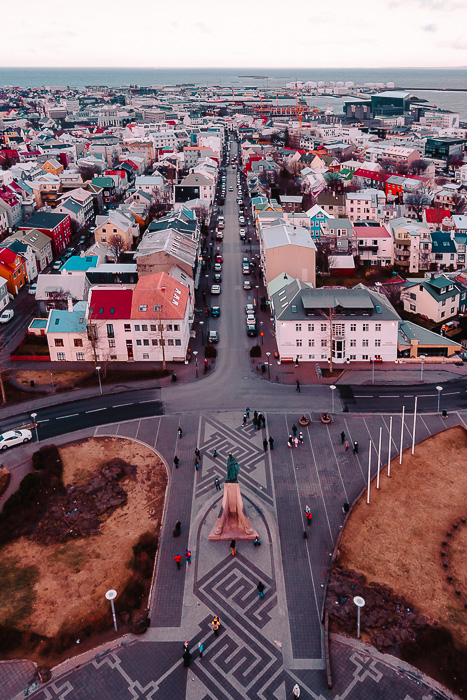 National Museum
Exhibitions give an excellent overview of the history and culture of Iceland from the 9th century, when the first Vikings from mainland Scandinavia arrived and settled, to the present days.
10am-5pm May-Sept, closed on Mondays; adult/child 2000 ISK/free
Eymundsson bookstore
Iceland's oldest bookshop, established in 1872, is not just the standard bookshop. In addition to providing an excellent selection of books both in Icelandic and foreign languages, it is also the perfect place to grab a cup of tea while reading a magazine outside!
Where to eat
Where to stay
We stayed at the Igdlo Guesthouse when exploring Reykjavík. It is a good, quiet and clean guesthouse at a walking distance from the Hallgrimsirkja and the city center.
South Iceland Cinematic landscapes
Icelandic nature really has the power to turn the ordinary into the extraordinary: a dip into a pool becomes a soak in a geothermal lagoon, a casual stroll transforms into a trek across a glittering glacier, and a quiet camping night means a front-row seat to the pink soft tones of the midnight sun; unless you prefer the Aurora Borealis' light show – you choose.
South Iceland is probably the most visited part of Iceland but there's a reason behind it! From wonderful waterfalls to grand glaciers, South Iceland is filled with natural wonders unfolding at every turn. The South is also a fine testimony to Icelandic restaurant culture.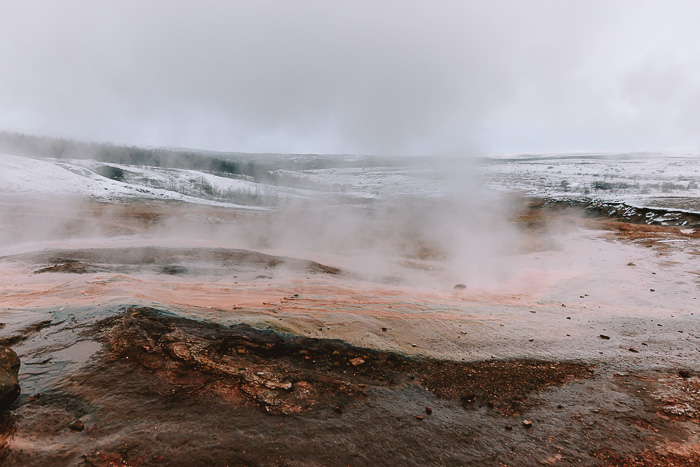 Golden Circle
Thingvellir National Park
Þingvellir is the only UNESCO World Heritage Site on Iceland's mainland. It was the location of Iceland's first parliament, founded in 930 AD and which stayed there until 1798 before moving to Reykjavík. Thingvellir is thus the original site of what is now the world's longest ongoing parliament. This is also where the Silfra Fissure is, where the North American and European tectonic plates meet! You can walk between the continents and you can even snorkel or dive between the plates!
Kerið crater lake
This volcanic crater lake is a bit outside the Golden Circle main highlights. At "only" 3000 years old, it is one of the youngest volcanic calderas in Iceland. This is one of the main reasons why Kerið's slopes are red in colour, rather than volcanic black: the iron deposits are, geologically speaking, still fresh. The crimson rocks contrast perfectly with the intense azure waters and verdant vegetation. You can also walk around and down to the pristine waters of the crater lake.
There is a small entrance fee of 400 ISK to help the landowners preserve and protect the crater.
Geysir & Strokkur
One of Iceland's most famous tourist attractions, Geysir is the original hot-water spout after which all other geysers are named. Though it is currently in a phase of inactivity, its neighbour Strokkur is a very reliable geyser. It blasts a column of boiling water to heights from 15m to 40m every five to ten minutes.
The Great Geysir has been active for around 800 years, and once gushed water up to 80m into the air. But geysers go through periods of lessened activity, and Geysir is not special: it has been asleep since 2016.
Gullfoss Waterfall
Plummeting 32 meters into the river gorge, the "Golden Waterfall" is one of the most beautiful and powerful waterfalls in Iceland.
Gullfoss was almost lost in the early 20th century when British developers sought to harness its incredible power for geothermal energy. The daughter of the farmer who owned the land, Sigríður Tómasdóttir, decided to fight their plans and walked over 200 km back and forth to Reykjavík multiple times to meet with a lawyer and change the decision. Though the process was hard and took years, she eventually managed to withdraw the plans of the businessmen. Thanks to her, all Icelandic waterfalls are now protected from foreign investors, and she is considered one of Iceland's first environmentalists and most important historical people.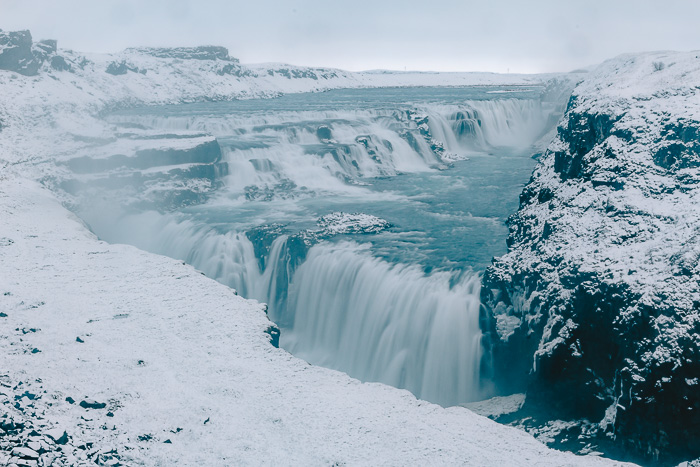 Gamla Laugin, Secret Lagoon Hot Spring
Despite being man-made pool, the Secret Lagoon is naturally fed by the hot springs of the area. It makes use of its natural terrain and geothermal feature to heat the water at around 38-40°C (100°F) all year long. It is the oldest pool in the country and one of the most popular amongst locals.
I decided to go there at the end of the day to catch the golden hour and sunset and it was just perfect!
12pm-8pm May-Sept, 11am-7pm Oct-Apr; adult/child 3000 ISK/free)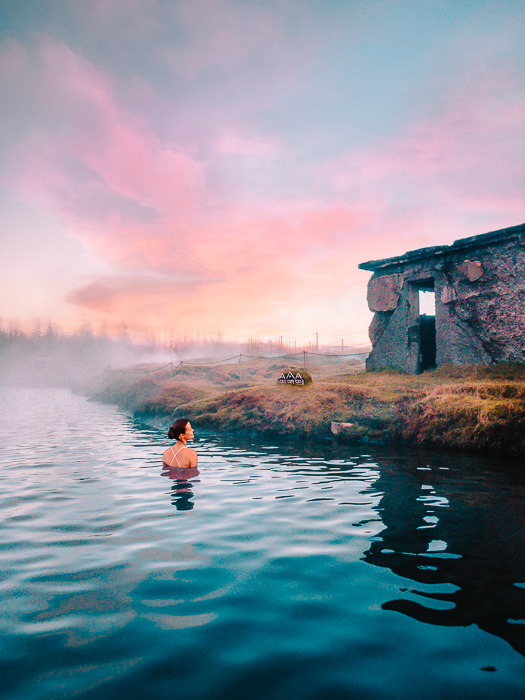 Where to stay
We stayed at Hotel Kanslarinn which was absolutely perfect, probably our best night in Iceland! It is very clean and quiet despite being right next to the Ring Road. They also provide an excellent breakfast and very good dining options. Considering there's not much more around, we had dinner and breakfast there and it didn't disappoint.
Waterfalls
Seljalandsfoss
Seljalandsfoss is one of the prettiest waterfalls in Iceland. It is also one of the easiest accessible one, being just off of the Ring Road. In winter, it will probably be too icy to walk behind the waterfall and get the famous picture (even with some crampons) but you will be able to walk up some staircases (also frozen, hopefully you brought your crampons!) that will lead you to breathtaking views.
Gljúfrafoss
Only 600m from Seljalandsfoss, Gljúfrafoss is easily accessible by foot. It is a unique 60-meters high waterfall; unique because nested in-between rocks. You can also go behind it; but in winter it was too icy for us even with the crampons.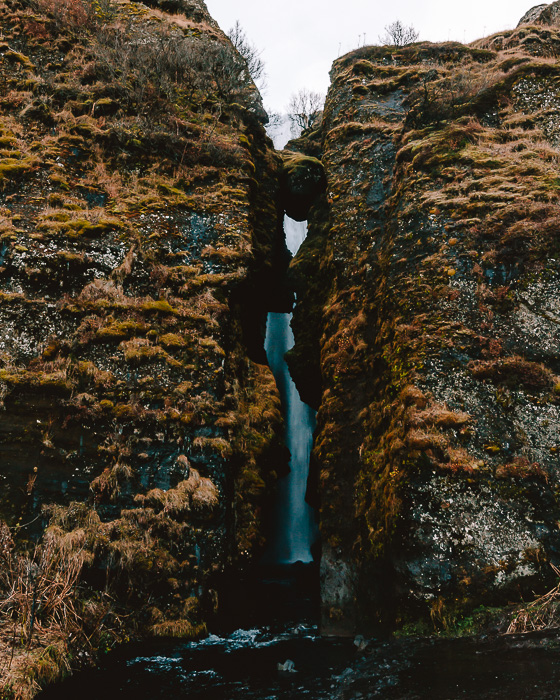 Skógafoss
This giant waterfall topples over a rocky cliff for a dramatic picture. Its power, its aesthetic, its geology, this waterfall is a true marvel of Iceland. 25-meters wide on 60-meters high, it is often the stage of a picture-perfect rainbow. Go closer and feel its power; then climb the staircases on the side to a stunning viewpoint. You can also walk to the foot of the falls, with veils of mist and more rainbows, and look for the treasure. Legend has it that a settler named Þrasi hid a chest of gold behind Skógafoss… If you're coming in summer, the top of the waterfall is also the start of the dramatic Fimmvörðuháls trek, a 23km walk to Þórsmörk, the land of the Gods.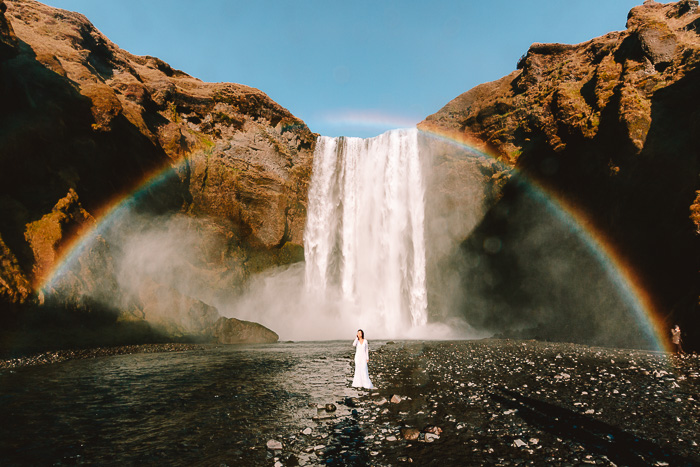 Kvernufoss waterfall
Less touristic than her neighbour Skógafoss, Kvernufoss is a beautiful 30m-high waterfall hidden away in a gorge on the east side of Skógafoss. A beautiful short hike (20min) leads you from the museum through the river to the waterfall. In summer, you can walk behind the waterfall; I can only imagine the power you might feel when standing there!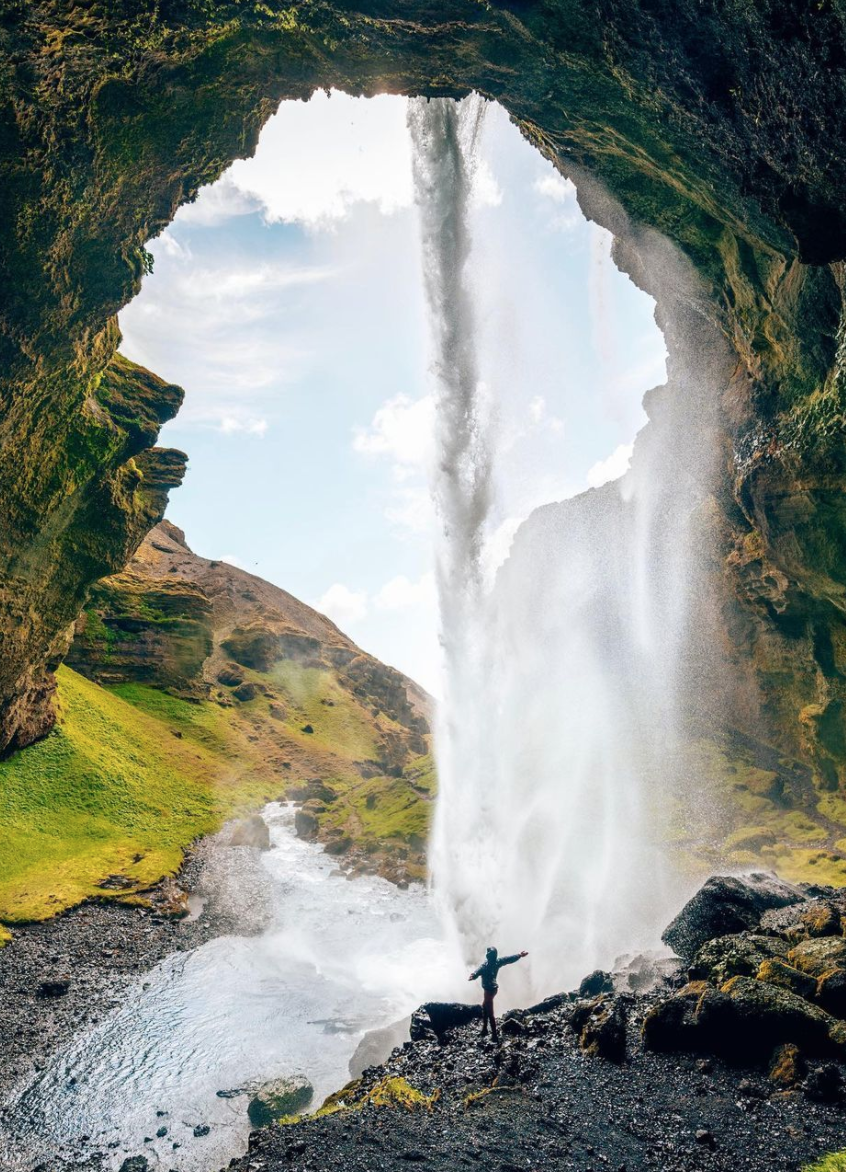 Seljavallalaug Swimming Pool
Seljavallalaug is probably one of the most beautiful swimming pool! It is free, in the middle of the mountains, with a short 15min walk to get there. The water is not very hot (around 24°C – 75°F) especially in winter but that's also the best time of the year to have the place all to yourself! The algaes inside the pool are harmless and shouldn't refrain you from enjoying this place. Some people have found the little hut to change a bit dirty but I guess it depends on the season.
Where to eat
Sveitagrill Miu – Mia's Country Grill: This little food truck doesn't look like much but it has the best fish&chips you'll ever have! The Icelandic tartar sauce is the way to go.
Where to stay
We stayed at Lindartún Guesthouse which was very nice! A beautiful guesthouse, far from the road but still easy to find, with a modern kitchen perfect to cook your dinner and a delicious breakfast. Everything was very clean and comfortable and the host was really nice and welcoming! That's where we saw the Aurora Borealis!
Vík í Mýrdal
Often shortened to Vík, it is the southernmost point in Iceland. Around Vík, everything is iconic, something of a remarkable beauty.
Sólheimajökull
Sólheimajökull means "the Home of the Sun Glacier". It is one of the most accessible glaciers from Reykjavík. Glaciers are dangerous and fragile environments. Because you cannot walk freely on them, you absolutely need an experimented guide who knows the area very well. All year round, you can do a Hiking Tour or an Ice Climbing & Hiking Adventure on the Glacier and discover a new world of ice sculptures, hundred years old deep blue ice, icy canyons and fantastics panoramas.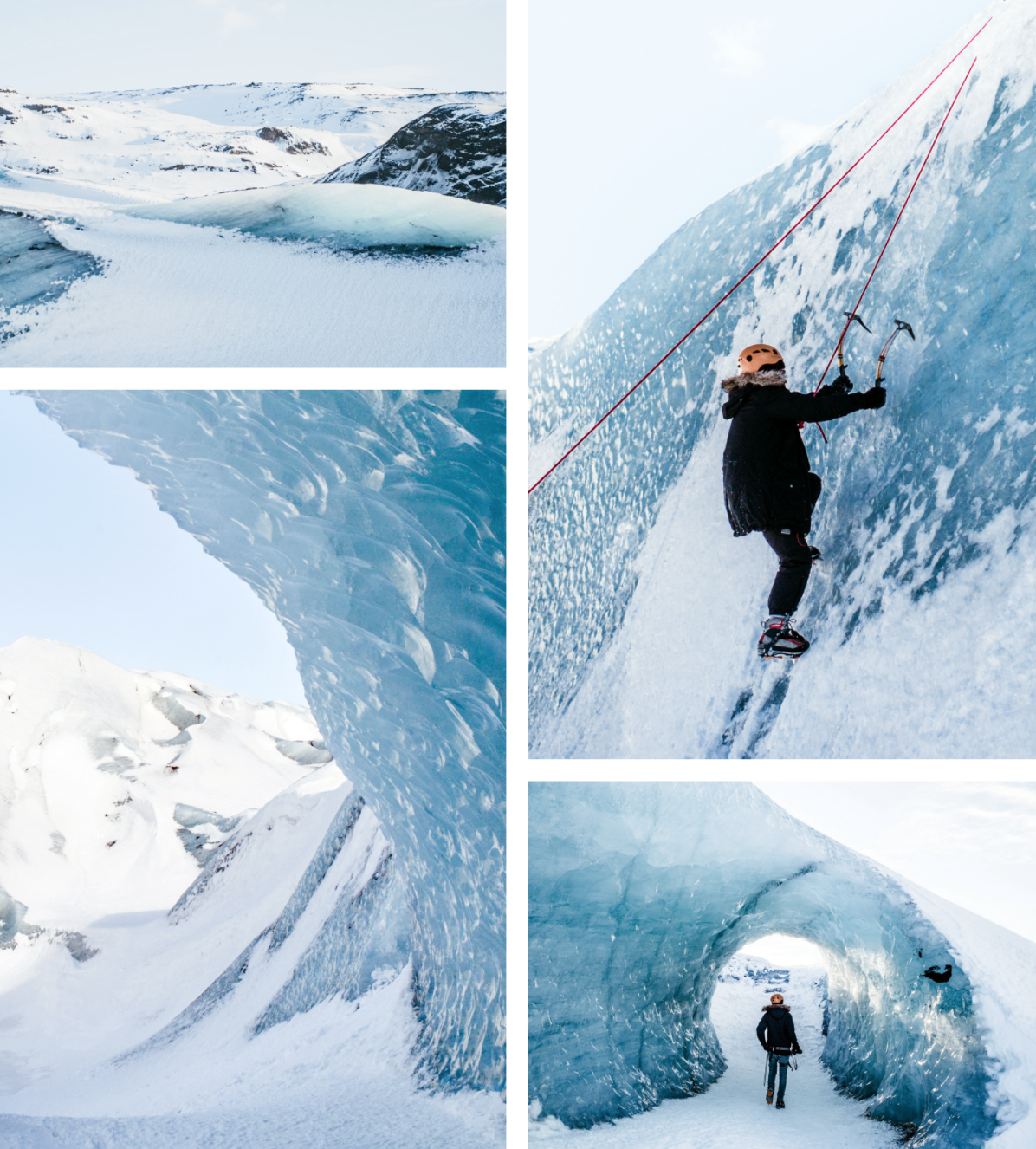 Reynisfjara black-sand beach
This incredibly dark black-sand beach is backed by an impressive stack of basalt columns, looking like a magnificent church organ. One can only think of the Hallgrimskirkja church. In summer, it is a good place to try and spot some puffins! However, it is not your typical beach and you wouldn't want to swim or sunbathe there! At any time, always watch out for the waves. When we were there, the sea was quite calm but it's often not the case and the rogue waves have regularly swept away people.
Dyrhólaey Peninsula
At the opposite side of the beach from Reynisfjara, the view from here is absolutely worth it and totally different! I would highly recommend you to check both of those places, if only for the stunning view on the beach.
Dyrhólaey, translating to "Door Hill Island", is an ancient volcanic island that joined up to the Icelandic mainland. The historic lighthouse, abundance of birdlife and the homonym rock arch are the main highlights.
DC3 plane wreck
A not-so-short walk will guide you to the famous plane wreck. The aircraft, from the US Navy, crashed into Sólheimasandur in 1973 with seven crew members. Thankfully, no one was injured in the crash.
Fjaðrárgljúfur Canyon
This darkly picturesque canyon, carved out by the river Fjaðrá, has been well and truly discovered, thanks to Instagrammers. A walking trail follows its southern edge for a couple of kilometres, with plenty of places to gaze down into its rocky, writhing depths, and to take in the gorge's splendour and the emerald-green surroundings.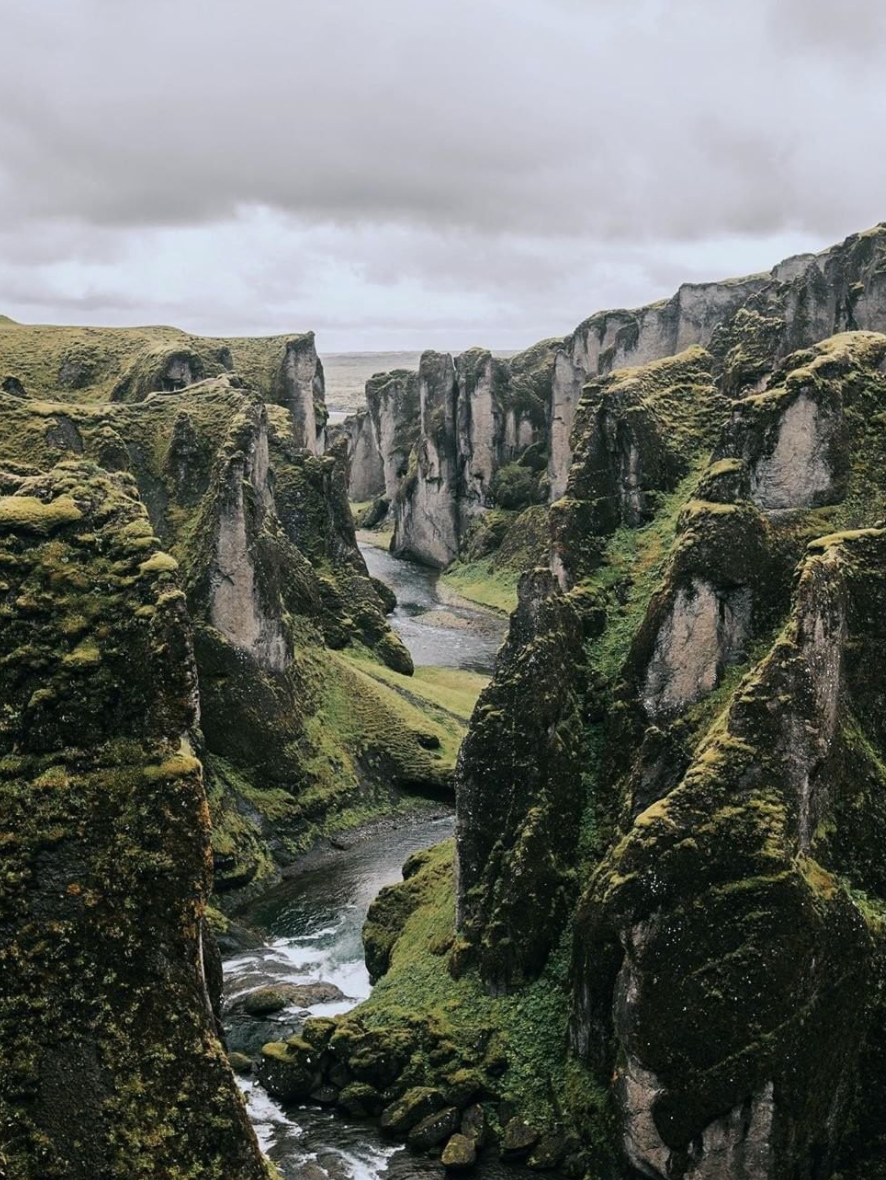 Systrafoss & Systravatn
At the western end of the village, the lovely double waterfall, Systrafoss, tumbles down the cliffs and a sign outlines three short walks in the pretty wooded area (Iceland's tallest trees grow here!). The lake, Systravatn, reached by a leisurely climb up steps cut into the hill beside the falls, was once a bathing place for nuns. A marked 2.5km walking path leads from the lake to descend near Kirkjugólf and takes in glorious views.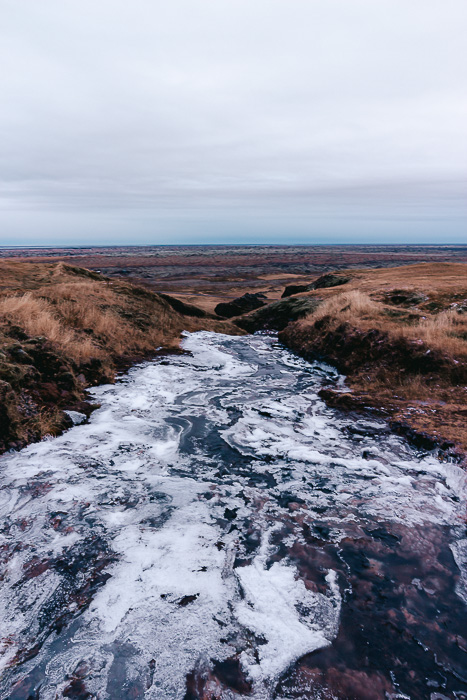 Where to eat
Systrakaffi: On the side of the road, this restaurant has the best artic charr/trout (called "Klausturbleikja" – bless you!) & grilled Icelandic lamb! We also had our best pecan pie ever and a delicious carrot cake.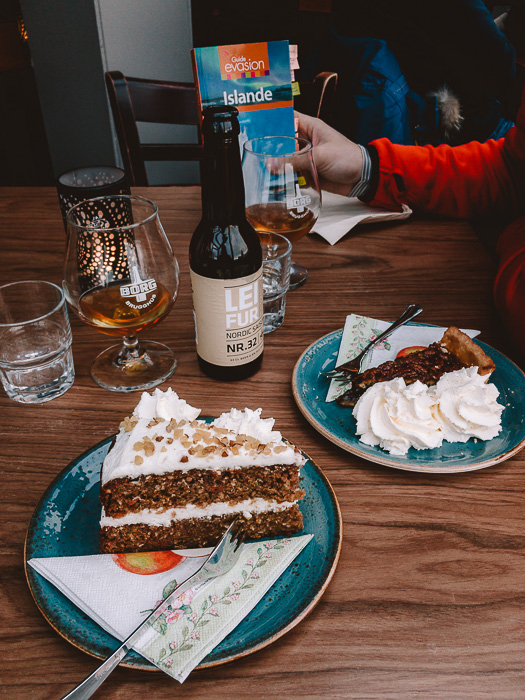 Where to stay
We stayed at Klausturhof guesthouse which was a very good surprise! We got upgraded for a ensuite room; everything was perfectly clean and well equipped. There's a small cafe, good enough for a dinner but the best thing might be the location! It is right at the bottom of a semi-private path leading to Systrafoss waterfall and Systravatn lake!
Jökulsárlón
This part of the Ring Road is truly mind-blowing. From vast deltas of glacial sand to craggy mountains, lost-looking farms, glacier tongues and ice-filled lagoons, the only thing you won't pass is a town.
Diamond Beach
A photographer's paradise, Jökulsárlón glacier lagoon is one of Iceland's undisputed highlights. Walking along the shore on Diamond Beach, where icebergs from the lagoon wash up on its black sand, has something magical, especially at sunrise. Yet I was absolutely devastated. In the silence of the morning, you can distinctly hear the ice from the glacier breaking down and melting. Knowing that all of this glacier will soon disappear broke my heart.
Fjallsárlón
This easily accessible glacier lagoon is a good alternative to Jökulsárlón, which can be pretty busy at times. The icebergs there breaks down from Fjallsjökull. If you have time, I highly recommend you to stop at both lagoons as they have quite different features.
Svartifoss
The "black waterfall" is a stunning one in the middle of dark basalt columns. It is a moderate hike to get there (1h45-2h return) from the Skaftafell Visitor Center.
Svínafellsjökull
Svínafellsjökull is an outlet glacier of Vatnajökull, the largest ice cap in Europe. It is one of the Iceland's most popular places for glacier hiking due to its incredible formations and excellent views. In winter, the intensity of the blue ice contrasting with the black volcanic rocks and the snow is mesmerizing.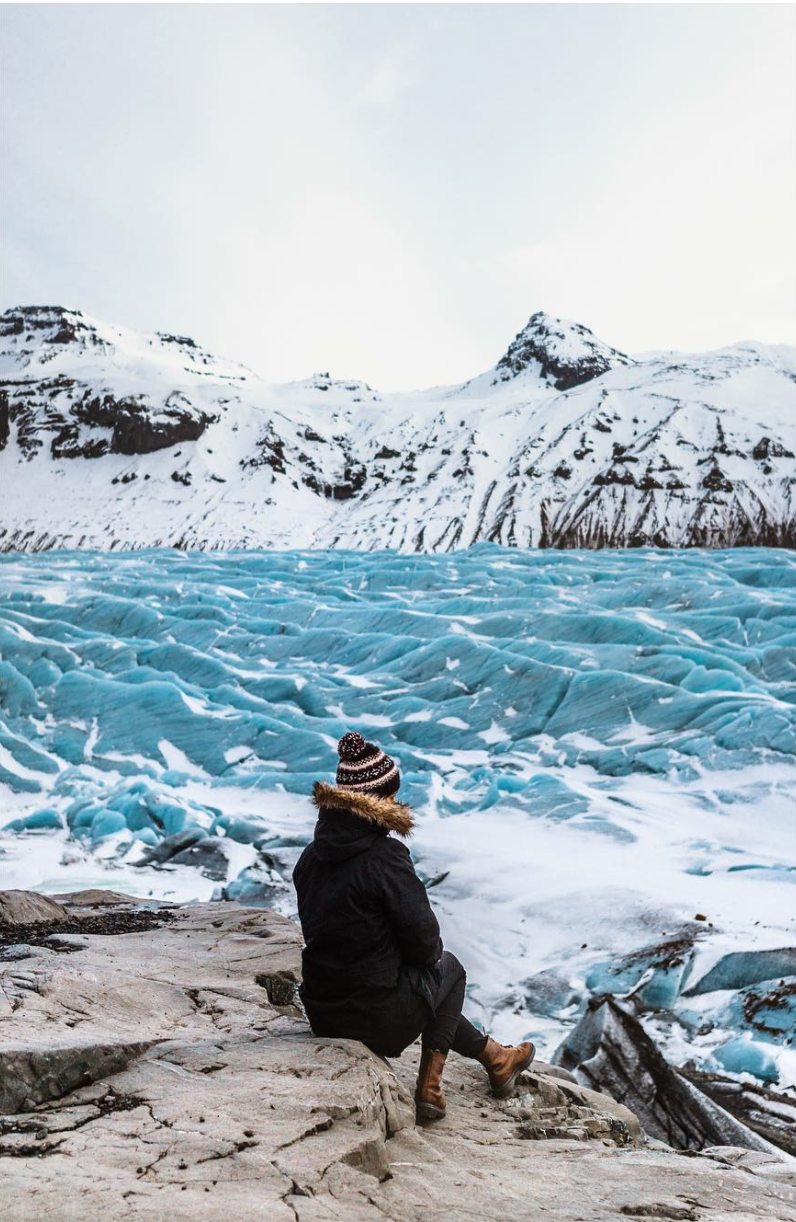 Reykjanes Peninsula
As you move away from the capital and the airport, the Reykjanes Peninsula feels like another world. That's where you'll find Iceland's most famous attraction, the Blue Lagoon, but also a lot of other gorgeous sights, including untouched landscapes and multihued volcanic craters, mineral lakes, bubbling hot springs and coastal lava fields.
Blue Lagoon
Your South Iceland road trip couldn't be complete without a visit to the Blue Lagoon. Trust me, it is THE perfect place to unwind before heading back to the airport! Sure, it is Iceland's favorite soaking venue and undisputed top attraction, with a lot of people all year round. However, I still believe it is one of the most beautiful places I've been so far!
The best is probably to go at the end of the afternoon and to stay until the night. We booked our tickets for 3pm and stayed there for hours! Sadly we couldn't see any Northern Lights because of the clouds but we were having such a great time we stayed until dinner time at the Lava restaurant.
We didn't plan to go to the restaurant but decided to treat ourselves for our last night in Iceland and we didn't regret it! The Lava restaurant was amazing and the food was so delicious! We had Birch & juniper cured artic charr and a Langoustine soup (one of the bests ever!) as starters; the fish of the day (haddock with langoustine sauce, kale, potatoes and almonds) and Lamb fillet and shoulder with rutabaga, carrot, rhubarb and thyme for main. It was just perfect!
The Blue Lagoon is, in my opinion, the perfect way to end your Icelandic adventure!
Experience Icelandic cuisine
Eating out in Iceland can quickly become pretty expensive, even in more casual places. If you are traveling on a budget, I would advice you to cook your own food and to do your groceries in the Bonus supermarkets, they're really cheap! That being said, I highly recommend you to try some of those delicious Icelandic specialties!
Fiskisúpa, "Fish soup": You can find fish soup almost everywhere -it embodies the nation's tradition where fish is very much part of daily life. Everybody has their own version, consisting of vegetables melted in butter, covered in stock and white wine, throwing in the fish last-minute. And lots of cream for those who like it.
Lamb: It is Iceland's headliner meat and a locavore's dream;
Langoustine: At Höfn, in the southeast part of Iceland, the icy local waters host countless crustaceans, especially langoustine, delicious simply grilled with butter;
Skyr: A delicious Iceland cultured yogurt, with a milder flavour;
Hverabrauð: A Cake-like rye bread, baked underground using geothermal heat around Mývatn;
Dairy delights: Cheese, cream, ice cream, yogurt, you will find creamy treats in every farm cafes;
Herbs: Vegetables in Iceland are quite limited but herbs are delicious!
Aurora Borealis
Looking for the magical natural light show of the Northern Lights was the main reason of our trip. The Aurora Borealis takes its name from the roman goddess of dawn, Aurora, and the Greek name for the north wind, boreas. It is a natural phenomenon created when solar particles interact with the atmosphere in the Earth's magnetic field. This releases energy, causing peculiar luminous green or pink streaks across the sky. You can only see them when all the conditions align with a clear and dark sky, away from the light-pollution of the cities. You can check the weather conditions, cloud coverage and Auroral activity on the Icelandic Met Office Website.
Despite the often cloudy winter weather, we were lucky enough to get one perfectly clear night when we were staying in Lindartún Guesthouse, in the middle of nowhere, at a fair distance from the main road.
How to take photo of the Northern Lights
First of all, you will need a tripod. If you don't have a cable or remote to shoot without touching your camera, you will need to put the self-timer to two or ten seconds shutter delay.
There is no universal setting for cameras that would ensure great captures, but if you have a manual mode, you should be able to experiment and maybe go somewhere. As a rule of thumb, I would suggest to set the best lowest aperture possible (probably between f/2.8 and f/5.6), a shutter speed between 10-30 seconds, and the ISO somewhere between 800 and 3200, depending on how well your camera can handle the noise. A shutter speed above 15 seconds will result in a slight star movement. I would also recommend to set your focus on manual and to focus on the infinite.
Note that what you will see with your naked eyes is not as bright and colourful than in photos; the long exposure will brighten up and bring more colours to the Aurora. However, please don't misunderstand what I'm saying; it's still incredibly magical to see it anyway!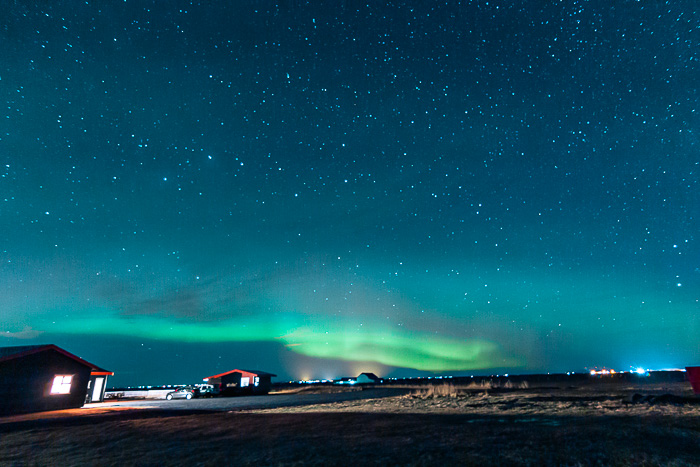 ---
I hope this travel guide to South Iceland will be useful for you and that it will inspire you to visit this beautiful part of our planet! As always, feel free to reach out here or on Instagram if you have any questions or remarks. And don't forget to tag me in your stories if you use this article for your next Icelandic adventure!
With love,
Marina
---
If you liked this post, pin it for later!