In early October last year, Nathalie (@nathalie_wanders) and I flew over the Mediterranean sea to Morocco. I was so happy to finally step a foot in Africa! Now, I am more than happy to share with you our travel itinerary for one amazing week in Morocco!
We only had a week there but we wanted to see a little bit of everything. We decided to split our trip between dizzying cities, sweeping desert and ancient places. While a week was not nearly enough to explore this big country, I do feel we got a nicely balanced taste of what makes it such a joy to visit. Here's what we did, in hopes that it sparks your imagination or helps you with trip planning!
Travel log
Marrakesh, a gateway to culture
Oct. 1st It's 10 am when we finally land at the airport of Marrakesh. After getting some money and a sim-card, we call a taxi to our riad, Ksar Kasbah & Spa, and get off at the entrance of the souks. Everything there is very spread out. We pass by villagers, women carrying big woven baskets with handles across their foreheads to support the weight, men riding scooters like a pinball in the machine. I am here and here is very much…elsewhere from our normal.
We arrive in front of a large solid wood door set in a powder-pink rammed-earth wall. As we walk into a small corridor, the delicate and soothing smell of orange blossoms envelops us and takes us away from the busy medina. The entrance door opens up and we are warmly welcomed by the staff offering us a delicious Moroccan mint tea with local treats. We enjoy this soothing time in front of a beautiful painting-like scenery: a turquoise indoor pool framed with palm trees and a white sun lounger, surrounded with gorgeous detailed tiles and carved woods, bathed in soft sunlight.
A few minutes later, the staff escort us to our room on the last floor. Entering, we are immediately in awe of it. Spacious yet intimate, simple yet beautiful, we wish to never leave this place. After taking a quick shower, we are now ready to venture into the medina and start our visits!
A short walk away from our riad is our first stop, the Bahia Palace. Built in the late 19th, its name means "brilliance". Intended to capture the essence of Islamic and Moroccan styles, this palace is a masterpiece of tile-work and intricate floral painted-wood ceilings. The vibrant colors, along with the mixture of materials from tiles to wood through silk and stained glasses, form a lavish place which teleport us back in ancient times. It is not hard to imagine that it actually took 14 years for Morocco's top craftsmen to build this palace.
After spending an hour in the few of the 150 rooms open to visitors, we venture through the medina and the souks to our second stop, the Secret Garden. Scooters and bicycles never cease to startle us. I believe it might take a few days to get used to it. The lanes that spool north from Djemaa El Fna are filled with scents of cumin and grilled meat, shafts of sunlight strike through palm-frond roofing and, by the time we reach our destination, hawkers bid us hello in 10 languages.
Built 400 years ago, the Secret Garden Palace was abandoned until its reconstruction in the middle of the 19th century. It is part of the great tradition of Arab-Andalusian and Moroccan palaces. Despite being already the middle of the afternoon, there is only a few people with us, so we fully enjoy this beautiful haven in the middle of the dizzy medina.
4:30 pm. We haven't had a proper meal yet and decide to go to the famous Atay Cafe Food, a few steps away from the Secret Garden. This cafe surely offers one of the most beautiful view over the city, embracing the Atlas Mountains and the Koutoubia Mosque. We first share a delicious pastilla as a starter, then both order a tajine. Mine was served with olive and lemon and was delicious!
After this late lunch, we head to the Koutoubia Mosque. On our way, we stop by the Place des épices ("Spices Square"), full of vibrant colors and surrounded by traditional carpets casually hanging on at the windows. The Koutoubia Mosque is the largest one in Marrakesh. It is not open to visitors but you can still admire the giant minaret of 77 meters (253 feet) from the plaza. The minaret is one of the most impressive examples of Islamic architecture of Marrakesh's imperial past, as well as Ali Ben Youssef Medersa (under reconstruction until 2020).
We finally end our day at the Grand Balcon du Cafe Glacier with a mint tea, watching as the setting sun extinguishes is golden light on the Jemaa el-Fnaa buzy square, from where resonate the sounds of the snake-charmers' flutes and street musicians' instruments mixed with motorbikes and horse-drawn-carriage traffic. Seeing it from above is exhausting but mesmerizing.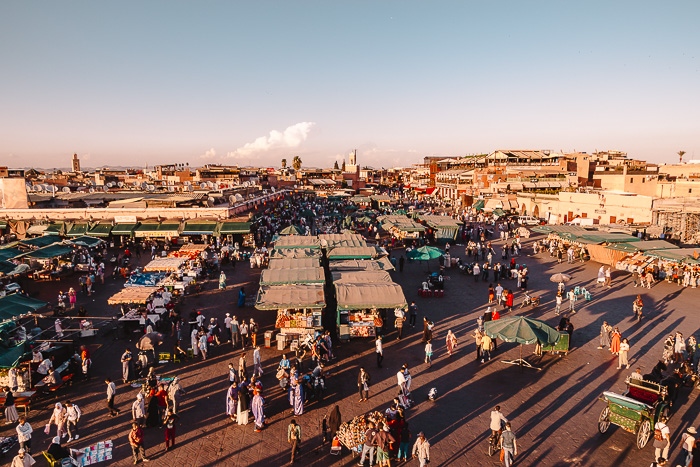 Back to our riad, we watch the orange sun setting over distant mountains from the rooftop. The sonorous call to prayer echoes out from the mosques. I now understand how religion permeates the rhythms of daily life. We head to bed after a last night dip into the pool. I instantly close my eyes, the head filled with vibrant images and various scents, feeling completely spoiled and utterly grateful to be here.
Oct. 2d On this second day, we decide to take it slow and enjoy our place. Before breakfast, we watch the sun slowly rising up. It's 7:30am and the air is fresh and invigorating. Breakfast consists in a set of lavish plates with traditional Moroccan meals, a colorful collage of fresh fruits, orange juice, pancakes with honey and omelettes. The tableware enhances the food perfectly and had been chosen with exquisite taste. I wish I could take it home with me 😛
Time seems like a mirage here, we spend the morning going back and forth from the pool to the deckchairs on the rooftop. Soon it is lunch time and here we are, eating some delicious Moroccan dips and drinking mint tea until the middle of the afternoon.
Agafay desert
The taxi for our next stop just arrived and will take us to the Agafay Desert, a totally different part of Morocco, located 40km southwest of Marrakesh. After a 50-mn ride, we reach the Scarabeo Camp, which will be our house for the night. It's my very first time in a desert and I'm so excited! Instead of sand dunes, the Agafay Desert is a stone desert. A rough, dry, moon-like expanse seems more accurate.
Our host greets us warmly with mint tea and Moroccan treats before leading us to our tent. Located at one end of the camp, our tent offers us a stunning view of the Agafay's barren grandeur and beyond to the snow-capped Atlas mountains. Our oriental-inspired tent is spacious and lovely decorated, with locally crafted pieces and artworks, natural materials and traditional matting. It's like we've been teleported (again) on an expedition from another time.
We spend the afternoon enjoying the silence of this little corner of paradise. The sky turns dramatic as the sun starts to decline. A storm is rising in the distance, over the Atlas mountains. The heavy clouds turn to heavy dark-blue with a mix of pink and orange. The wind is rising as the night envelops the camp in inky blackness. We then headed to the large communal tent where dinner is waiting for us. Dinner is a feast of traditional Moroccan cuisine served on a candlelit table, with a live guitarist singing in various languages. The beef tajine is pure delight. But they also provide vegan/vegetarian options if needed.
Belly full, I stay under an inky sky full of stars, in silent reflection of our day. The desert is quiet and enveloping, offering a spectacular night sky illuminated by the enormous arc of the Milky Way.
Oct. 3rd An early wake up to start our third day in Morocco. We admire the sun rising over the Atlas mountains, bathing the stone in its golden light. Breakfast is made of fresh baked bread, Moroccan pancakes, honey, orange juice and omelettes. After breakfast, I stay meditating on our little patio, listening to the endless silent.
Aït-ben-Haddou, rocking the Kasbah
11am. It's time for us to leave this silent paradise. Our driver takes us back to Marrakesh where we rented a car. As we get inside the car rental shop, I realize that I forgot my driving license back home. I feel so dumb T_T Thankfully Nathalie has the best driving skills ever and it's laughing and singing that we hit the road! Aït-ben-Haddou here we come!
It is a 4-hour drive from Marrakesh through the Atlas mountains. The road is a switchback dirt road, mainly under construction and packed with many trucks winding through the mountains at a snail's pace. It was quite an adventure, but we eventually arrive safely at our riad, the Riad Tamdakhte.
As usual, the owner welcomes us warmly and show us our small yet cozy room. It's already late in the afternoon so we decide to head quickly to Aït-ben-Haddou for sunset.
As we arrive, I feel like I am sent back to ancient times (again!). This red mudbrick ksar (fortified village), registered in the UNESCO World Cultural Heritage List, seems like frozen in time, back to its 11th century glory as an Almoravid caravanserai. You can probably recognize it from well-known movies as Lawrence of Arabia, Jesus of Nazareth (from which much of the ksar was rebuilt), Gladiator and more recently Game of Thrones.
We wander through the narrow streets, get lost, cross a private house without our being aware (and are asked to pay a fee,even if we were only continuing on our track), and we finally arrive right during the golden hour at the tea shop we were looking for. We enjoy a nice mint tea from there, admiring the complete panorama over the ksar, with the mountains in the background.
Before it gets pitch dark, we head back to our riad where we eat dinner. I am getting used by now to food portions here (not my belly though)! We have a delicious soup as a starter, followed with tajine as main dish, which is an absolutely delish! Without meaning to I eat the whole plate!
I'm awake suddenly at 3:30. Apparently, my belly didn't appreciate the soup… As I don't want to wake up Nathalie, I try to fall asleep again.
Oct. 4th The alarm rings early today as we have to go back to Marrakesh. Unfortunately, I'm still sick so we decide to take it slow. On the road back to Marrakesh, the view over the Atlas mountains reminds me of a beautiful painting. Under the vibrant blue sky, the mountains are reddish with different layers of green.
Marrakesh, Jardin Majorelle
2pm We finally arrive in Marrakesh and return our car. We stop at the train station to buy our tickets for the night train which will take us to Tangier tonight. As we want a single person cabin, we need to buy it directly at the office counter.
Our first stop of the afternoon is the beautiful Jardin Majorelle. It's early on the afternoon and yet, there isn't too many people queuing for tickets. We enter the garden a few minutes after arriving and I'm immediately in awe of this quiet place. The trees are vibrant green, accentuated by the majorelle blue of the garden edges and the red brick ground. Saint Laurent and his partner Pierre Bergé bought this electric-blue villa and its garden to preserve the vision of its original owner, French landscape painter Jacques Majorelle, and keep it open to the public. This garden is home to 300 plant species from five continents!
On our walk back to the souk, I'm feeling sick again so we make a stop at Le Jardin, where Nathalie's already been once. We still have time before our train departure, so we take it slow and the staff kindly accept that I relax on a sofa in a quiet corner of the restaurant.
8:45pm Departure time! Both of us are in a little single cabine, with a comfortable bed, an armchair, a desk, and even a sink! They also provide slippers and toothbrushes/toothpaste.
Chefchaouen, the Blue Pearl
Oct. 5th I wake up as we arrive near Tangier feeling way better. We pick up our rented car at the airport and hit the road again, on our way to Chefchaouen! We organized the whole trip around this renowned Blue Pearl of Morocco and we are soo excited to finally be there!
The road takes us through another beautiful mountain, the Rif. Those mountains are home to Chefchaouen, beautifully perched between its raw peaks. We park the car in a guarded area (highly recommend!) and head to our apartment. "Dar Swiar" is located just at the entrance of the medina, on top of some typical blue-white painted stairs.
2pm After a well-needed shower, we are ready to explore one of the prettiest towns in Morocco! Wandering in the old medina is like going back in time (again!). Small and pretty much uncrowded, it's a delight of Moroccan and Andalusian influences with red-tiled roofs and bright-blue buildings.
After wandering a bit, we notice a little almost hidden path with stairs going down. The smell of some delicious food being cooked on the stove is coming from a tiny arch, with "Bab Ssour" written on it. It's the restaurant we've been thinking of going to while in Chefchaouen! We decide to stop our wanderings here and to take the time to have a proper lunch. The couscous du jour is so yummy! My belly feels instantly better 😛
As we pursue our exploration, the narrow winding paths keep us diverted. Every corner is so photogenic! Thankfully, the medina is compact enough that you would never get lost, all the paths converging on the busy Plaza Uta El Hamman and its restored kasbah.
Being a mountain village, the medina is a perfect maze of short steps here and there, all painted in a blinding blue-white with splashes of terracotta tiles. Chefchaouen surely has become touristic during the last past years, but the balance between ease and authenticity is just right, and even if there are groups of tourists, it's easy to avoid them and explore this artsy, blue-washed little world.
For sunset, we walk up the hill to go to the Spanish Mosque. Built on a hilltop by the Spanish in the 1920s, it has never been used but still offers a panoramic view of the entire blue town sprawling over the green hills below. We decide to stop half-way as we see the crowd up there. We watch the orange sun set over distant mountains, its orange glow bathing the blue city in a magical light. The sky is cloudless and the gradient of burnt sienna to pink and blue only intensifies after the sun went down.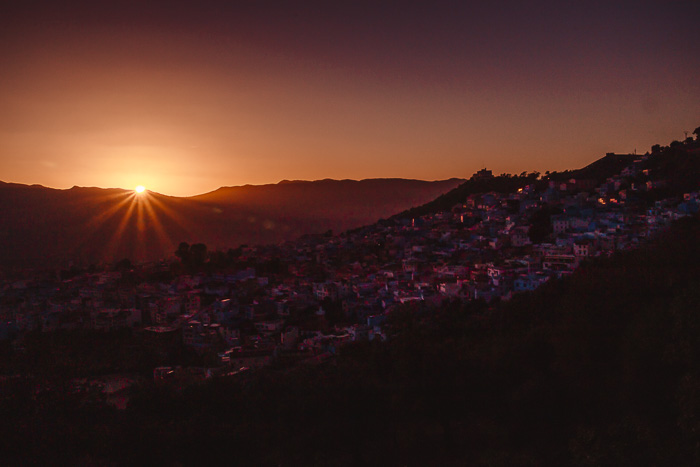 Oct. 6th We wake up around 7am to watch the sun slowly rising over the morning mist covering the city. The sky colors evokes perfectly an impressionist painting, going through all the pastel tones, from deep blue to violet. There is not another soul around, except a cat grooming itself on top of a roof.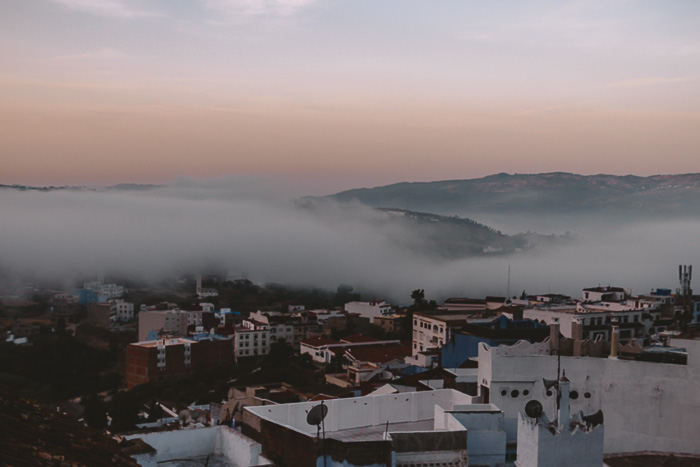 Fez, enthralling tradition
We hit the road early for the last part of our trip. The road is nice and takes us through dry mountainous landscapes. After returning our car at the airport and buying some croissants as breakfast, we call a taxi to take us to our riad, the Riad Fes Bab Rcif, located right next to the south main entrance of the medina.
3pm As we walk through the entrance arch, we immediately step back in time. The medina Fez El Bali hasn't changed in nearly a millenium. The narrow alleys are way crowded than everything we have ever experienced. Mule driver's crying "look out!" to warn of the approach of a heavily laden pack animal, tireless craftsmen hammering copper pots, women passing by with bundles of freshly cut herbs, kids turning their small alley into a football pitch… It feels like being a perpetual pandemonium.
Eventually, the maze leads us to the Bou Inania Medersa. Founded in 1351-57 by Abud Inan Faris, it used to be both an educational institute and a congregational mosque. It has been impressively restored with colorful geometric tile work and elaborate carved cedar woods on the massive entrance doors. It is the only madrasa in Fez with a minaret. Time seems to have stopped here, and all the sounds of the dizzy souks just become a distant whisper. As the two of us sit and relax, I gaze at all the beautiful details.
Back to civilization and its dizzy alleys. Around the next corner, a seemingly blind alley lead to a square with a beautifully tiled fountain. A man steps in a mosque allowing us to have a glimpse inside it through the open door. As we turn left, we bump into a square bursting with food stands and restaurants. One of them appears to be Chez Rachid, which we've seen beforehand to be one of the best place to eat in Fez. As we still haven't had a proper meal today, we decide to stop and eat there, despite being super early (5:30pm!). We both order a chicken pastilla and a plum tajine and oh my! People were saying true! Best pastilla we've ever had, and the tajine is perfect!
It is still light but we decide to head back to our hotel so we can have a nice sleep given that we will have to wake up early tomorrow!
Oct. 7th An early wake up to start our last day in Morocco. We call a taxi to the Royal Palace of Fez. The 80 hectares estate is not open to the visitors, but the entrance itself is well worth a visit! The imposing brass doors have been carved in copper by a local craftsmen around 1970 and are surrounded by fine colorful geometric tile work and carved cedar wood. As the morning sun starts to illuminate the place, big buses stop and pour their flows of tourists.
Time for us to go back to our riad to enjoy our breakfast! After that, we still have an hour before going to the airport, so we wander one last time through the medina of Fez, amazed by the contrast between the stunning architectural details of the mosques and the medieval atmosphere of the donkeys cart going down the warren of alleyways.
---
As our flight takes off, I am pulled out of what seems to be a dream. A trip back in time, full of contrasts, colors, smells and sounds. Morocco really is a country of dizzying diversity. With its epic mountain ranges standing alongside ancient cities and sweeping deserts, it is a place where tradition blends modernity. But most of all, Morocco is a country of warm hospitality, a sentiment I will keep, alongside my memories, treasured forever.
---
Day by day
Day 1
[2pm] – Palais Bahia (9am-4:30pm, Dh70)
– Secret Garden (9:30am-7pm, Dh50)
🍴Lunch: Atay Cafe Food (everyday, 10am-10pm, Dh300 for two tajines and one pastilla)
[5:30pm] – Koutoubia Mosque
– Jemaa el-Fnaa square
🛌Stay at: Ksar Kasbah & Spa, we stayed at the Sahara Suite (get 10% on your booking here)
Day 2
🍴Breakfast: Ksar Kasbah & Spa (included)
🍴Lunch: Ksar Kasbah & Spa
🍴Dinner: Scarabeo Camp (included)
🛌Stay at: Scarabeo Camp
Day 3
🍴Breakfast: Scarabeo Camp (included)
Car rental: Yacout tour (old car but perfect for only Dh270!)
🍴Dinner: Riad Tamdakhte
🛌Stay at: Riad Tamdakhte (book here to get 10% off!)
Day 4
🍴Breakfast: Riad Tamdakhte (included)
[2pm] Jardin Majorelle (8am-5:30pm, Dh70)
🍴Lunch: Le Jardin (everyday, 10am-11pm)
🛌Stay at: single cabin in the night train Marrakesh-Tangier (buy your tickets at the train station office counter, Dh690/pers.)
Day 5
🍴Breakfast: Tangier airport
Car rental: Sixt at Tangier airport (brand new car, super comfy, for Dh900)
🍴Lunch: Bab Ssour (everyday, 12am-10:30pm)
Day 6
[3pm] Bou Inania Madrasa (9am-5pm, Dh20)
🍴Dinner: Chez Rachid
🛌Stay at: Riad Fes Bab Rcif, we stayed at the Royal Suite (book here to get 10% off!)
Day 7
🍴Breakfast: Riad Fes Bab Rcif (included)
---
Other spots to consider:
Akchour's waterfall (near Chefchaouen)
The sand dune desert of Merzouga
Essaouira
Casablanca
Ouarzazate
Meknes
The whitewashed town of Moulay Idriss
Surfing in Taghazout
Visit an oasis town (Figuig)
Trekking in the High Atlas Mountains
---
I hope this travel itinerary to Morocco will be useful for you and if you need, feel free to reach out with any questions as there is SO much to do!
With love,
Marina
If you liked this post, pin it for later!