Gamarjoba! This March, the Tbilisi City Hall invited me to discover the capital of Georgia during a long weekend. Being still off the tourists' radar – and you know how much I love non-touristy places – Georgia has been on my list for a while. So much that I was actually planning a trip there later this year with my dear friend Nina! Thank goodness I was invited there on a trip and the rest is history. I LOVED Tbilisi and will return there soon to explore different areas of this incredibly diverse country! For one looking for nature, authenticity, eclectic culture and amazing gastronomy, this European hidden gem has plenty to offer! So here you go, I'm finally sharing the best travel guide for a weekend getaway in Tbilisi, in hopes that it sparks your imagination and helps you for trip planning!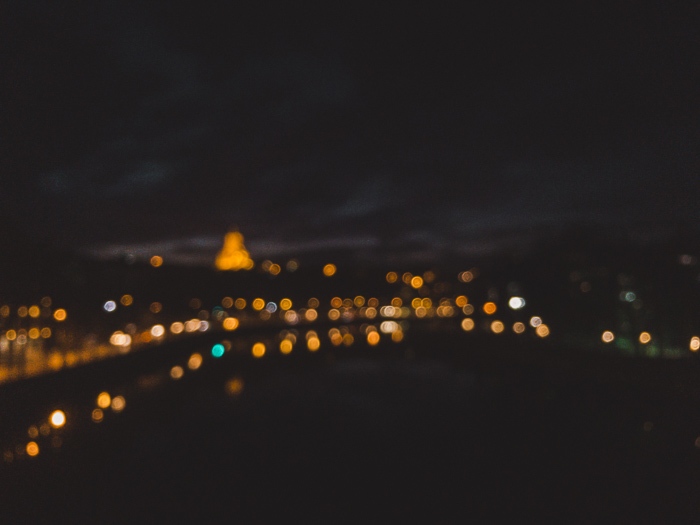 General info
Capital and largest city in Georgia, lying on the banks of the Kura River (Mtkvari in Georgian), Tbilisi თბილისი was founded in the 5th century AD by Vakhtang. Since then, it served as the capital of several Georgian kingdoms and republics. Throughout its history, the city have forged a rich and unique spirit. Its location on the crossroads between Europe and Asia alongside its diverse history are reflected in its architecture, a beautiful fusion of medieval, neoclassical, Beaux-Arts, Art Nouveau, Stalinist and modern structures.
Language: Everyone speaks English, and really well. I guess they've caught on to the fact we can barely even pronounce their words (Nakh'vamdis, Gtkhovt, Rogor khar) Yeah. Get excited for Google translate saying basic words. 🙂 I think it's always polite to learn a few words though, like madloba (thank you).
Money: Extremely credit card friendly. Nina and I only used our credit card and actually didn't touch a single banknote. Check that your card doesn't have foreign transaction fees and charge away. For reference, when we went, 1€/$1=3 GEL.
Wifi: There is free wifi in almost all the city's main streets. However we chose to get a cheap SIM card at the airport. We had service throughout all the city. I would expect it to be limited in more remote areas of Georgia.
Food: So cheap. Lunch costs around 10€/$10 for two hungry people. I found Georgian food to often be locally sourced and REALLY delicious. I'll list my favorite meals below.
Water: tap water is drinkable. So pretty please, be environmentally responsible and bring a big reusable water bottle instead of buying plastic bottles.
Transportation: in the Old Town, everything is reachable on foot. But if you need additional transportation, you can either use public buses and subways or use taxi services with the local app taxify.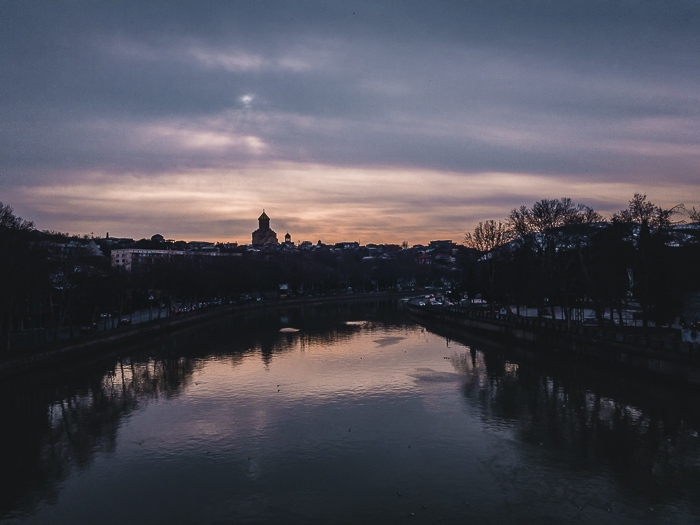 The best things to do during a weekend in Tbilisi
The Georgian capital is compact and can be easily explored in a few days. The winding streets of the Old Town lead to a spectacular hilltop fortress and stately avenues melding eye-catching contemporary buildings and heritage architecture. Here are the best things you shouldn't miss on a weekend getaway in Tbilisi.
History in color
Abanotubani
After wandering through the narrow streets and hilly back alleys of the Old Town, relaxing for a few hours in Tbilisi's famed sulphur baths is the perfect coda. Nina and I booked an hour of private bath and massage session at the Orbeliani Baths for 220 GEL ($75) for two and it was absolutely perfect. The room had two pools with cold and hot sulfur water with a dry sauna. It was just perfect to deal with stress and lack of sleep. The massage was everything we needed, not too strong but strong enough to relax muscles.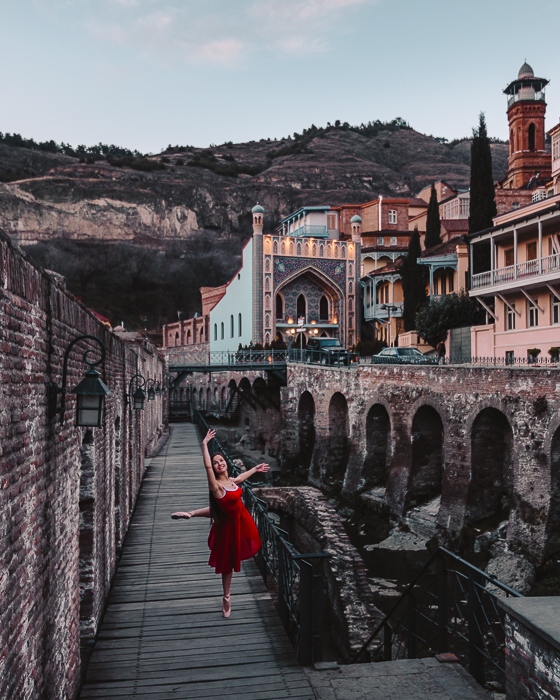 Gabriadze Clock Tower
The Clock Tower is one of old Tbilisi's most emblematic structures although being one of its newest. This higgledy-piddledy clock tower seems to come straight out of a fairy tale, outside the Gabriadze Puppet Theater. Marking the hours, an angel pops out of a door near the top and strikes the bell outside with a hammer. On the tower, you will also find the tiniest clock in Georgia!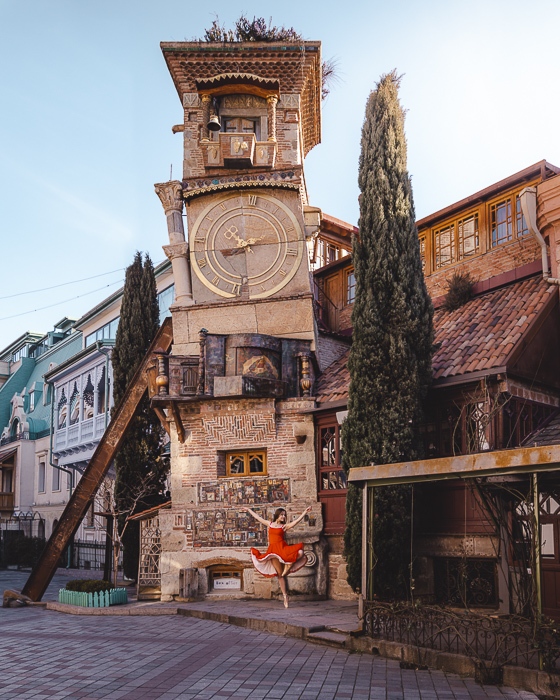 Kaleidoscope House – Gallery 27
This eye-catching vintage house is the only house decorated with colorful stained glass windows on Tbilisi's Betlemi Street. The old building dates back to the 19th century and has preserved its stained glass windows for over a hundred years. Its balconies are decorated with exquisite carvings and ornaments. Be aware that today, 8 families are living here so be quiet when visiting.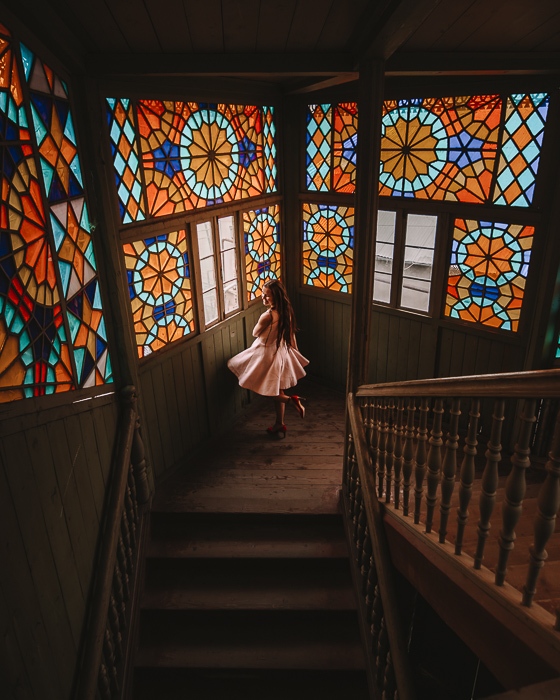 Liberty Square & Old Town
This is where you can book a free walking tour of Tbilisi. Tbilisi Free Walking Tours offers tours in English and Russian languages every single day, regardless of public holidays and weather conditions. We did one with Levan Giorgadze and I can only recommend it! It's the perfect combination of history and cool stories that you'd never get otherwise about famous city landmarks and hidden gems.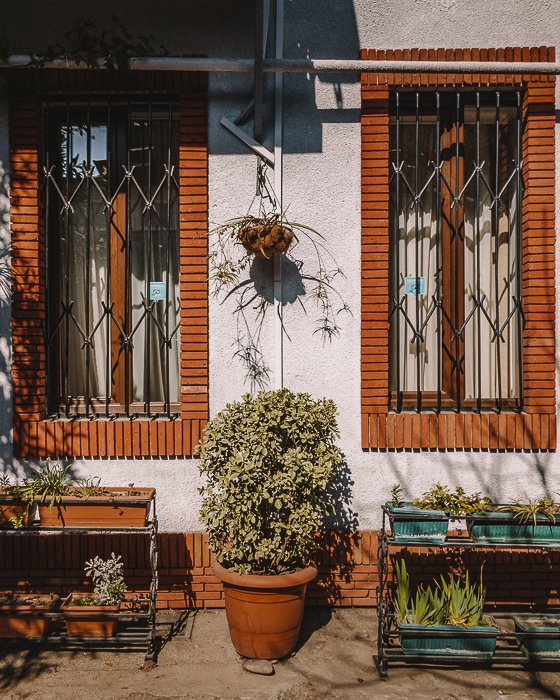 Metekhi Church and Vakhtang Gorgasali monument
The church, and the 1960s equestrian statue of King Vakhtang Gorgasali beside it, occupy the strategic rocky outcrop above the Metekhi Bridge. This is where Vakhtang Gorgasali built his palace and Tbilisi's first church, when he decided to make the town of Tbilisi his capital in the 5th century.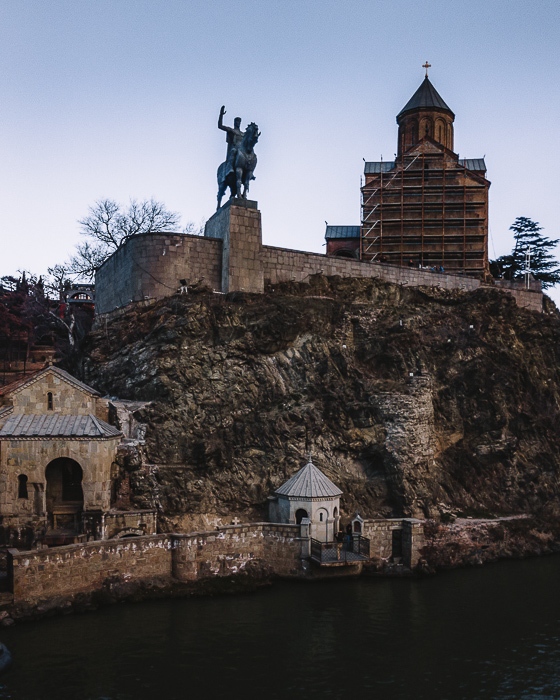 Mtatsminda Park
The ride up to the Holy Mountain by using the recently renovated Funicular is spectacular and so are the views from the top. The view from there includes all the city's diverse architecture: a unique combination of stately Georgian churches and contemporary design.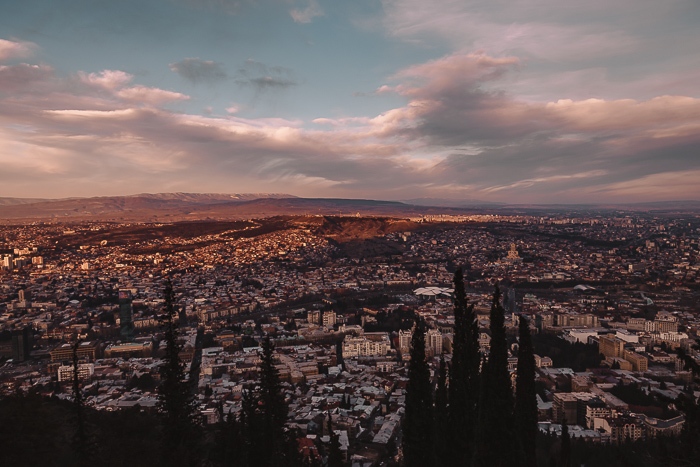 Narikala fortress
Dominating the Old Town skyline, Narikala is a combination of 4th-century Persian and 8th-century Arab fortifications. The cliff-top path continues to Kartlis Deda, "Mother Georgia". Offering a cup of wine and armed with a threatening sword, the 20m-high statue is a classic metaphor for the Georgian character: welcoming visitors but ready to defend against invaders. You can walk up or use the gondola swinging over the river.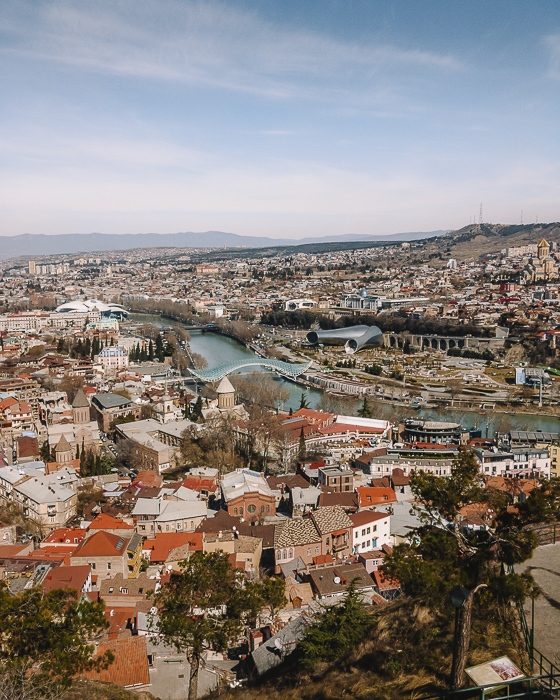 Vibrant modernity
Chronicles of Georgia
This massive monument is a good example of Soviet Brutalist architecture. It honors kings and queens of Georgia and portrays life of the Christ. Located on top of a hill near the Tbilisi Reservoir Lake, it's a 20mn car-ride or a 1-hour bus-ride.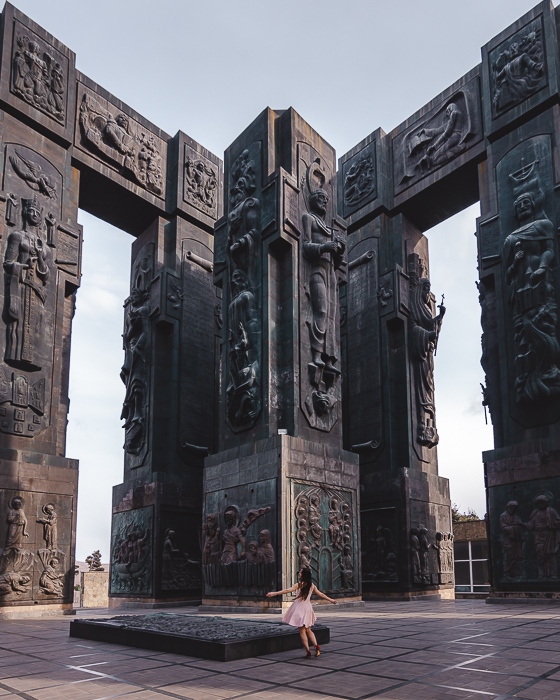 Dry Bridge Market
This intriguing flea-market is an open book on Georgia's past and traditions, where you can find mesmerizing assortment of antiques, jewelry and bric-à-brac on sale.
Fabrika
A former soviet sewing factory, it has been revived and transformed into Tbilisi's No 1 creative/lifestyle hub. It combines a stylish hostel with artists' studios, cafes, bars, a co-working space, quirky shops, exhibitions and music events. Near the Fabrika is a new pedestrian area called New Tiflis, with cute balconies, shops and cafes.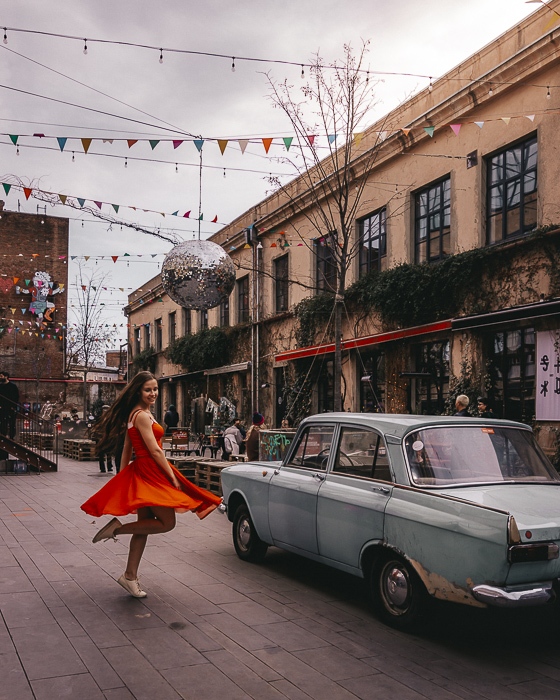 Peace Bridge
Peace Bridge is a shell-like pedestrian bridge on the Kura River linking the historic center to the New City. Opened in 2010, it is an elegant web of steel and glass leading to Rike Park, a stunning tube-like structure designed by Italian architect Michele De Lucchi.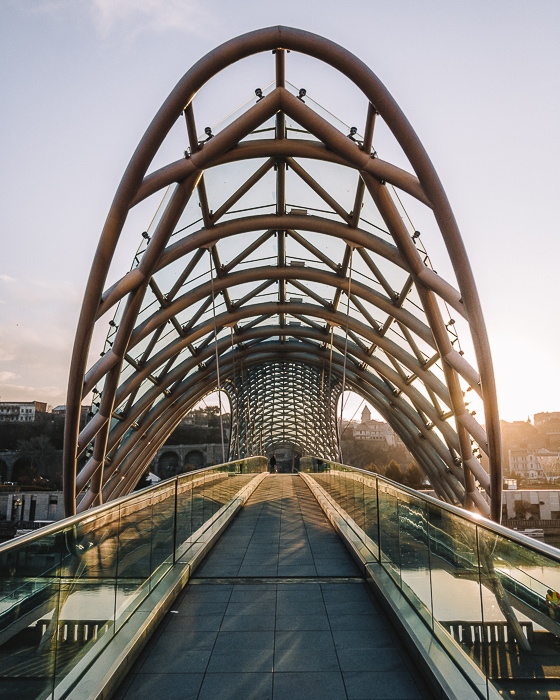 Sameba (Holy Trinity) Cathedral
The Holy Trinity Cathedral is a modern (2004) expression of traditional Georgian religious architecture, rising 84m to the top of the cross above its gold-covered dome. It is the biggest symbol of the Georgian Orthodox Church's post-Soviet revival, and the biggest cathedral in Georgia.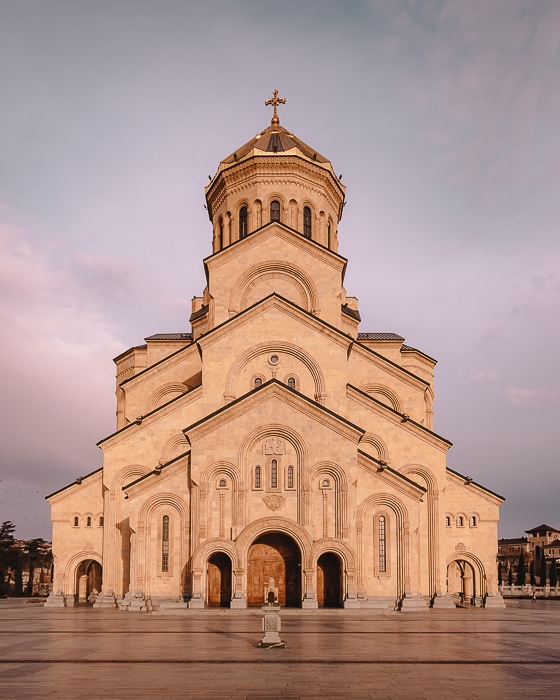 Experience Georgian cuisine
Georgian cuisine has to be one of the BEST cuisine I've ever eaten in my entire life! It consists in a wide variety of dishes influenced by European and Middle-Eastern culinary traditions. Being often locally sourced, it offers plenty of vegetarians/vegan meals. I'm sharing with you my favorite meals and the restaurants we've tried during our long weekend in Tbilisi.
What to eat
Khachapuri ხაჭაპური, the Georgian version of Italy's pizza which consists in a cheese-filled bread (SO delicious!).
Pkhali ფხალი, Georgian dips mostly made of spinach, beet, walnut and eggplant, with Georgian spices.
Khinkali ხინკალი , the Georgian juicy dumplings.
Make sure to enjoy it with some Georgian wine! Georgia is known as the oldest wine-producing regions in the world: they have been cultivating grapevine and producing wine for at least 8,000 years! Their traditional wine-making method using clay jars is part of the UNESCO Intangible Cultural Heritage Lists. Kakheti is one of the best-known Georgian wine-producing regions. We mainly tried wine made of Saperavi, which produces a dry deep red wine. Their traditional wine is an amber wine, a super dry "white" wine.
Eat here: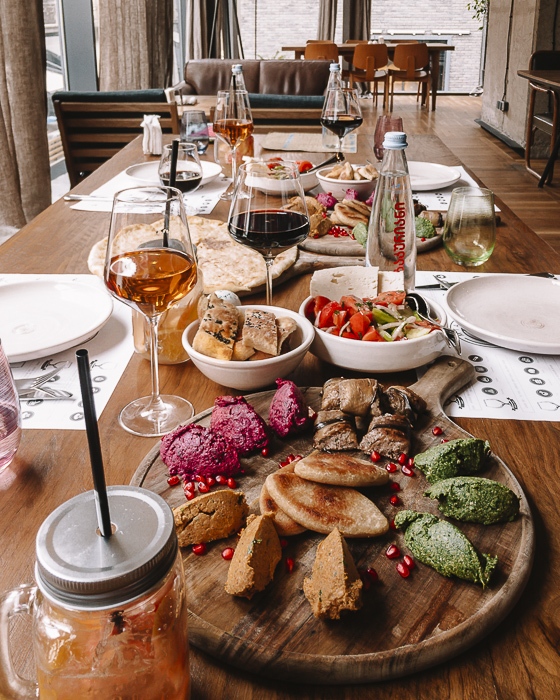 Where to stay
We were lucky to be hosted by the Moxy Hotel in their cozy and comfy Queen Room. The private bathroom was large and well organized. They offered us a delicious cocktail on our arrival in their beautiful lounge open 7/24. The lounge area also have a 'Plug and Meet' gathering area. Breakfast (buffet) is available for $11 and is amazing – selections of breads and local honey, delicious coffee and tea, fruits, salad, local meats, vegetables etc. Plus, the hotel is situated in one of the best central areas in Tbilisi, making it the perfect place to stay at for a weekend.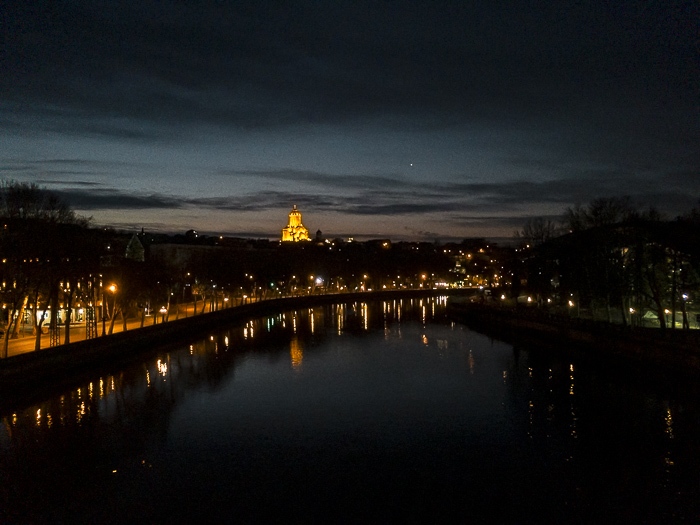 ---
Here it is for the can't miss moments in Tbilisi! But there is so many other things to do in Georgia and I can't wait to go back to explore more! I hope this guide will be useful for you and if you need, feel free to reach out with any questions! And don't forget to tag me in your stories and posts on Instagram if this article inspires you !
With love,
Marina
P.S.: If you are looking for other destinations as a weekend break, find out some inspiration here!
---
If you liked this post, pin it for later!