Buongiorno! Last October, I spent a week road tripping in Puglia, the heel of the Italian boot. It turned out being my favourite part of the country! I'm sharing with you everything you need to know to plan your best trip around Puglia!
Puglia is definitely tailored for a road trip. From ancient charming towns, extravagant churches, beautiful beaches, fairytale-like trulli to Italy's oldest city, it has everything the Italophile craves! It is still less famous than the Amalfi Coast or the Cinque Terre, so it is perfect for travellers looking for a more authentic and off the beaten path destination. And last but not least, food there is absolutely delicious and cheap! Puglia is definitely one of Italy's most affordable destinations. If you are going to spend a full week in Italy, this is the place for you!
Itinerary for a week in Puglia
Valle d'Itria
Three is the magic number they say, and nowhere is this truer than in the Valle d'Itria with its trio of enchanting historic towns: Alberobello, Cisternino, and Locorotondo.
Alberobello
Probably the most iconic part of Puglia, Alberobello looks like coming straight from fairytale. Designated a UNESCO World Heritage Site in 1996, it is a little town made up of 1500 trulli, beehive-shaped houses, white-tipped stone conical rooftops. These drystone buildings are made from local limestone; none are older than the 14th century!
Don't miss the Trullo Sovrano, the only trullo with a raised floor, and the Parrocchia Sant'Antonio. Those highlights will take you through a maze of streets, from the northern part of the town (thee Rione Aia Piccola district, more authentic) to the southern part (the Rione Monti district, more touristic).
・Count 2h.
・I would suggest to arrive early so you'll find plenty of parking spots. I parked at Parccheggio2 because it is more central between both parts of the town.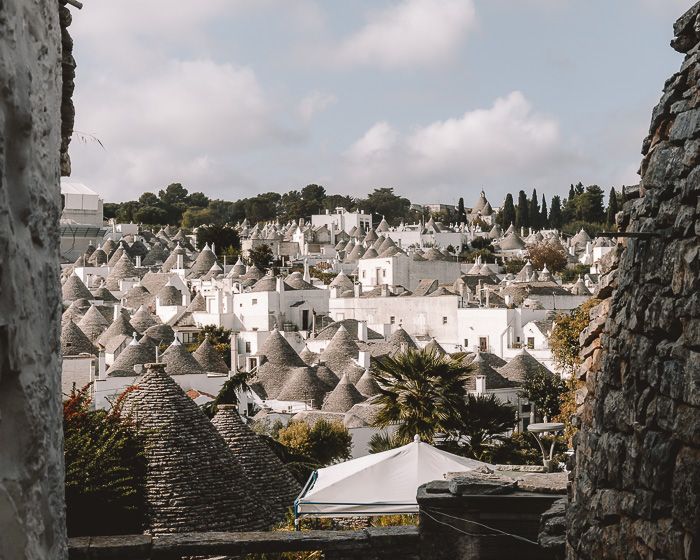 Cisternino
Cisternino is a charming hilltop town that can be explored in a couple of hours. Its old centro storico is a lovely labyrinth of white-washed alleys, narrow streets and churches. The town also features several community squares. Each of those are built on the edge of the hill, offering a series of panoramic viewpoints over the Valle d'Itria. Rolling hills, dry stone walls and white-tipped trulli piercing the green fields are spreading in front of your eyes.
・Count 1,5h.
・I parked at Piazza Garibaldi, perfect to explore the centro storico.
Locorotondo
This beautiful white-washed village is known for its wines and for its circular structure, from which derives its name, "Round place". I visited a lot of cute villages and towns during this road trip in Puglia, but Locorotondo, perched upon a hill, definitely was one of the most beautiful of them!
The most fabulous thing about Locorotondo is the lack of real tourist attractions. This is a town where you can simply spend half a day wandering the maze of tiny streets, enjoying the sun while siping of local sparkling white wine.
Speaking of wine, those up for a good tasting session should go straight to the source and visit the Sede Associazione Turistica Pro-Loco Locorotondo who offers free wine tasting! Unfortunately, it was closed when I visited so instead, I went to i Pastini, and loved it! I spent an hour speaking with the really nice and knowledgable owner, while tasting a bit of every local wines. Of course, I ended up buying a few bottles!
・Count 2h.
・You'll find plenty of carpark outside the centro storico.
Where and what to eat
Alberobello: La Nicchia was our favourite restaurant of our Puglia road trip! The food was fresh and amazingly delicious, the portions really generous, and the price so cheap!
Cisternino: in the main plaza, be sure to try the bombette (a type of roasted pork meatball), a typical dish of Cisternino cuisine.
Locorotondo: tried some u tridde, Locorondo's speciality, a freshly made pasta ncorporating pecorino cheese and finely-chopped parsley cut into small pieces and cooked in a wholesome turkey broth.
Orecchiete: Puglia's signature ear-shaped pasta, especially found in Cisternino, celebrating the sagre festival, dedicated to this special pasta!
Where to stay
I would recommend to have a base in the middle of Valle d'Itria, such as the guesthouse I stayed at between Locorotondo and Alberobello: Trulli Caroli. It was the best experience ever and I was so happy to stay there for three nights!
Ostuni
Built atop a hill to protect from invaders, Ostuni is a beautiful maze of white alleyways, staircases, arches, corridors and cobbled streets. Dead ends, pretty gardens or glimpses of the Adriatic sea, every corner you take hides a little gem. Ostuni is commonly referred to as La Città Bianca ("the White Town") for its white walls and its typically white-painted architecture. It is a city that should be on every Puglia road trip.
As with every Puglian town and village, the best way to discover Ostuni is simply by taking a walk through the centro storico. If like us, you are visiting off-season, be sure to do so in the morning when the town comes alive, before the afternoon "pausa".
Don't miss the impressive 15th century Gothic Cathedral. And be sure to enter, because it's even more spectacular inside! Ostuni is stunning at any time, but it is particularly beautiful at sunset. Head up to Corso Vittorio Emmanuele II for fantastic views over the white city.
・Count at least a night and half a day (ideally 1 full day)
・You'll find plenty of carpark outside the Centro Storico. I parked at the Car Park Via Salvatore Tommasi, big enough to find a parking spot for sure.
Where to eat
Ristorante La Reggia: I arrived quite late at night so just had a pizza to take away and it was amazing, delicious and cheap! It might also be nice to have lunch or dinner there as it is located in a charming medieval cave.
Pizzeria Notti Bianche: just a little walk from the cathedral, this pizzeria is really popular with locals!
Where to stay
I stayed at La Rosa d'Ernesto, a dreamy guesthouse right in the centro storico.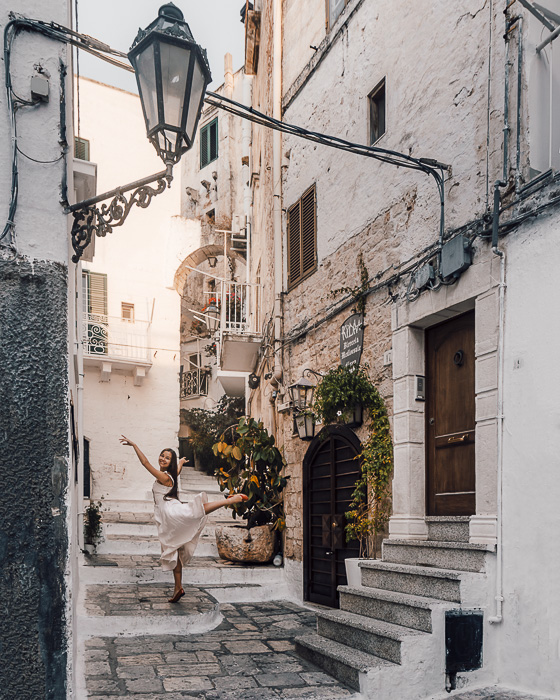 Polignano a Mare
Whether you're passing through during your road trip in the region, or visiting on a weekend break, Polignano a Mare has plenty to entertain, especially on a warm sunny day! I went for a couple of hours late in the afternoon for the sunset and didn't feel I missed a lot. However you might want to spend at least half a day to explore its charming centro storico built onto a rocky outcrop and to soak in summer on the beautiful beaches Cala Porto and Ponte dei Lapilli.
Where to eat
Where to stay
Because I was traveling on a budget, I stayed at the Trulli Caroli near Locorotondo on the night I visited Polignano a Mare. But if you're travelling with a little more cash in your pocket, this cute town has a lot of accommodation options to choose from.
Matera, Italy's oldest city
Although Matera is situated in the region of Basilicata, just across the Puglian border, it is an easy, and greatly rewarding day trip from Puglia. It is definitely a must-do if you ever find yourself nearby!
Matera is known as the world's third-longest continuously inhabited human settlement. Natural caves in the tufa limestone, exposed as the Gravina cut its gorge, attracted the first inhabitants perhaps 7000 years ago. More elaborate structures were built atop them. Today, looking across the gorge to Matera's huddled sassi (cave dwellings) it seems you've been transported back to the ancient time.
The sassi once contained such appalling poverty and unthinkable living conditions that in the 1950s Matera was denounced as the 'Shame of Italy'. Only in later decades has the value of this extraordinarily built environment been recognised. In 2019 the city was recognised as a European Capital of Culture.
Do not miss the three rupestrian churches, absolutely breathtaking and offering incredible panoramas over the Sassi di Matera. The Casa Grotta, inhabited until 1952, is another must-dos.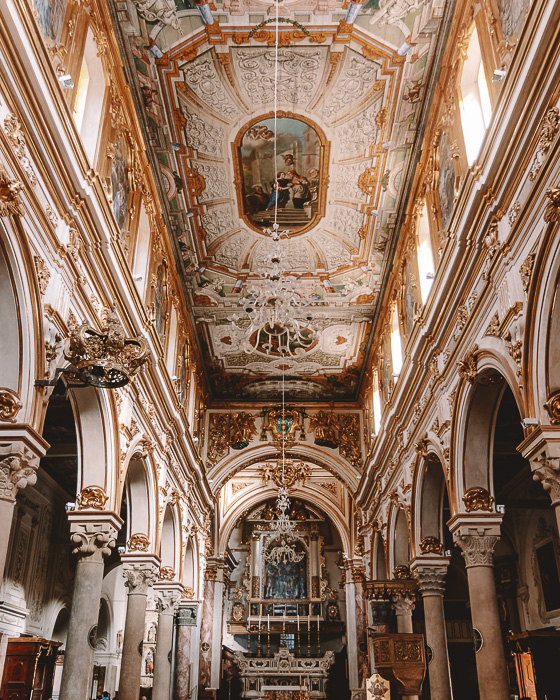 ・Count at least a day, two days if you want more time.
・The Parcheggio Comune di Matera, right behind the train station, despite being 15min walking to the old town, is big and free and safe. I arrived in Matera around 10am and a lot of the parking closer to the centro storico were already full…
Where to eat
L'Antica Credenza: I didn't make it on time for lunch but it was full and looked absolutely delicious!
L'Arturo Enogastronomia: although it was quite late, they accepted me for lunch and made me the most delicious Italian sandwich I've ever had!
Where to stay
I decided to not stay inside Matera which was crazy expensive (probably because it was the European Capital of Culture when I visited). I decided instead to drive an hour or so near Taranto, to stay at the amazing Masseria Le Lamie. It is a charming masseria from the 19th century combining the typical architecture of the Pugliese farms with the most modern comfort. I chose to have dinner there and it was incredibly delicious! All the ingredients were straight from the farm and the wine was local. Definitely one of the best choices of our road trip!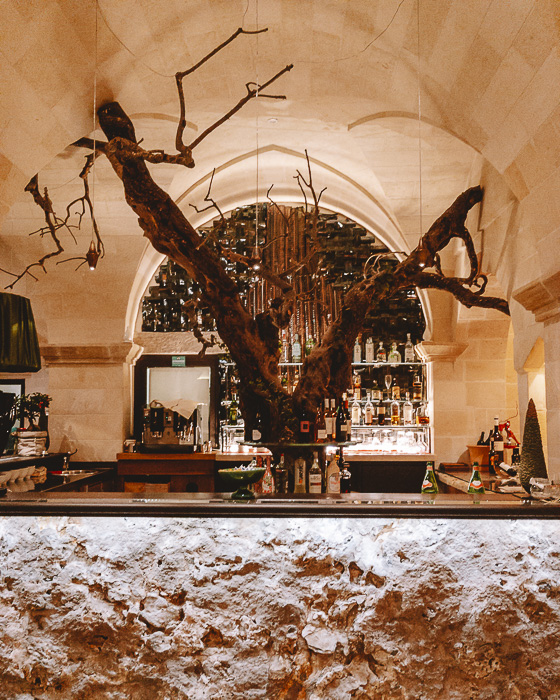 Sun-bathed Salento
Dreamy beaches
Grotta della Poesia is one of the 10 most beautiful natural pools in the world, according to National Geographic. Surrounded by impressive rocky landscape and the clear blue waters of the Adriatic Sea, it is a classic Italian hangout spot during summer for sunbathing, cliff jumping and swimming.
Tip: If you're visiting during the peak season and want a calm and private swimming experience, I would suggest to go there before 10am, since it tends to get quite crowded around noon.
Porto Miggiano is probably my favourite beach in all Italy. It is quite an adventure to get there but it is absolutely worth it. You can park at the Augustus Resort and walk until you reach the end of the parking. The hidden beach is lying at the bottom of the cliff. Soak in the spectacular view from the top before taking the 100 steps built into the cliff down to the sparkling crystal-clear Adriatic water below.
Well hidden in the middle of the Parco naturale regionale Porto Selvaggio, it is a nice and easy walk to reach it, making it quite an ideal beach to relax! It is also a great spot for snorkelling or having lunch on the picnic tables.
Tip: Try to go early and to park in La Rotonda di Santa Caterina or in the streets, are it tends to get quite full around noon. I came around 3pm and was lucky to find a spot to park!
The perfect white sand beach to enjoy the crystal-clear turquoise waters of the Adriatic sea!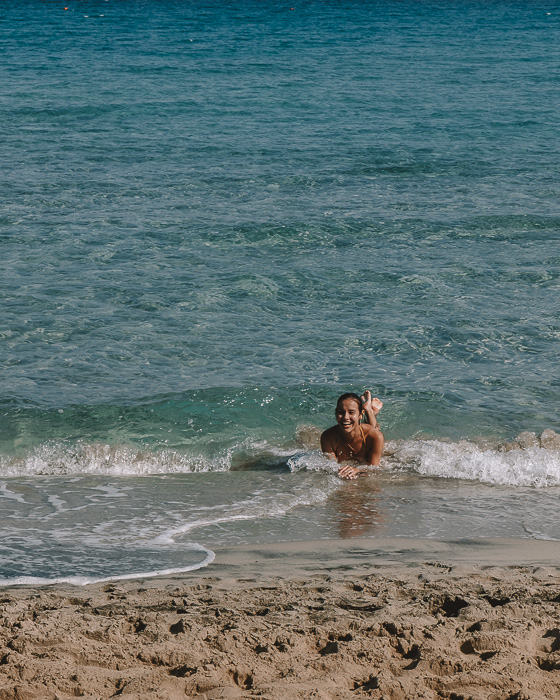 Another Adriatic gem, it is a collection of stacked sandstone rock formations where you can sunbathe, swim and cliff jump.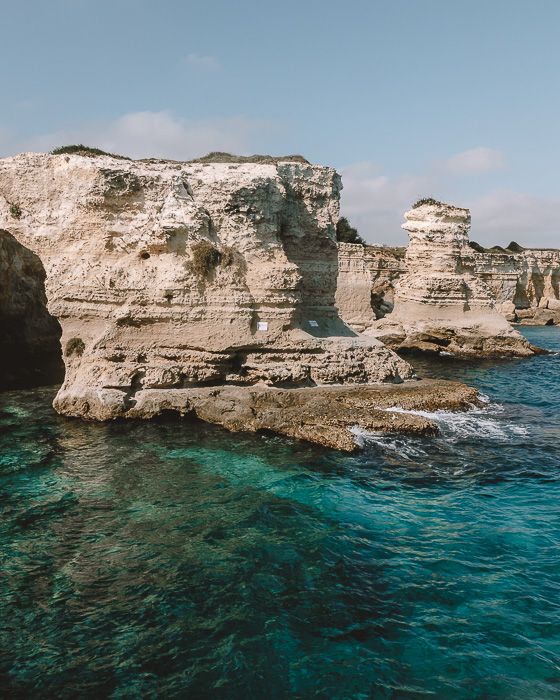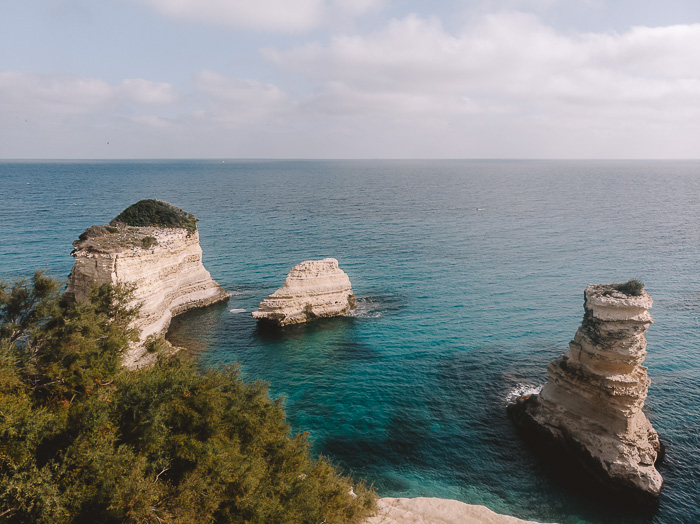 Gallipoli
Gallipoli means "beautiful city", and the town certainly lives up to its name! I spent a morning wandering through its old town centre, sitting on a tiny island connected to the mainland by a 17th-century bridge. It is almost completely surrounded by defensive walls, mainly built in the 14th century.
The centro storico is home to numerous impressive Baroque churches and palazzi, a testament to the town's former wealth as a trading port. A maze of narrow streets will eventually lead you to the beautiful sea-front promenade with its wonderful views over the transparent waters. Don't forget to bring your swimsuit if you want to enjoy those long sandy beaches!

Lecce
Although I ended up not having time to visit Lecce (I was too busy enjoying Porto Miggiano!), it is definitely a must visit and I cannot wait to go back to Puglia for this! One should not miss the baroque splendour of Lecce, the "Florence of the South".
Lecce clearly is one of the highlights of Puglia. The 17th-century artists-architects left a generous amount of baroque buildings, giving the city a completeness and homogeneity that other southern Italian cities lack. Indeed, Lecce's architecture is so distinctive that it has acquired its own moniker, barocco leccese (Lecce baroque), designing an expressive and hugely decorative incarnation of the genre replete with gargoyles, asparagus columns and cavorting gremlins.
It is known as a lively, graceful but relaxed university tow. You will find some upmarket boutiques, amazing Pugliese restaurants, and a strong tradition for papier-mâché making. With both the Adriactic and Ionian Seas being within easy access, it is a great base from which to explore the Salento.
Galatina
As for Lecce, I didn't get a chance to visit but it is on our list for our next trip there!
Galatina is one of Puglia's many hidden gems. Just 20km south of Lecce, it has much in common with its sister city, including the baroque town centre which remained intact over the centuries. The centro storico offers a charming uniformity of its architecture, charming and calm streets and friendly inhabitants.
Otranto
Otranto is the most Eastern town of Italy. The Strait of Otranto, to which the city gives its name, connects the Adriatic Sea with the Ionian Sea and separates Italy from Albania. Otranto was the capital of the last Byzantine stronghold, the Terra d'Otranto. In the 15th-century, many of its inhabitants are massacred when the city was conquered by Mohammed II. Such was the Greek influence in Otranto that the locals speak a dialect very close to Greek.
Otranto's centro storico is encircled by imposing walls which date back to the Messapian period (8th century BC). As a result of constant threats of invasion from the sea, the walls have been rebuilt on numerous occasions over the centuries. Two gateways, the Porta Terra and the Torre Alfonsina, are the main entry points to the old town. As usual, the best way to explore this city is to get lost in the maze of alleyways. You will probably somehow ending up to the beautiful sea front, perfect to enjoy a local sandwich Puccia.
Don't miss the Santa Maria Annunziata cathedral. Consecrated in 1088, the largest church in the region miraculously survived the siege by the Turks. The cathedral is home to an extraordinary mosaic floor created in the 12th century which has survived until now. The 600 000 multi-coloured tiles form a picture book telling local stories.
Tip: The Cathedral closes between 12:30 and 3pm, so be sure to be there outside those hours!
Where to eat
Where to stay
I decided to have a base not far from Otranto to explore the Salento and I highly recommend you to do so. That way you won't spend too much time checking in and out hotels. I stayed at Masseria Terra d'Otranto and it was fabulous! The old woman owning the farm doesn't quite speak English but with her love and enthusiast, it was easy to understand each other!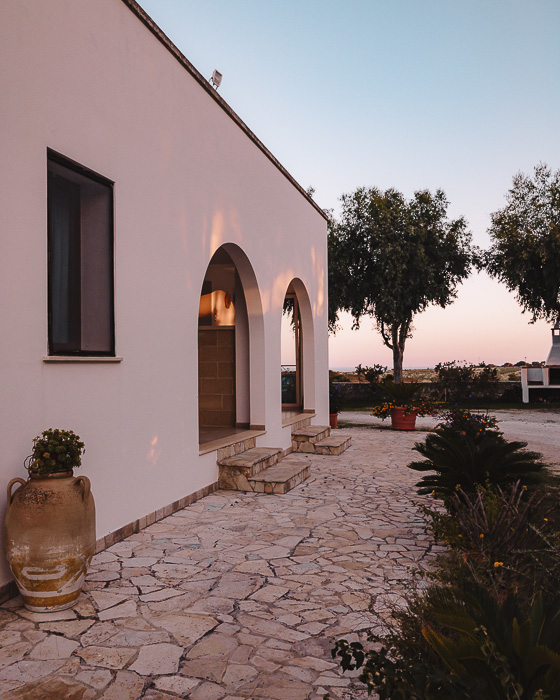 How to get there
As I said, Puglia is tailored made for a road trip. Hence, I'll suggest you arrive either at Bari or Brindisi airport (I chose the latter), and rent a car there, which clearly is the most convenient way to explore this part of Italy. In fact, although the region is becoming more and more touristic, the public transport services is very limited. So having a car is a necessity that can't be neglected.
I know the thought of driving in Italy sounds intimidating (and I was!), but the Puglia region is quite low stress. Most of the towns are connected by quiet roads that cut through farmlands, and all the routes are pretty straight forward.
The only thing you must pay attention to are the dreaded "ZTL" (Zona Traffico Limitato). They are found in major Italian cities centro storico to reduce congestion in high traffic area, and make them more pleasant for pedestrians and residents. Driving in the wrong part of an old town can result in a very costly fine, often send back home a few months afterwards! Pugliese towns are no exception, and in fact have a relatively large ZTL that you will not be able to take your car through. The car parks I've suggested you in this article are all outside the ZTL and safe to park in.
---
Day by day
Alternative day 4 – Lecce
I would actually skip Grottaglie and the hike to have a full day to explore Lecce and Galatina.
Day 5 – Gallipoli & Porto Miggiano
🍴Breakfast: at the masseria (included)
[11:00-13:00] Gallipoli (15min drive)
🍴Lunch: home made sandwiches at the beach
[14:30-17:00] Porto Miggiano beach (1h drive)
🍴Dinner: takeaway pizza from Skile
🛌 Stay at: Masseria Terra d'Otranto (15min drive)
Day 6 – Otranto
🍴Breakfast: at the masseria (included)
[9:30-12:30] Porto Miggiano beach
🍴Lunch: at Sapori in Otranto (20min drive)
[14:30-16:00] Otranto
[16:30-17:30] Baia dei Turchi (10min drive)
🍴Dinner: takeaway pizza from another local pizzeria (forgot the name…)
🛌 Stay at: Masseria Terra d'Otranto (20min drive)
Day 7 – Beaches
🍴Breakfast: at the masseria (included)
[10:30-15:00] – Torre Sant'Andrea (26min drive)
– Grotta della Poesia (10min drive)
– Torre dell'Orso (3min drive)
🍴Lunch: picnic on the beach
✈︎ back at the airport for 5pm (1h30 drive)

---
I hope this travel guide to Puglia will inspire you to visit this beautiful and still less touristy part of Italy! I've put everything that I thought was necessary for you to plan your best trip there. But if you need, feel free to reach out with any questions! And don't forget to tag me in your stories and posts on Instagram if this article inspires you!
With love,
Marina
If you liked this post, pin it for later!