Bom dia! Last year in November, I flew to Porto for a long weekend break. It was my first time in Portugal and boy did I like it! I am putting here the highlights of this trip, in hopes that this Porto weekend itinerary would be an inspirational guide to your own Portuguese road trip!
With its famous azulejos (hand-painted blue tiles), colorful buildings and delicious food and wine, Porto is definitely one of the best destination for an affordable weekend getaway in Europe! Charismatic local life, alley-woven historic center, sumptuous buildings, famous Port wines or beautiful coastal walks, there is something for everyone!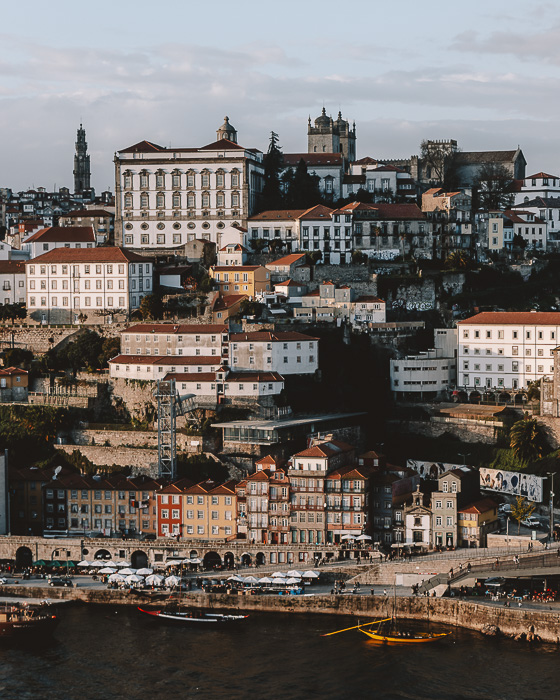 Itinerary for a weekend in Porto
If you are planning on staying 1 and 4 days in the city, I would highly recommend you to get the Porto Card. It offers free unlimited public transports (including the metro to the airport and the beach), and over 170 free or discounted entrance in all museums and some stores, including Port wine caves! The city is really made to be explored by foot and the variety of public transportation options available make it easy for travelers to get to any local destination with ease.
The best photography spots
Azulejos paradise
One of the world's most beautiful train stations, the Estaçao São Bento wings you back to a more graceful age of rail travel. Completed in 1903, its mansard roof seems to come straight from Paris, but the true highlight are the 20,000 azulejos depicting historic battles and the history of transport.
Tip: I went there around 8am on a Friday and it was calm enough between the trains' arrivals to have plenty of time to shoot!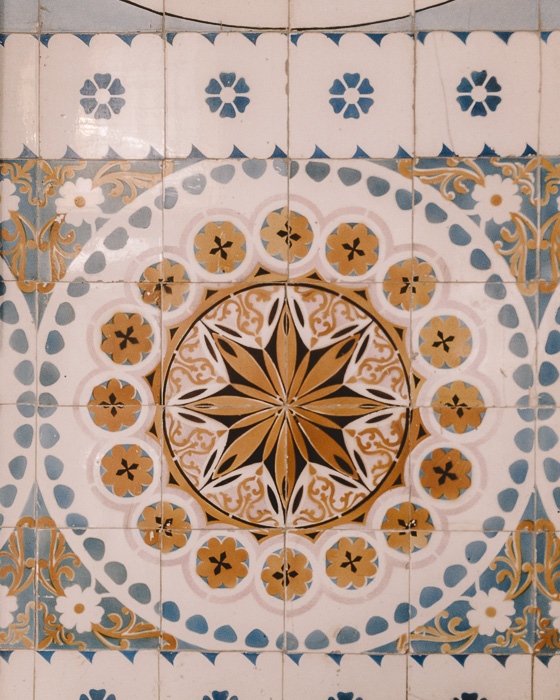 Reaching this hilltop cathedral is itself an adventure: you will probably get lost in a tangle of medieval alleys and stairways before eventually reaching the cathedral. Founded in the 12th century, it is one of the oldest monuments in Porto and clearly one of its highlights! The impressive Gothic cloister is decorated with stunning azulejos telling the story of the Virgin Mary and Ovid's Metamorphoses.
Tip: I went there right for the opening so we were able to completely soak in the calm and peacefulness of this majestic place. (9am-7pm except on Sundays, 3€/pers.)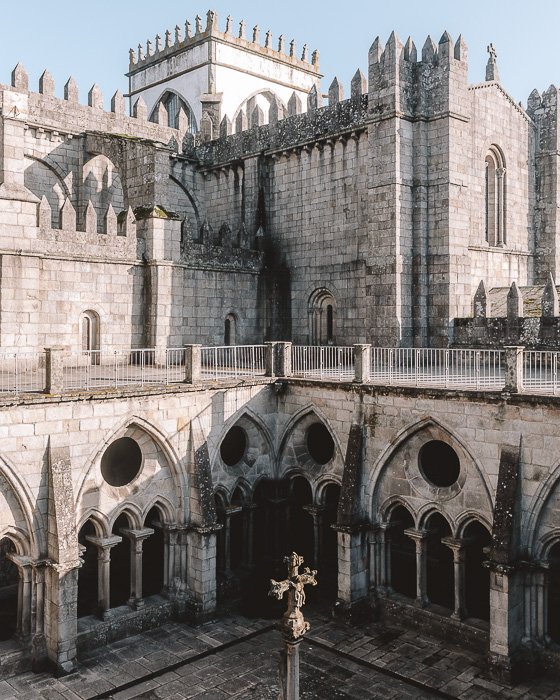 Built in the late 18th century, this church is one of the best examples of rococo architecture in Porto. The captivating azulejo-covered wall was added later, in 1912. They depict scenes of the founding of the Carmelite Order and Mount Carmel.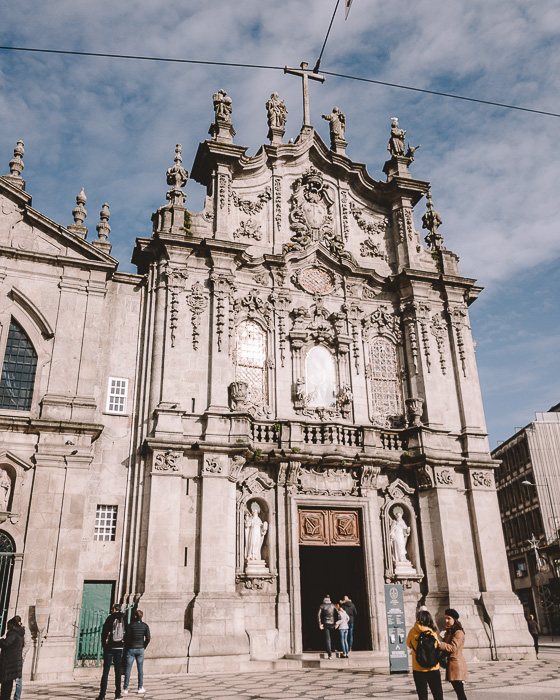 Capela das Almas de Santa Catarina
Slightly out of the historic center but definitely worth the walk is Capela das Almas. The magnificent azulejos panels depict scenes from the lives of various Saints, including the death of St Francis and the martyrdom of St Catherine.
Tip: I would recommend going there for sunrise to avoid waiting for the crowds to clear.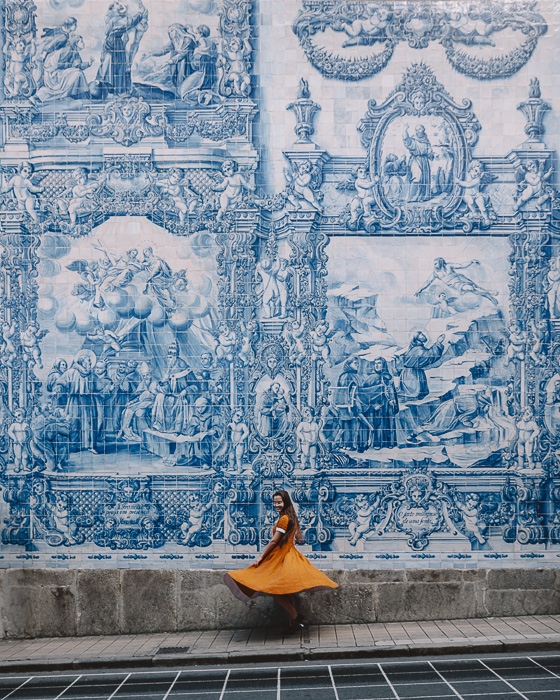 Igreja de Santo Ildefonso
At the end of the Rua de Santa Catarina is probably one of the less-touristy churches in Porto, the Igreja de Santo Ildefonso. I personally loved its graceful baroque style with the twin bell towers!
Tip: No need to come early as it is not a crowded place. I went there when it was closed around noon and it was perfect. (3-6:30pm Mon, 9am-noon & 3-6:30pm Tue-Sun)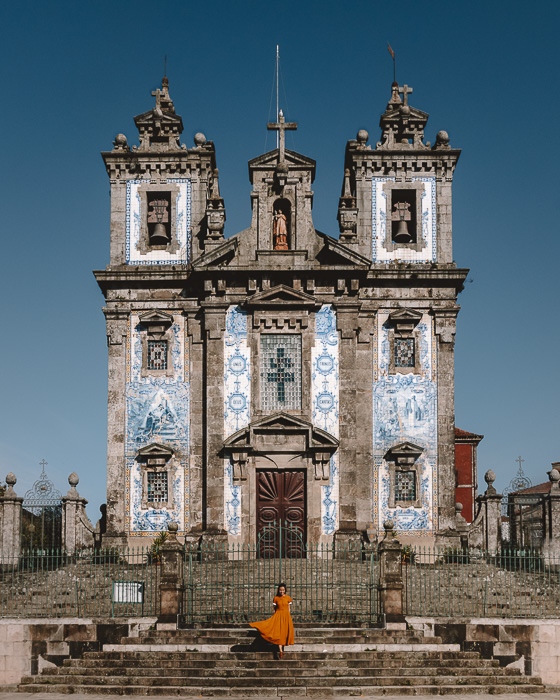 Best sunset spots
Jardins do Palácio de Cristal
This botanical gardens is one of Porto's best kept secret, with lawns interwoven with sun-dappled baths and dotted with fountains, sculptures, giant magnolias, camellias, cypress and olive trees. It's actually a mosaic of small gardens slowly opening up as you wander, as do the stunning views of the city and Rio Douro.
Tip: You will find the best view over the Douro in Parque da Quinta da Macieirinha.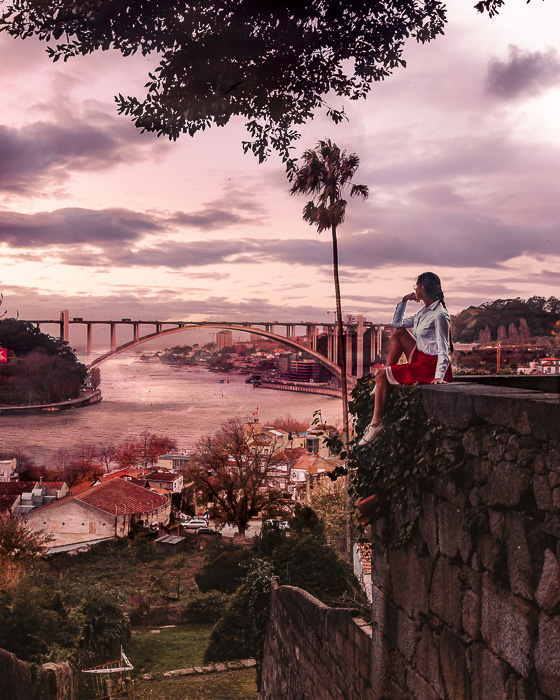 This is probably one of the most popular places in Porto for sunset, but the view over Porto is just incredible!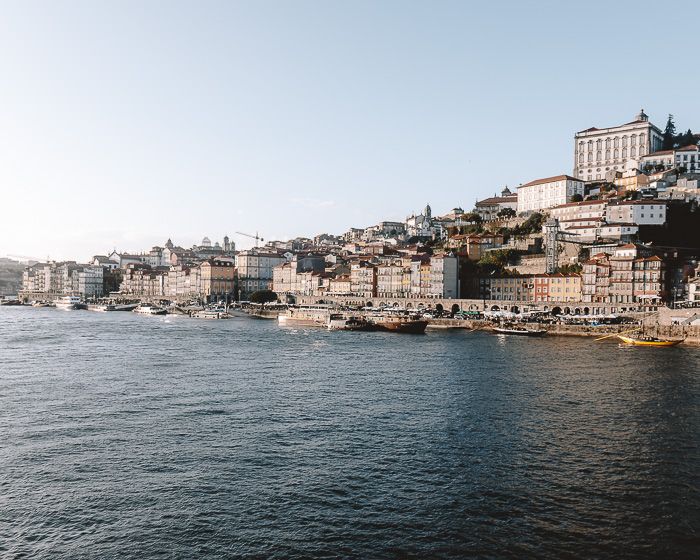 Hidden gems
Revealing itself little by little, Porto is made for exploring on foot, and you never know quite where those thigh-challenging steps or back alleys will lead you. I found most of the hidden gems thanks to Diana Miaus' Porto travel guide but here are two of my favorites.
Located in the heart of Ribeira, Porto's biggest heart-stealer, it is a colorful place with cute cafes and shops. It is located close to the Museu de Arte Sacra and the Igreja de São Lourenço. Ribeira's maze of medieval alleys zigzaging are a Unesco World Heritage. I loved getting lost in those alleys lined with slender, pastel-hued houses and hole-in-the-wall taverns.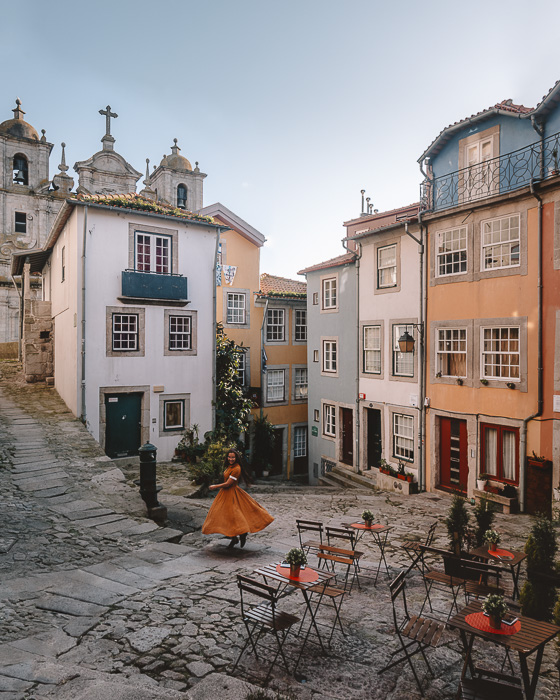 I believe that those quite famous staircases are now (in 2020) inaccessible but there is plenty of beautiful viewpoints along the street.
Tip: The staircases are located right at the intersection of Passeio das Fontainhas and R. do Sol.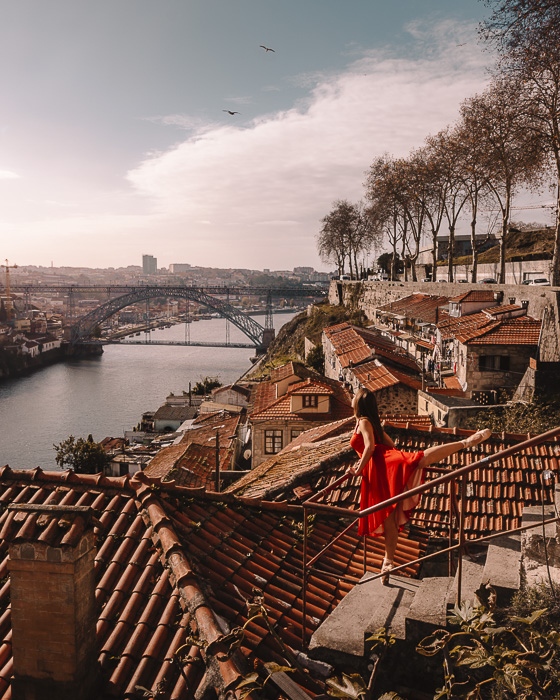 The best things to do during a weekend in Porto
A weekend in Porto couldn't be perfect without enjoying the daily life while wandering in through the hilly backstreets. This is probably what you will remember most: the slosh of the Douro agains the docks, the laundry drying in alley winds, the mood-lifting ocean views, the sound of port glasses clinking… Here are some of the can't miss places for a perfect weekend itinerary in Porto.
Historic buildings
The lavish neoclassical Stock Exchange Palace is definitely worth the visit! Do not miss the stunning Salão Árabe, inspired by the Alhambra.
30min guided tours, 10€/adult, -25% with the Porto Card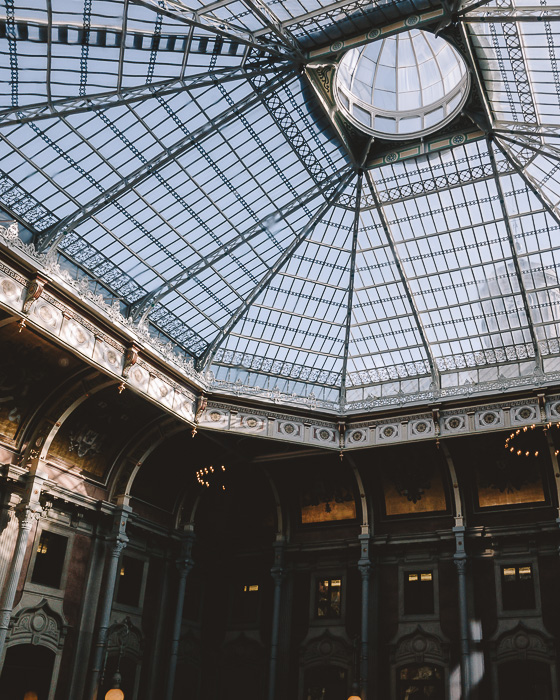 One cannot miss Porto's amazing sky-high miradouros (lookouts) from which the city is reduced to a colorful postcard. Torre dos Clérigos probably offers the best 360° view over Porto's skyline from its 76m-high tower! Climbing its 225-step spiral staircase can be challenging but it is worth it. Picture phenomenal views over Porto's tiled rooftops, spires and curves of the Douro to the port-wine lodges in Gaia!
9am-7pm, 5€, -50% with the Porto Card
Even if you're not a book aficionados, do not miss one of the most outstanding bookshop in the world! Livraria Lello has been a bookshop throughout the years since its opening in 1906. From an exquisite neo-Gothic architecture, to lavishly carved plaster resembling wood and a stained-glass skylight, there is something to see in every corners. But the most incredible highlight is without a doubt the iconic curiously twisting crimson staircase.
10am-7:30pm, 5€/adult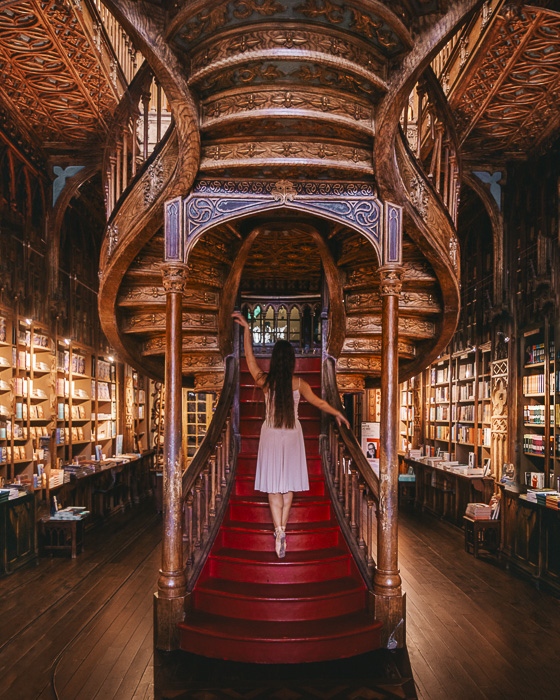 Don't be fooled by its austere Gothic facade, its inside hides one of Portugal's most dazzling displays of baroque finery. Not a centimeter escapes cherubs and monks covered by gold leaves. If you see only one church in Porto, make it this one!
9am-7pm, 6€/adult, -25% with the Porto Card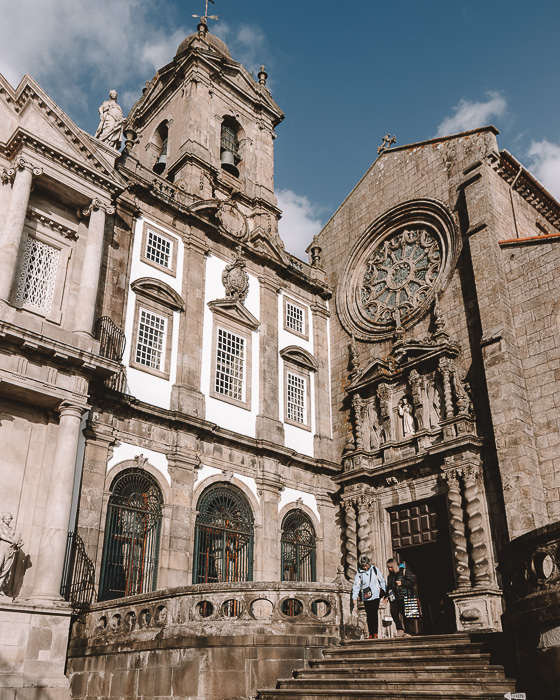 Museums
Museu da Misericórdia do Porto
Behind its impressive collection of sacred art and portraiture, the museum is home to one of Porto's finest churches, Igreja da Misericórdia. The church's interior is adorned with azulejos.
10am-6:30pm, 5€/adult, -50% with the Porto Card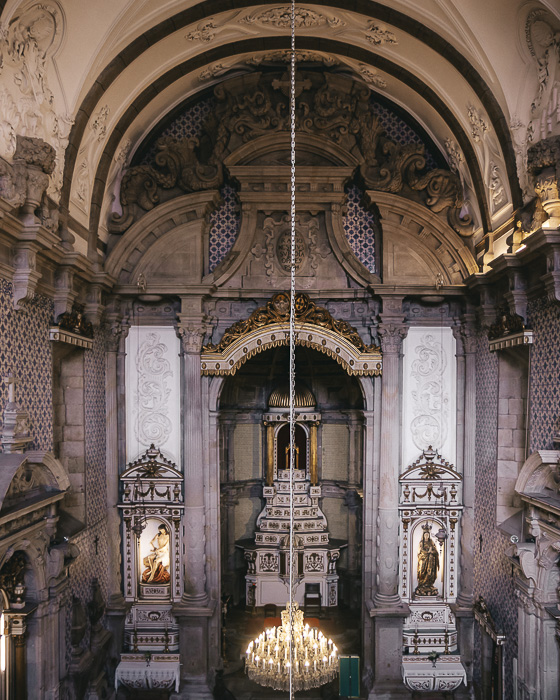 Centro Português de Fotografia
The Centro Português de Fotografia is housed in a former prison built in 1767, and showcases various photographers, a huge collection of cameras spanning every decade, including the espionage ones.
10am-12:30pm & 2-6pm, free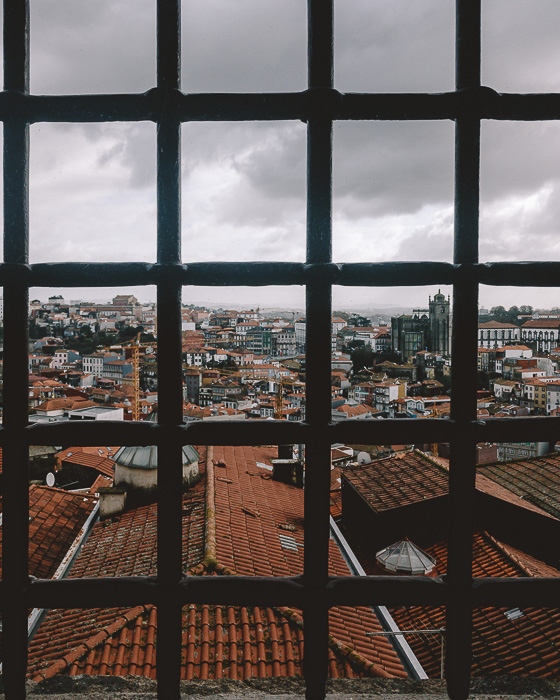 Museu Nacional de Soares dos Reis
Housed in the Palácio das Carrancas, the Soares dos Reis museum features a stellar collection from Neolithic carvings to Portugal's modernism. However, when we visited, half of the museum was under reconstruction and the remaining museography was quite disappointing overall…
10am-6pm, 5€/adult, -50% with the Porto Card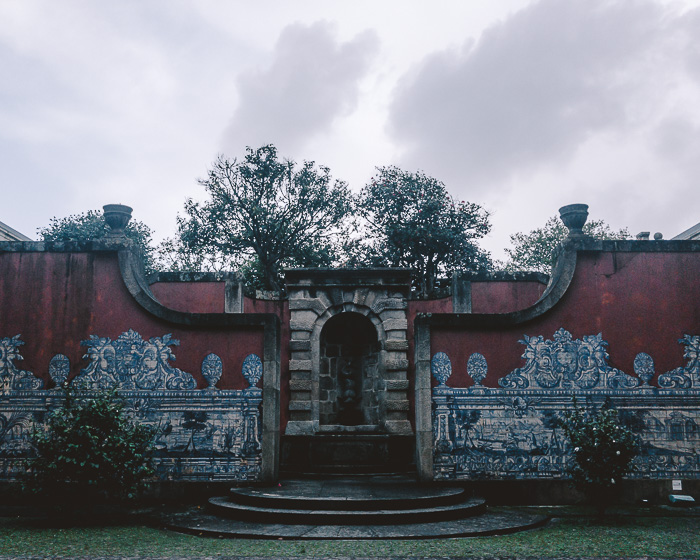 City landmarks
This waterfront promenade is the perfect postcard Porto. It takes in the entire city, from Ribeira's pastel houses to the barcos rabelos (flat-bottomed boats) once used to transport Port wine from the Douro.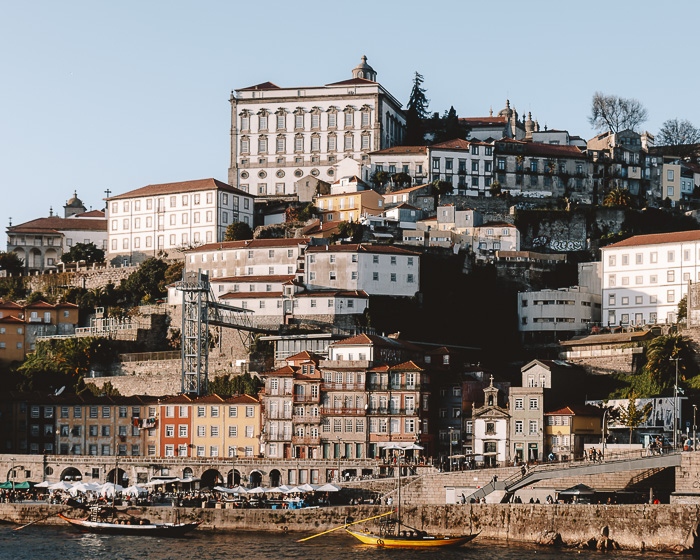 One of Porto's most iconic landmarks is definitely this stunning bridge, completed in 1886 by a student of Gustave Eiffel. The top deck is now reserved for metro and pedestrians, offering a spectacular view over the Rio Douro and the old town.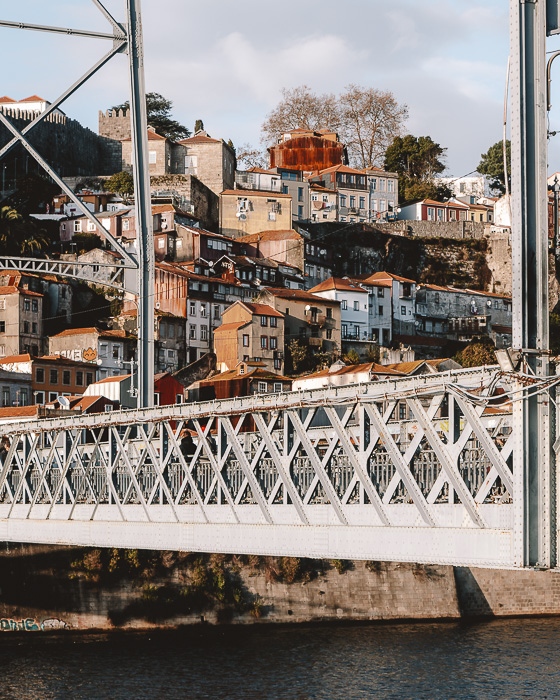 Foz de Douro
Try to save a few hours of your trip to Porto to take the rickety tram 1 to the open ocean in Foz de Douro (or the bus, free with the Porto Card). Invigorating breezes, seafront esplanade, botanical gardens and beaches will make the perfect relaxing stroll. You can explore the fabulous Serralves museum, combining a museum, a mansion and extensive gardens, walk on the esplanade to the Pergola of Foz, or just enjoy the sea breeze at the Lighthouse.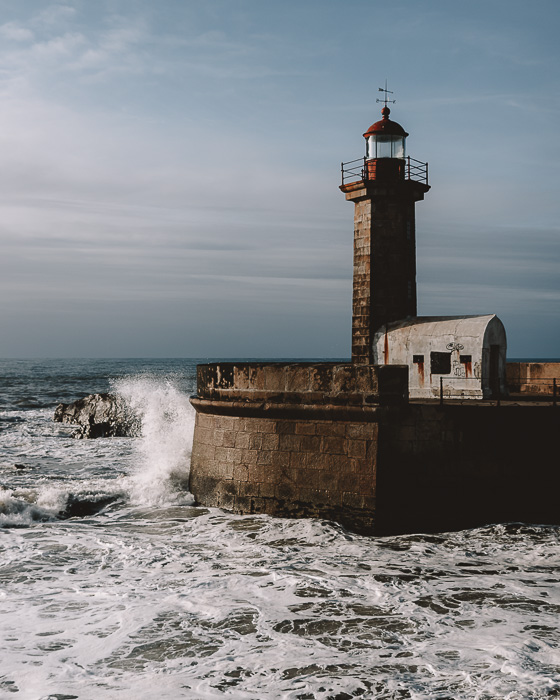 Experience Portuguese cuisine
When it comes to good food, Porto knows few rivals in Portugal! With the Atlantic on its doorstep, the Douro vineyards, the traditional fumeiros for smoked meats and tangy cheeses, the city picks all of the finest regional products. I'm sharing with you my favorite meals and the restaurants I've tried during this long weekend in Porto. Bom apetite!
What to eat
Bacalhau à Gomes de Sá: dried salt cod in casserole, with potatoes, eggs, olives, olive oil and onion.
Tripeiros / Tripas à moda do Porto: Tripe with white beans
Francesinha (meaning Little Frenchie): a monster of an open sandwich made with sausage, roast meat and ham, topped with cheese and a fried egg, and typically served with french fries. (we haven't tried this one and I'm not sure I'll ever do!)
Make sure to enjoy it with some Port wine! The wine-producing Douro region is the third oldest protected wine region in the world, after the Tokaj-Hegyalja region in Hungary and Chianti in Italy. It is typically a sweet, red wine, although it comes in dry, semi-dry, and white varieties. There is two broad categories: wines matured in sealed glass bottles and whines matured in wooden barrels. There are plenty of places where you can enjoy wood-aged tawny port with delicious cheeses.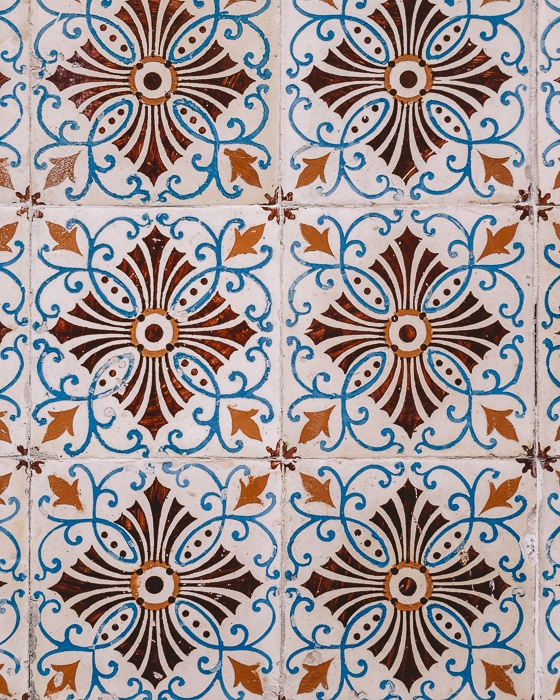 Eat here
Taberna do Largo: probably my favorite place! It is a typical place to enjoy a traditional (cheap) dinner! Their house wines are amazing, and so are their fresh bread, ham and cheeses!
Prova: the best place to learn more about Port wines if you're not doing a wine tour! The sommelier and servers are really nice and took the time to explain me the specificities of each wine, and I could even try them before choosing which one to buy! Furthermore, the local cheese and ham board was amazing!
Cantinho de Avillez: Avillez is one of the most famous chefs in Portugal, and his recently opened restaurant in Porto is definitely a must to treat yourself! They serve simple dishes with a special twist making it a must. I had the Flaked cod with bread crumbs, LT egg and "exploding" olives and the Toucinho-do-céu with raspberry sorbet and mint, a traditional dessert made with egg yolk, almond and sugar, and it was so yummy! I'm still dreaming of it while writing this blog post!
Pregar: a small restaurant with delicious bacalhau with local wine.
Mercearia das Flores: a locally curated grocer serving fresh petiscos all day and a selection of cured meats, local cheese, fresh breads and Port wine by the glass.
Chocolateria da Flores: the perfect place to enjoy a brunch or simply have a cuppa! The coffee is delicious and so are the cakes, yum!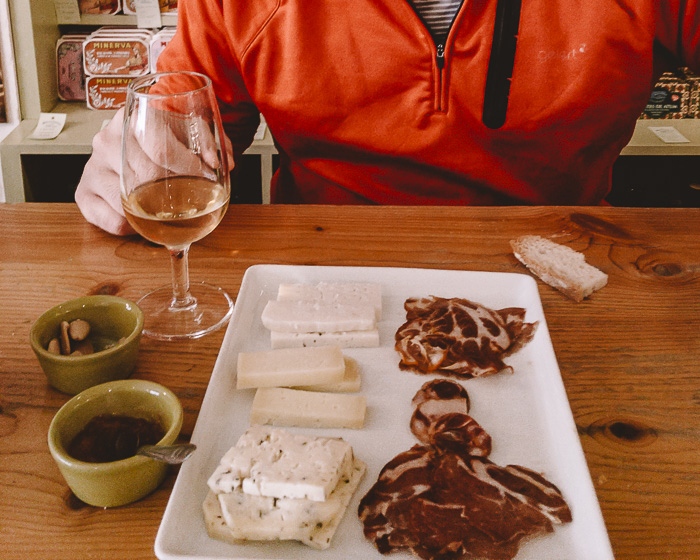 Where to stay
For this weekend getaway, I stayed at the amazing Belos Aires Apartments. The apartment comes fully-fitted with an amazing comfortable bed, a balcony, a fully equipped kitchen, dining area and bathroom. The owners are incredibly kind and welcomed us warmly when I arrived around 10am straight from the airport. The location is super convenient because not right in the old city centre and not on a busy street but close enough to enjoy a night out in town! The owners also have two restaurants close to the apartments which are quite cheap and delicious!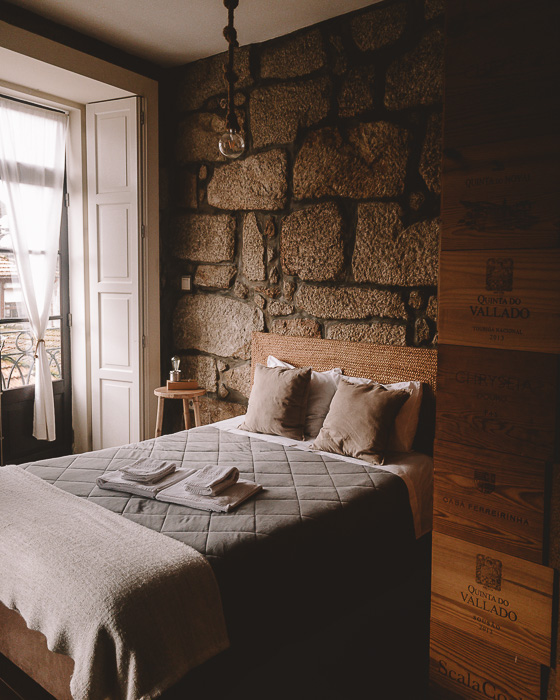 ---
Here it is for the can't miss moments in Porto! It was my first time in Portugal but there is so many other things to do that I cannot wait to go back and explore more! I hope this guide will be useful for you and if you need, feel free to reach out with any questions! And don't forger to tag me in your stories and posts on Instagram if this article inspires you!
With love,
Marina
P.S.: If you are looking for other destinations as a weekend break, find out some inspiration here!
---
If you liked this post, pin it for later!