Paris surely is one of the most beautiful cities I know. Its unique architecture and beautiful monuments make every locations super photogenic. But when March & April come, thousands of trees burst in different shades of white and pink, bathing my favorite city in my favorite color. As an art and photography lover myself, I'm putting here my favorite photography locations in Paris during spring. If you're planning to visit the French capital soon, make sure to keep this guide with you while visiting !
Obviously, the blooming season depends widely on weather conditions. Unfortunately, there is no blossom calendar like it is done in Japan for the hanami (the tradition of viewing sakura blossoms). However, if you scout locations on Instagram where local bloggers will be eager to share the first bloom, you won't miss the beginning of the season !
Blooming season usually starts with plums and magnolias, followed by the first cherry blossoms. Then the Kanzan cherry blossoms bloom, which are the fluffiest pink cherry blossoms you may find. In the Parc Monceau, you will find the first early cherry blossoms around late January, a delicate and pale pink blossom.
March
early-mid
Champ de Mars (plums)
Parc Monceau (plums, cherry blossoms)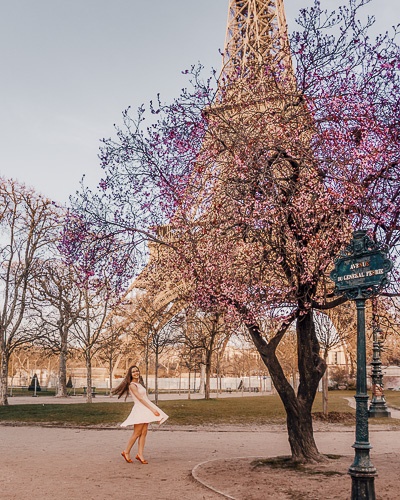 mid-late
Square René-Viviani (plums, magnolias) on the left bank side of the Seine, facing Notre-Dame de Paris. You will also find the oldest tree in Paris.
Jardin du Palais-Royal (magnolias, daffodils), located in the middle of the former royal palace which now houses both the Ministry of Culture and the Constitutional Council. In the large inner courtyard, you can enjoy the blossoms surrounded by a mix of classical architecture with modern art pieces, columns by Daniel Buren, fountains, cafes and antiques shops. It is a really nice place to relax as soon as the first rays of the spring sun fall.
Parc Monceau (plums, magnolias)
Hôtel de Ville, river side (magnolias) with its garden Jardin des Combattants Espagnols de la Nueve. The garden is only open on weekends, but it has a truly charming couple of pink magnolias trees and lovely corners to sit and read a book under the blooms.
Champs de Mars (magnolias) with a view on the Eiffel Tower. The exact coordinates are 48.8572276,2.2949399 .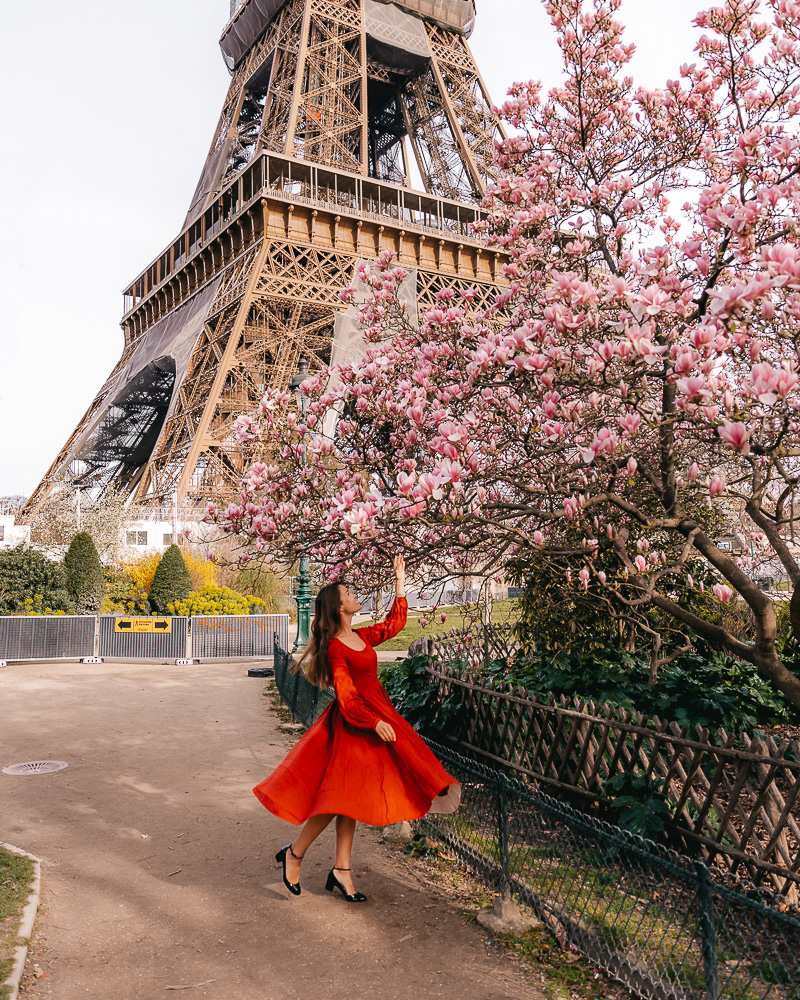 late March – early April
Jardin des Plantes and its white Mount Fuji cherry blossoms, the biggest cherry tree in the city.
Odette (tall Bradford Pears), the charming bakery located near Notre-Dame Cathedral.
Rue du Louvre (cherry blossoms)
Parc Martin Luther King (cherry blossoms), a less-known parc in the 17th.
April
early-mid
The biggest and the most breathtaking period for the blooms is, definitely, April.
Jardin des Plantes (cherry blossoms & Kanzan cherry blossoms*) is not only having the biggest cherry tree but also a lot of other types of blooms. You can be sure that something will always be blooming from late January on through May. As the park is very spacious, it is fun to visit and easier to photograph.
Parc Monceau (Kanzan cherry blossoms*)
Institut de France on the left bank side of the Seine river with its beautiful little garden Square Gabriel Pierné (Kanzan cherry blossoms*).
Shakespeare and Company (Kanzan cherry blossoms*)
Eglise de la Trinité (Kanzan cherry blossoms*) located near Saint-Lazare train station.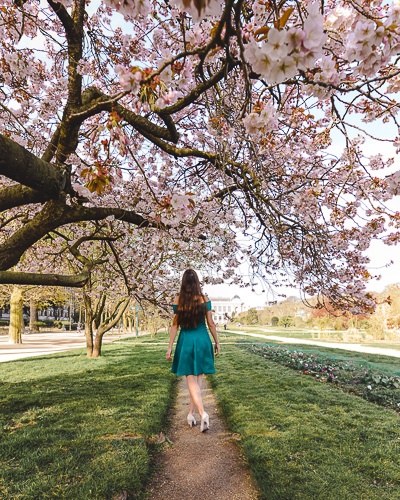 Champ de Mars (Kanzan cherry blossoms*) : When the big fluffy clouds open in Trocadero Gardens, they offer a picture-perfect view of the Eiffel Tower and famous carousel. The place is also inundated by tourists even from the very early mornings as a lot of visitors come here for photo shootings. Champs de Mars has always been a must-see for any tourist visiting Paris, so expect big crowds especially during the blossoms, even if you visit it early.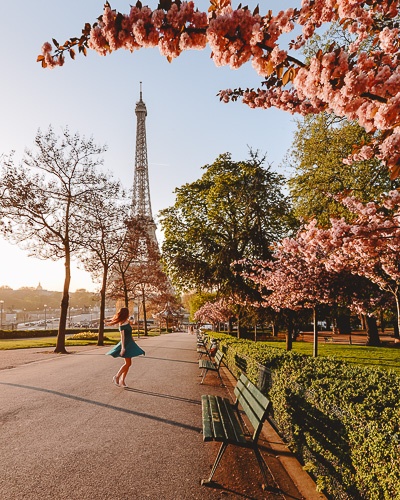 Cathédrale Notre-Dame Left bank side & Square Jean XXIII (Kanzan cherry blossoms*) : Nevertheless, for me, the best place to watch the cherry blossom would be Square Jean XXIII and the left-bank side of Notre Dame Cathedral. All the fluffy pink blossoms create a perfect canopy framing the cathedral perfectly.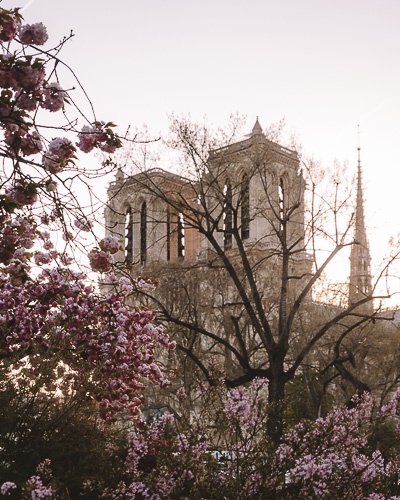 mid-late
Parc de Sceaux (Kanzan cherry blossoms), around 10km south of Paris : Those previous places are in full blooms almost at the same time. But the magic doesn't end, as close to the end of April, a magical orchard of dozens of Kanzan cherry trees creates a pink haven . When in full bloom, it becomes the best place to enjoy a hanami, like they do everywhere in Japan. The peak bloom can be really early or really late so I suggest you keep an eye on the Kanzan cherry trees at Notre Dame, Champ de Mars etc as a gauge of when to travel to the park.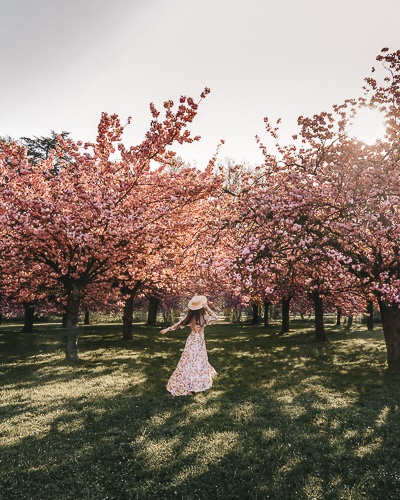 Rue Chanoinesse (wisteria), draping the facade of the Vieux Paris.
Square Marcel Blanchet (wisteria), behind the Sacre-Coeur.
Rue de Fourcy (wisteria), near St-Paul Cathedral.
Grande Mosquée de Paris (wisteria), close to the Jardin des Plantes. It is open to visit everyday except Fridays and days of Muslim celebrations (3€).
Port Debilly (wisteria), near Pont de Bir Hakeim.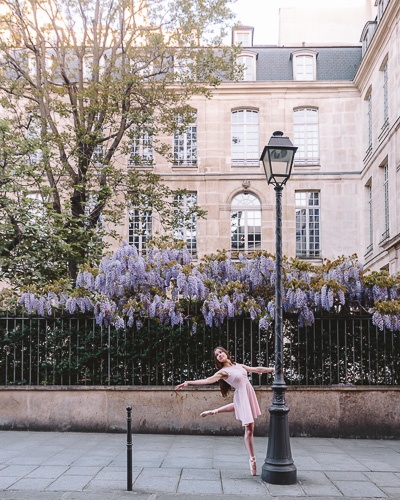 ---
These are my favorite photo spots to enjoy Spring in Paris. I hope that this little guide will help you taking beautiful pictures !
Please note that the Kanzan cherry blossoms with an * usually always bloom around the same time so be ready for a true pink dream!
Don't forget to tag me in your stories and posts on Instagram if this article inspired you !
With love,
Marina
P.S.: Have a look at all of my seasonal Paris photography guides!
---
If you liked this post, pin it for later!