In early April, I left Paris for a three weeks' trip. My first stop was the City of Angels. Being a huge fan of La La Land, I was so happy I could do a 3-day stop over in Los Angeles on my trip to my final destination! (read about it here!)
As it was my very first time in Los Angeles, I wanted to see a little bit of everything. I decided to split our trip between the endless beaches of Venice and Santa Monica and the verdant hills of Griffith Park. While three days was not nearly enough to explore La La Land, I do feel I got a nicely balanced taste of what makes this city such a joy to visit. Here's what I did, in hopes that it sparks your imagination or helps you with trip planning!
Sunset strolls along the beach
Before even landing, I could see from the plane all those perfectly neat residential districts lined up along the palm-studded streets of the 10 000 km2 LA County. I almost thought I had just arrived in Wisteria Lane (but not so desperate!).
I arrived at the airport around noon and after getting our car, went straight away to Venice. Neat rows of storybook houses and other theaters and buildings of an astounding architectural diversity lined the edges of the equally neat palm-bordered streets on our way to the ever-cool-and-eclectic Venice.
Strolling along its world famous Boardwalk, walking barefoot in the sand while soaking in the sea breeze was the perfect thing to do to recover from an 8-hour flight. Only a couple of blocks from the boardwalk is Venice Canals, an idyllic neighborhood that preserves 5 km of Abbot Kinney's canals. These waterways were dug over a century ago, and are connected by graceful bridges and lined with all kinds of homes from bungalows to mansions, where ducks preen and locals lollygag in little rowboats. A small haven that felt like the perfect place for two tired humans.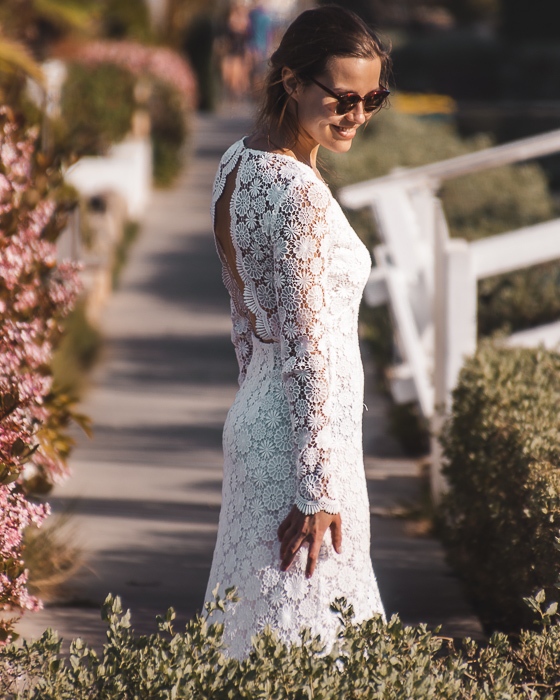 I wrapped up our first day with a perfect SoCal sunset from Santa Monica State Beach with a view on the Pier, a funfair jumble of arcade games, vintage carousels and the solar-powered Ferris wheel.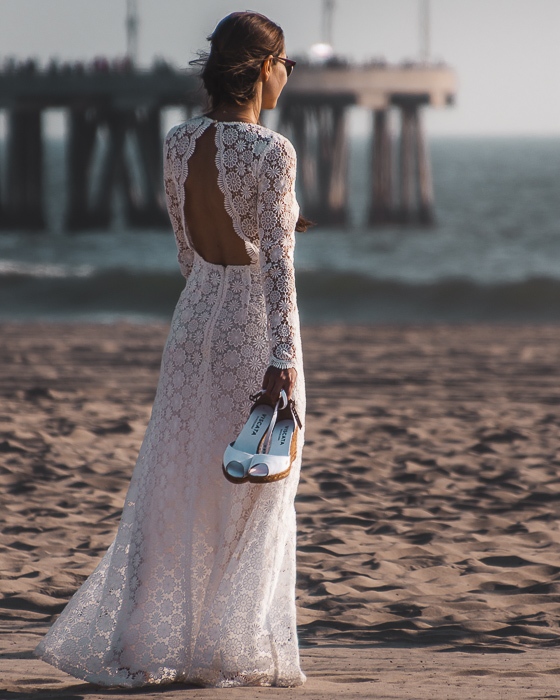 After dining in the nice Umami Burger, I drove to my home for those three days: Desert Heaven. This perfect guest house close to Mount Hollywood is built up in a residential district up in the hills. The perfect place to relax for a city break. My favorite place was the patio with its little fountain. Each morning, I had breakfast in this little haven, with hummingbirds, squirrels and other cute tiny creatures playing around as the sunrays stroked our skin.
Cinematic cityscapes and world famous icons
The following day, I drove an hour to the Griffith Observatory through canyons drives and hills, along with beautiful mansions, typical of Hollywood Hills. Five times the size of New York's Central Park, Griffith Park is one of the largest urban green spaces in the US. You can easily spend a full day there, as it contains the Greek Theater, a major outdoor theater, the Griffith Observatory, two museums, golf courses, playgrounds, 85km of hiking trails, Batman's caves and, last-but-not-least, the Hollywood sign.
I chose to work up a sweat hiking through one of the country's largest urban oases to the Hollywood Sign. On the trail, I met more trees and wildlife than people (a ratio that I always appreciate). I saw all the possible cityscapes, from Studio City to Los Angeles, the Griffith Observatory from above to the Hollywood Sign in the distance. Somehow, I got lost and, since I had other plans for the rest of the day, I headed back to the Observatory.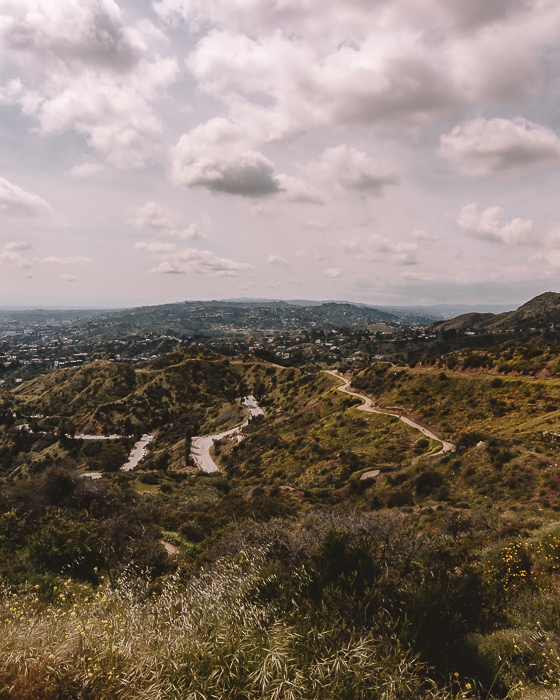 Built in 1935, this landmark opens a window onto the universe from its perch on the southern slopes of Mount Hollywood. Its planetarium claims the world's most advanced star projector, while its astronomical touch displays explore some mind-bending topics, from the evolution of the telescope and the ultraviolet X-rays used to map our Solar System to the Cosmos itself. I felt like a child learning about the stars with their playful approach! The architecture of the building itself is worth a visit and, of course, so are the views, which (on clear days) take in the entire LA Basin, surrounding mountains and Pacific Ocean.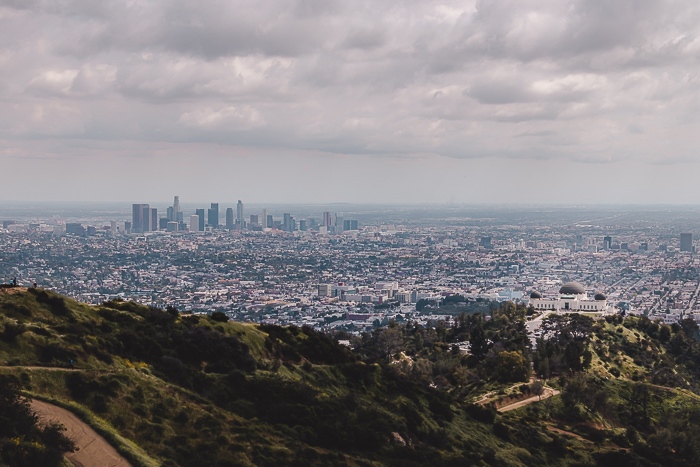 As the golden hour was approaching, I headed back to the hiking trails for a 40mn-hike to Cathy's Corner, the very same place where they filmed the Lovely Night scene in La La Land! The sunset from there really was breathtaking. Although the hike can be discouraging, you honestly won't regret it. Picture a lingering sunset over the city topped with mountains, with only birds and a few bikers for neighbors.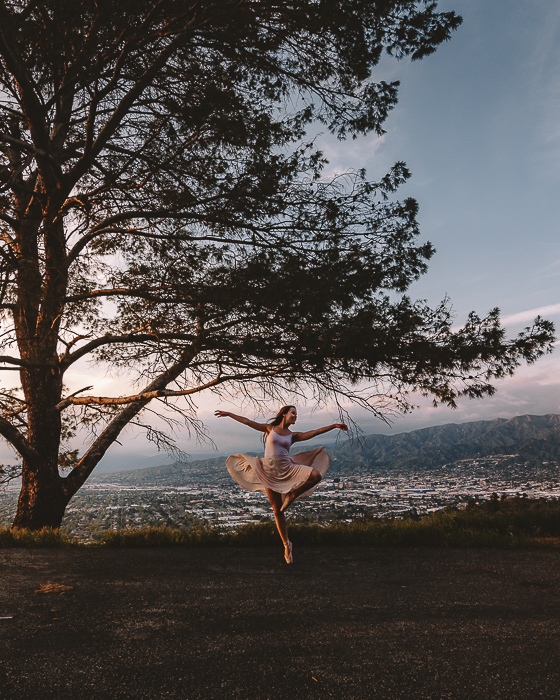 On my last day, I drove all the way through Beverly Hills, Bel Air and Westwood -imagining the life of people living there- to the Getty Center, a spectacular synergy of art, architecture, landscaping and views. Standing in the clouds high above the city, the Getty Center presents triple delights: a stellar art collection (everything from medieval triptychs to baroque sculptures and impressionist brushstrokes), Richard Meier's cutting-edge architecture, and the visual splendor of seasonally changing gardens. With its free admission (although the parking is 20$), it is one of LA's must-see places. I spent a lot of time admiring the impressionist paintings and relaxing in the serene gardens.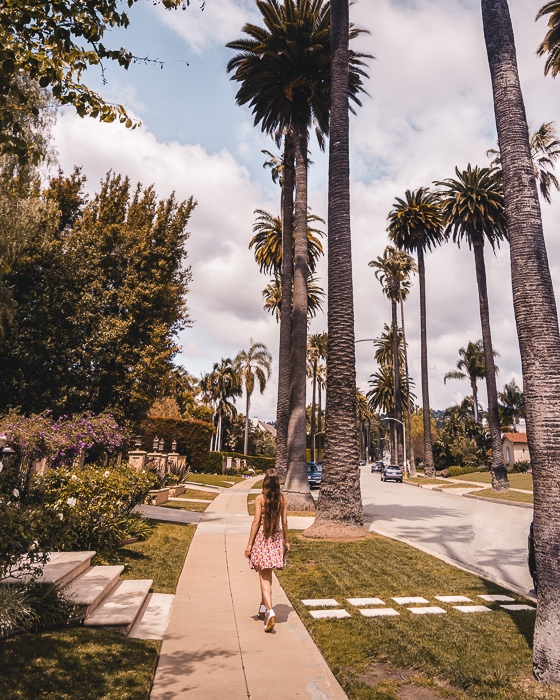 Before heading back to the airport where my flight was scheduled around midnight, I caught a last glance of Santa Monica before having dinner in the Butcher's Daughter on Abbot Kinney Boulevard. The decor is lovely and the vegan food is yummy, but a bit expensive. I ordered a beet tartare and a pesto and micro-kale pizza (YUM) with a glass of California wine. A nice way to end my stay!
---
Day by day
Day 1
[16:00]
– Venice Canal
– Venice Beach
– Venice Sign (missed)
– Santa Monica Beach for sunset
🍴Dinner: Umami Burger in Santa Monica (11:30-23:00)
🛌Stay at: Desert Heaven Guest House (click here for a 10% discount on Booking!)
Day 2
[12:30] Mount Hollywood trail (which I didn't do entirely)
🍴Lunch: picnic with view
[15:30] Griffith Observatory (12:00-22:00)
[18:30] Cathy's Corner for sunset (a 40min-hike from the Observatory ; pedestrians/cyclists only)

🍴Dinner: at home
Day 3
[12:00] Beverly Hills

🍴Lunch: Cafe in the Getty Center

[13:30] Getty Center (10:00-17:30, free admission; parking 20$)

🍴Dinner: The Butcher's Daughter (8:00-22:00)
---
Other spots to consider :
Hollywood Boulevard (which I intentionally skipped because … people!)
Urban light (public art)
Walt Disney Concert Hall (free self-guided audio tours)
OUE Skyspace LA (10:00-21:00 ; 19$)
The Last Bookstore (10:00-22:00)
Farmer's Market
The Grove
Secret swing at Elysian Park
---
I hope this guide will be useful for you and if you need, feel free to reach out with any questions as there is SO much to do ! And don't forget to tag me in your stories and posts on Instagram if this article inspired you !
With love,
Marina
---
If you liked this post, pin it for later!