Ia Ora Na ! I just came back from French Polynesia and one of my best memories was definitely my stay in paradise, at the Four Seasons Resort Bora Bora ! I couldn't wait to tell you all about the experience !
This April, I was invited by the Four Seasons to experience their resort on the Motu Tehotu, a private motu in Bora Bora.
I had heard so much about Bora Bora "paradise" and postcard-like lagoon, but I didn't quite understand what it meant until I was there on property. It is a turquoise clear lagoon, a sand-fringed idyll around Bora Bora's Mount Otemanu.
Day 1: Indulgent splendor, welcome to Bora Bora
After a warm welcome at the airport and a 15-min scenic boat-ride, Marine, one of the staff of the Four Seasons (I will learn later that we've been to the same university almost at the same time!), greets us warmly on the beautiful thatched-roof dock with leis of tiare (the traditional Polynesian flower, a white tuberose). I know I will remember the unmistakable fragrance of these delicate white flowers. It has a distinct sweetness that shall forever makes me think of the islands.
After a chilled cucumber water and a small resort exploration, the staff escorts us across the raised wooden pathway to our suite, one of about 100 overwater bungalows arching out into the lagoon.
Crossing the private deck and entering, I am immediately in awe of this room. Spacious yet decidedly intimate, I hesitate to even call it a room. A space encased in glass floating in the middle of an ocean seems more accurate. Wall-sized sliding glass doors make up a whole side of the bungalow. Wooden panels intricately etched with works of art from throughout French Polynesia, sliding wood doors, high ceilings and thatched roofs made from pandanus leaves offer a restful, airy ambience. Glass doors partition off the stone tiled shower and the soaking tub, overlooking the lagoon. The open floor plans seems designed to tempt the outdoors in – and those indoors, out. The deck leads into a series of wooden steps with a ladder leading down to the water a few feet below my bare feet.
Before dinner, I can't help my self and I dive off the side into my version of picture perfect. There is no other soul around. We are giddy as children playing in the shallow lagoon waters until the smell of our meal being served call us back to the terrace.
For our first evening, we do a romantic dinner on our private deck overlooking the water. A delicious Tahitian raw fish with coconut milk served on a beautiful fresh coconut and a grilled mahi mahi with seasonal vegetables are delivered right to our door.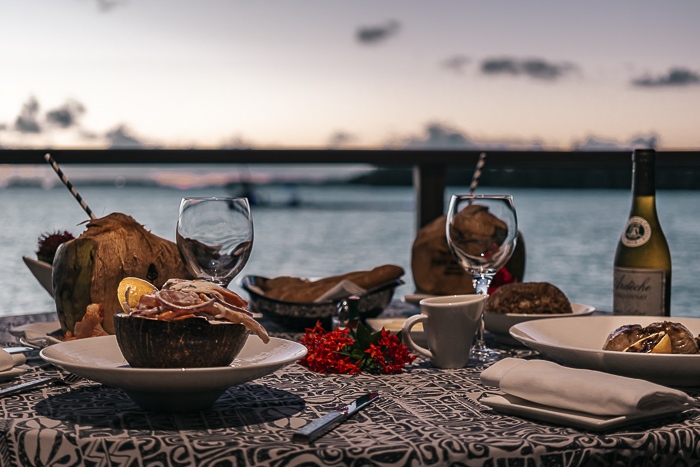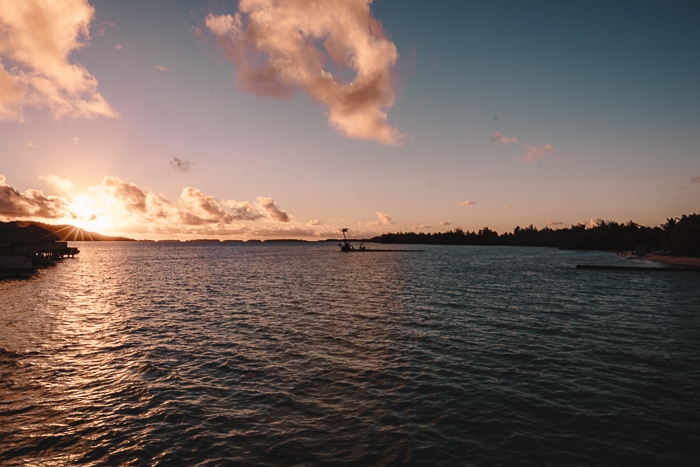 Although sipping a fresh coconut water while looking at the stars sounds appealing, the cotton-candy thick mattress seems so inviting that we cannot resist longer and go to bed.
Day 2: Natural splendor, the Lagoon Sanctuary
After a perfect night in the most comfortable bed ever -and as I love a good sleep, I know what I am talking about!-, it's breakfast time ! A lavish buffet is waiting for us at an open-air restaurant overlooking the lagoon and Mount Otemanu. My plate is a colorful collage of fresh fruits: melon, pineapple, coconut, kiwi and many more piled beside french pastries and a guava-papaya-citruses juice squeezed fresh this morning. Salmon, sausages, fresh yogurt with a drizzle of honey made one island over, homemade jams and Tahitian specialties are all meticulously prepared in house. The options are endless, and delicious.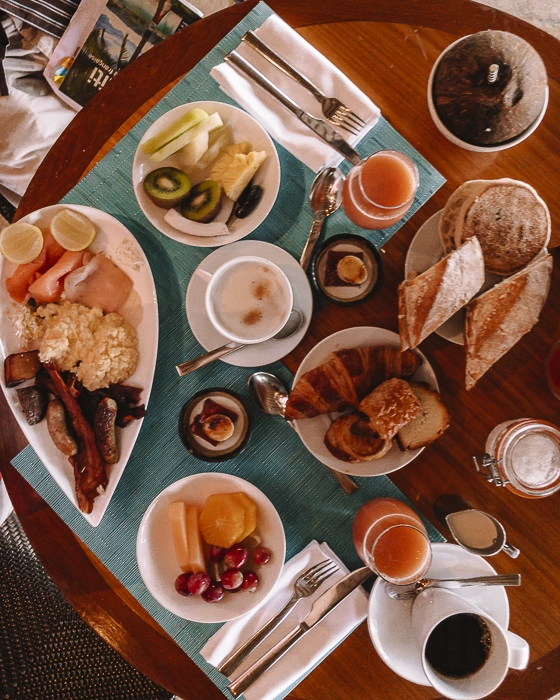 After breakfast, I meet my guide, the marine biologist Denis Schneider, who will be taking our little group of 6 to a guided snorkeling tour around the Lagoon Sanctuary, an inner lagoon home to over 100 species of marine life.
In the lagoon, we learn that because of global warming, 50% of the corals are dead.
For more than 20 years now, Denis Schneider and his team are trying to heal the damaged corals by transplanting it on an artificial reef in the sanctuary. Supplied by energy, it is a nursery where corals can regenerate themselves with calcium. Here they grow faster and more resistent. It is called the Biorock method and you can learn more about it here.
The marine environment truly is magical and chatting with Denis about how we can contribute to preserving this fragile underwater ecosystem was so interesting (and fun!), we all loved it !
I personally love the dedication of the Four Seasons to mindful adventure and education as it goes hand in hand with my work towards a more "eco-friendly life". I am happy to see that they banned almost all plastic from the bungalows and restaurants. They are using glass bottle for filtered water and earthenware pots for bathroom amenities. They also recycle used water for landscaping and reprocess food waste for agricultural feed.
Around mid-afternoon, while the clouds are playing around the Mount Otemanu, I decide to go for a dip in one of the numerous inner lagoon of the resort. The water is crystal clear and I believe I just found paradise.
On our way to enjoy the golden hour from the perfect white-sand beach, we stop by the little chapel we saw the day before. A wall-sized window makes up the main facade with an incredible view on the lagoon. It makes the dreamiest place to get married or to renew vows. The sun is now beginning to set and the sky is starting to burn, offering us an incredible show.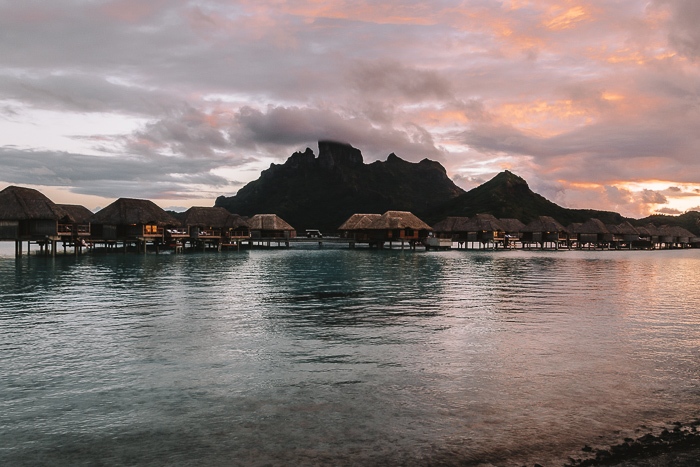 Before dinner, I am invited to discover Tahitian black pearl jewelry with Tahia. Once a small family business, it grew from modest beginnings to becoming one of the most respected in all of French Polynesia. The boutique offers an incredible array of Tahitian black pearl jewelry, including loose pearls, which can be placed into custom creations. I learn about the long and meticulous process of farming these pearls, from implantation through extraction, as well as the various grades of color and luster.
After unveiling the mystery of Tahiti's most famous jewelry, I choose to have a casual dinner toes-in-the-sand by the lagoon with a tacos party and tropical cocktails before gazing at the night sky on the private deck.
Day 3: Soothing splendor, spa and shaded sanctuaries
We start our last day with a magical sunrise from our deck before heading to the spa. After unwinding in the steam room, we take a plunge in the outdoors pools surrounded by tropical foliage, one facing the lagoon and one facing the ocean. Even as the clouds start forming around us, it cannot take away that refreshing and revitalizing sensation in this soothing sanctuary.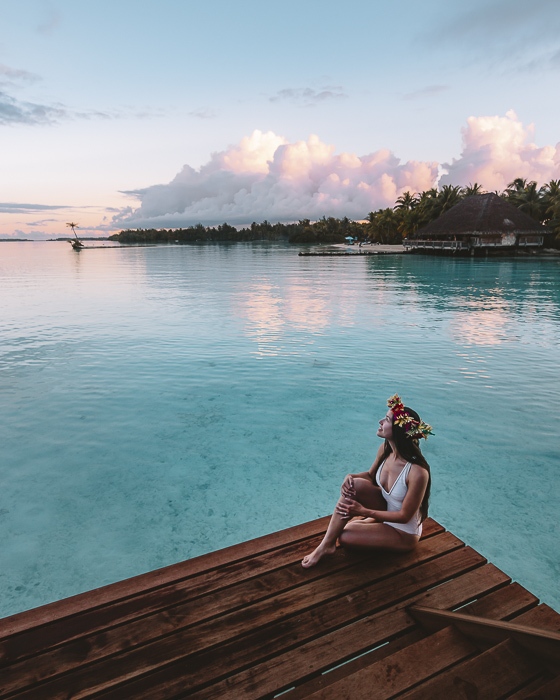 As the rain starts pouring, we are heading to have brunch, contemplating the incredible sight of the clouds dancing around the Mount Otemanu.
An hour later, the clouds have moved on and in its wake a sense of absolute dreamy calm has taken over. Time for us to enjoy the beach, paddle and snorkel around the lagoon before cooling off under a thatched-roof pool cabana with my favorite fresh coconut water.
Under the brilliant blue sky, palm trees swaying, belly full, I want to laugh out loud at the splendor of it all. I feel completely spoiled and utterly grateful. I close my eyes, mentally storing this moment, this place of absolute relaxation and contentment.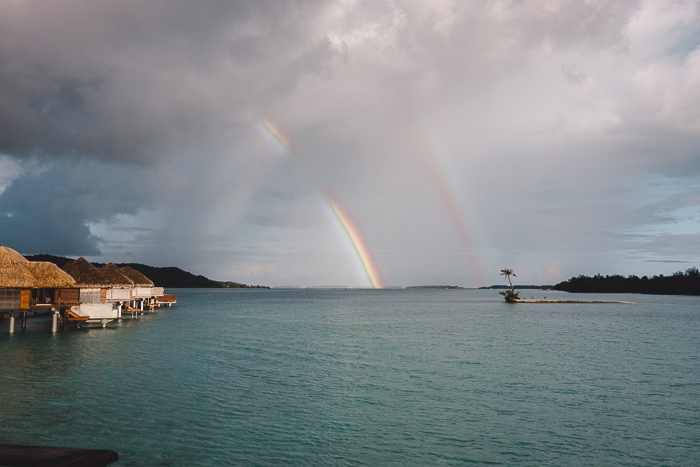 ---
If you're looking for more inspirations, have a look at my French Polynesia Ultimate Travel Guide!
If you liked this post, pin it for later!