Ia ora na ! In early April, I left Paris for a three weeks' trip. My first stop was Los Angeles and you can read about it here. My final destination was French Polynesia, where I spent two full weeks. I couldn't wait to share this ultimate travel guide to the Society Islands, including travel tips and other spots to consider!
As it was my first time in French Polynesia, I wanted to see a bit of everything. Since I only had 14 days there, it was not possible for me to take too many long flights between each islands so I decided to focus on one archipelago, the Society Islands. I organized our trip so I could stop in (almost) every islands there : Tahiti, Huahine, Raiatea, Taha'a, Bora-Bora and Maupiti. I wanted to go to Moorea while in Tahiti, but I finally ended up not going (and spent the day with some friends instead!). A half-day-trip to Tupai was also planned but unfortunately the company cancelled it when I was in Los Angeles.
While two weeks might not be enough to fully explore this paradise, I do feel we got a nicely balanced taste of what makes this place such a dream.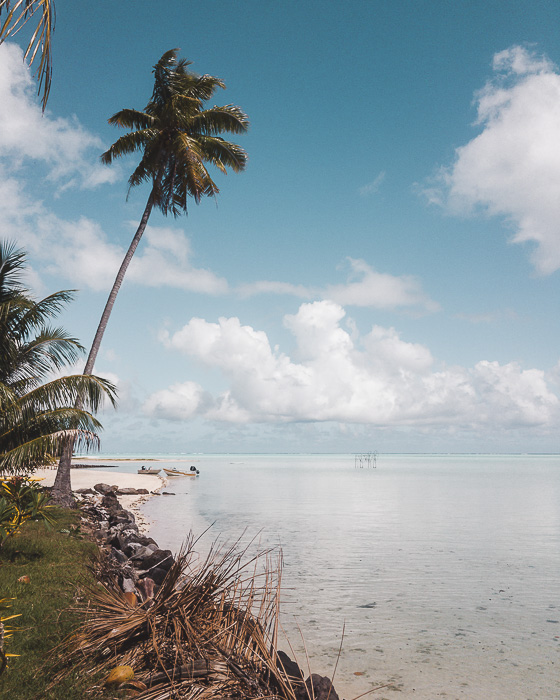 Travel guide to French Polynesia
When to go
As a pacific island, the year is divided by two main seasons, the rain season from November-December to March-April, and the dry season from April-May to October-November. The dry season has the coolest temperatures (25°C), the rain season the warmest (30°C); the dry season is the busiest and hotels/activities prices are high, the rain season is the quietest and prices are significantly lower.
November to March
Rain season, typically with a lot of rain and high humidity, mixed with warm temperatures. However, more rain means emptier hotels, competitive rates, and far fewer visitors.
April-May
It is said that rain season usually comes to an end in April, but with climate change, it unfortunately stops earlier and earlier. More and more accommodation providers actually suffers from the lack of rain during the rain season, leading in a very hard water restriction towards the end of the dry season, in September or even earlier.
April-May see the humidity dropping and rainfall easing, with prices remaining low, it is often sees as the best time to visit French Polynesia! It is still not the busy season so the islands maintain an overall quieter atmosphere.
June to August
It is the busier season. French Polynesia has many of its own festivals to celebrate during this time, such as Heiva i Bora Bora in July; an annual singing, dancing and sports competition. The balmy weather combined with the traditional holiday period from the Northern Hemisphere, make it the most popular time to travel. But this means that hotels can fill up months in advance and prices are way much higher.
September-October
As a shoulder season, it is also a great time to visit French Polynesia. The climate remains pleasant despite the humidity slowly starting to come in, and the islands are more peaceful once all the tourists are gone. Late September marks the spring equinox, when the sun's rays hit the islands' lagoons at just the right angle, bringing out the vivid turquoise hues of the classic French Polynesian landscape.
Preparation
As I always do, I chose to organize everything myself, without the help of a tourism agency. It is cheaper and you are free to plan your very own itinerary! Though I have to admit that it was not easy to schedule all the flights. Some islands being more secluded, connecting flights are therefore extremely rare. For example, there is only two flights per week going to Maupiti, one from Tahiti and one from Raiatea (that's what makes this island a gem though!).
Once I figured out what I should do and how many days I should spend on each island, I used the Air Tahiti's Excel file to find out the best flights possible. I really recommend using it rather than their PDF file, since it allows you to filter all the stops/days you're interested in. After a month looking for the perfect itinerary so I would not lose a day or spend too much time somewhere less interesting, I ended up with the itinerary below, which perfectly fit with our 14-day trip. However, I recommend you to add 4 days if possible, so you can stay longer in Maupiti and add Moorea to your trip.
Tahiti (1 day) ✈ Huahine (3½ days) ✈ Bora Bora (2½ days) ✈ Raiatea (1½ days) – Taha'a (1 day) ✈ Maupiti (2 days) ✈ Tahiti (2 days)
So here you go, the perfect travel guide to French Polynesia, including my "don't miss list" mixed with things I actually did and some other spots to consider, in hopes that it could help you with your own trip planning! As usual, you will find the detailed "day by day" itinerary at the end of this post and you can find my travel log here.
---
The Island of Tahiti, An unexpected adventure
The island of Tahiti is worth more than an overnight stop. For those willing, it is a place where you can enjoy various excursions and unspoiled nature as well as traditional culture and fine dining. I recommend that you allow three days to visit the island, and add at least another day for a day-trip to Moorea. (places are listed from Papeete, clockwise)
Le Marché: Papeete colorful and lively market. I recommend you go early, before 9 am, so you can enjoy all the colorful stalls. Cafe Maeva is a great place to drink a smoothie or have breakfast.
Vai'ete Square's roulottes: a perfect place to enjoy dinner in the waterfront. We ended up not going because we wanted to spend more time with our hosts.
Belvédère Pirae: a breathtaking view on Pirae and Papeete, the lagoon stretching to the horizon. It's located two turns before the eponymous restaurant.
Pointe Vénus: Pointe Venus is a peninsula located in the Matavai Bay, with a black-sand beach where you can picnic and relax and a beautiful white lighthouse.
Papenoo-Ahonu black sand beaches
Teruaporea blowhole in Arahoho: right on your left after the tunnel. Nothing much to see, but the sound of the waves getting inside the hole is impressive.
Faarumai three waterfalls: on your right a few meters after the blowhole.
Teahupo'o surf break (you can also book a boat tour)
Vaipahi water gardens
Vaiava beach: the only white-sand beach with a beautiful clear water.
Museum of Tahiti and her islands: set in a 3 hectares park, bay-side. The best place to learn more about Polynesian culture.
I stayed one night at Fare Tutehau in Papeete and two nights at Kanahau Lodge, in Punaauia. The first one consists in just one bedroom in a cute house with a beautiful garden (a simple yet delicious breakfast is also included). The latter is a lovely house located on a hill with a perfect view on Moorea, breathtaking during sunset. Teva and Tahia are two lovely people who also run a restaurant/foodtruck (or roulotte in french) called "Noix de Coco by Teva". It was so delicious that I went there twice!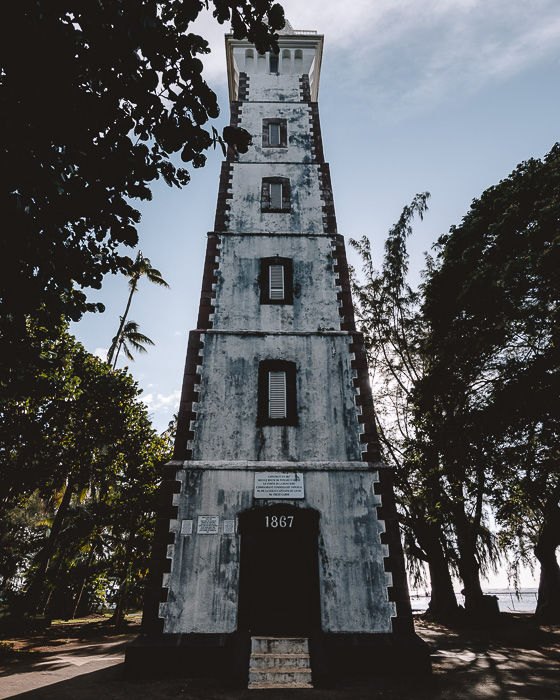 Huahine, Society Islands' best kept secret
Located only 40 minutes away by flight from the island of Tahiti is the enchanting Huahine, also called "the authentic island". With its lush forests, untamed nature and quaint villages, Huahine casts a spell over you from the moment you arrive. It is surrounded by a deep crystal-clear lagoon home to colorful corals and fishes, with magnificent bays and white-sand beaches. Relatively unchanged by the modern world, Huahine is said to offer a timeless, more tranquil pace of old Polynesia. The 6,000 inhabitants are extremely kind and friendly and will welcome you warmly on this secluded island. (things to do are listed from Fare, clockwise)
Diving: I went with Mahana Dive and it was absolutely perfect! Annie and Didier are both extremely kind and reassuring, which was perfect for me as it was my first dive ever. For this first time, they took me to Fitii's Wall where we saw many beautiful corals and fishes. If you ever go to Huahine, go dive with them!
Roulottes K'on est Bien & Chez Doumé: in the waterfront of Fare, those two foodtrucks are the best place to have a delicious and cheap lunch or dinner.
Marae Maeva: the largest archaeological site. The introduction labels are unfortunately unreadable, but it's still a beautiful place to see.
Coral Garden (near the former Sofitel Hotel): after the marae, cross the bridge on your left and turn right at the end. The hotel is at the end of the road, and the coral garden on its left. Be careful of the current which can be dangerous some days.
Huahine Pearl Farm: closed during my stay.
The Sacred blue-eyed Eels of Faie: those huge eels are usually hiding under the small wall or under the bridge.
Belvedere: follow the road from Faie, and you will find some beautiful views over the islands.
Maison du Paréo: at Parea, Miri is making some unique and beautiful paréo, a beautiful souvenir to take back home.
Chez Tara: a traditional restaurant where you can enjoy a Tahitian Oven every Sunday. I was a bit disappointed, mainly because it felt a little bit overrated with more tourists than locals (not my favorite ratio) …
Mount Pohue (Huahine-Iti) or Mount Tapu (Huahine-Nui) hike: both hikes require a guide but will allow you to discover Huahine's backcountry. In the Pension Maeva where I rented a car, we met Temo, a young woman from Huahine who can actually take you for free in the mountains for a 2-3 hour or longer hike. It's such a shame that I didn't have the time to do so. She will soon open her own pension, called Pension Havai, near the Royal Hotel of Huahine, on a motu. I highly recommend to check this out if you're planning to go in the coming years!
Hana'Iti Beach: only reachable by boat/kayak, it is a lovely place to relax and enjoy the peaceful atmosphere of Huahine.
Secret Coral Garden: it is located in front of the Hana'Iti Beach and only reachable by kayak. In the shallow lagoon, the corals and fishes are lively and colorful. Also remember not to touch or feed them, and stay calm so you don't stress them.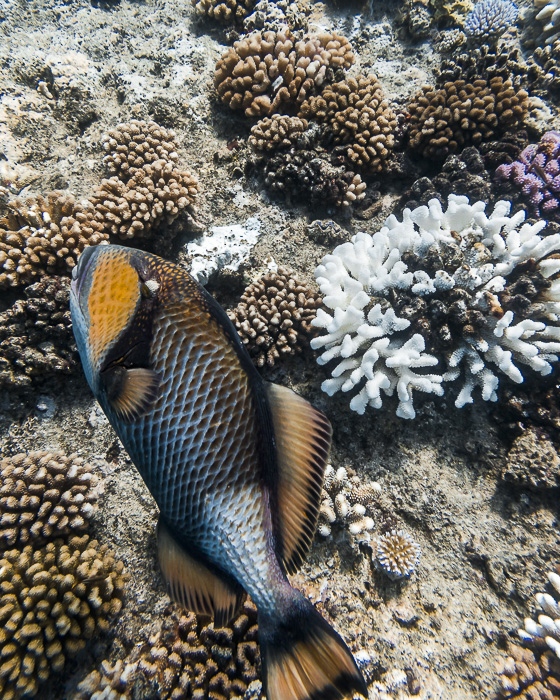 I stayed at Pension Tupuna, which is definitely a must-stay place. Loretta and Franck are absolutely lovely and will welcome you warmly in their beautiful wood-made bungalows right by the lagoon. The breakfasts (included) and dinners (additional cost but so worth it) are the best way to discover the traditional Polynesian food. It is without a doubt the best pension I've ever stayed at.
Bora Bora, Romance central
A travel guide to French Polynesia couldn't be complete without a stop at this little piece of paradise! I was kindly invited by the Four Seasons. You can read about my experience here.
Lagoon Sanctuary: some resorts are home to Lagoon sanctuaries, where biologist are healing damaged corals, making a home to hundreds of marine species.
Snorkeling: in the most beautiful lagoon of Polynesia. "Motu Piti 'U'u Uta", located in front of the Sofitel, is a beautiful spot, reachable by renting a kayak from the Sofitel Hotel or the Intercontinental.
Diving: diving in or outside the lagoon to maybe see manta rays. Some friends dived with Dive and Smile and were quite satisfied (both confirmed and beginners).
Island tour by bike: 40km, with a lot of small beaches perfect to cool off.
Mount Otemanu hike (with guide)
4×4 or quad safari: on hidden roads up to overlook the lagoon.
I will not recommend you to choose a lagoon tour (often including snorkeling and a picnic on a private motu) because they usually try to attract fishes, rays and sharks by feeding them with bread or similar (which is really bad for their health making them diabetic), cutting off the rays' stings, holding them so you can touch them, etc. Fishes and rays, including manta rays, are a naturally curious animal so if you stay calm, there is a good chance that one of them will approach you.
Be aware that rays need to swim continuously so water can flow through their gills (otherwise they would die since it's their way of breathing). Their skin is also covered with mucus which protects them from infections. Touching them is thus deteriorating their mucus and putting their health at risk (and it's forbidden).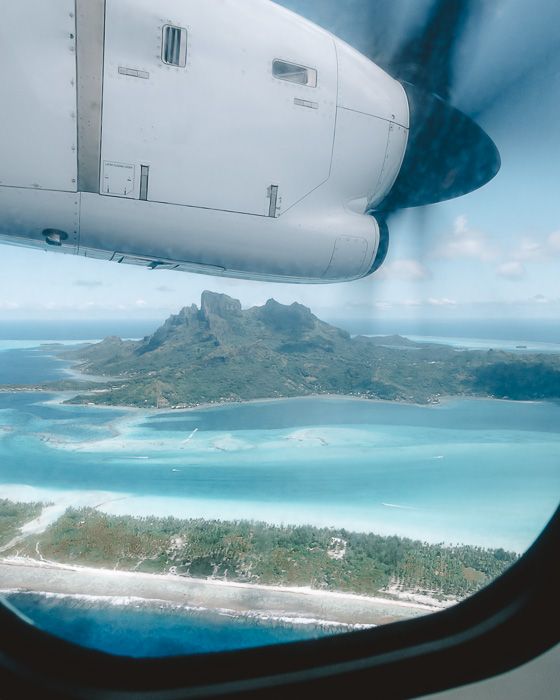 Raiatea, Homeland of ancient Polynesia
Formerly named Havai'i, Raiatea is considered as the homeland of ancient Polynesians. Their expansion throughout the Pacific began on Raiatea from the sacred Marae Taputapuatea, venturing north to Hawaii and west to New Zealand. The green-carpeted mountains of Raiatea rise to the cloud-capped peak of Mount Temehani, surrounded by a beautiful turquoise lagoon.
Marae Taputapuatea : UNESCO World-Heritage site, it is the most spectacular and first international marae of the Polynesian triangle. It is considered to be the home of the sacred culture of Hawaii, New Zealand and the Cook Islands.
Hike on Mount Tapioi : an easy 2-hour round-trip hike (no guide needed), which offers a breathtaking view of Huahine, Taha'a and Bora.
Hike on Mount Temehani: with a guide, try to find tiare 'apetahi, the symbol of Raiatea, found nowhere else in the world.
Canoe ride on the Faaroa : the only navigable river in French Polynesia, through a dense tropical forests. According to the legend, the river would have been the departure point of all Polynesian migrations to Hawaii and New Zealand.
Diving : there's a well-known shipwreck in the north-east part of the lagoon at around 20 meters deep. I dived with Floriane of Temaranui Center and went to this point since two other people from the Center intended to dive to the shipwreck at the same time. It was not the best place to dive, even though we've seen a lot of beautiful fishes and a turtle, because Floriane was attracting fishes with bread and I don't want to support this practice.
I stayed at Teavapiti Lodge, a basic and rustic lodge, but comfortable and close to a store to get breakfast. A good restaurant for dinner is reachable by foot (also expensive so we didn't go), and there is a good foodtruck called Snack Tonoi, where I had a delicious and cheap dinner by the sea. The lodge is pretty far from the town center of Uturoa, which might be inconvenient if you don't rent a car.
The secluded Island of Taha'a, Where time stops
Only reachable by boat from her sister island of Raiatea, Taha'a is a quiet place offering a peaceful life. The soft and unspoiled mountains, surrounded by tiny motu with bright white-sand beaches, leave the impression that time has been suspended. This place is also well-known for its unique vanilla tahitensis and its pearl farms.
Vanilla Valley: in this vanilla plantation, you will learn the process for growing and harvesting the Tahitian vanilla. The explanations are really interesting, and you can buy some vanilla at the little shop. But you cannot know if all the vanilla they sell here are from this single plantation, as a lot of vanillas are actually harvested on other islands and imported here to dry.
Pearl Farms visit: We've done both Champon Pearl Farm and Love Here Pearl Farm and both are worth a visit. Staff will explain you the different Tahitian black pearls and how to obtain those pearls. Champon Pearl Farm is aiming to a perfect quality while Love Here Pearl Farm offers a variety of pearls, from the keshi to the perfect big ones.
Coral garden: snorkeling in the coral garden around the motu Tautau, near the Taha'a Island Resort & Spa where you can have lunch and enjoy the afternoon at the beach.
I stayed at Pension Hibiscus Taha'a and I wouldn't recommend. I am sure Leo and Lolita are nice people but they are not as welcoming as all the other hosts we met. However I rented a car at Tahaa Locations which was perfect, the owners are the kindest people ever (from Taha'a !). For dinner, I followed their recommendation and went to the restaurant Taha'a Maitai: the food is pure delight, only made with local ingredients from Taha'a by the French chef Bruno. I had an enchanting dinner that was alone worth the visit on Taha'a!
Maupiti, Jewel of Leeward Islands
My favorite island of all, Maupiti is a secluded and authentic tiny island of 11 square km, with only 1,200 inhabitants, one road and a 10km circumference. Sand, sea, sun, time and tide are the keywords there. The only mountain, Mount Teurufaatiu, is surrounded by the most beautiful lagoon, dreamy turquoise waters with various corals and fishes, sharks and rays. If you want to have a taste of what French Polynesia truly is, I highly recommend you to add Maupiti to your travel itinerary!
Tereia beach: the most beautiful beach of Maupiti. You can cross the lagoon by foot to the motu Auira.
Snorkel at the coral garden: in the southern part of the motu Auira.
Hike on Mount Teurufaatiu: it offers a 360° view on the beautiful turquoise lagoon (be careful if you are afraid of heights!).
Sea house made with seashell : like a little museum made by a local who offers guided tours twice a day. Ask your pension for more details.
Circle island tour: easy to do by bike. Our friends did it with 2 little girls (2 and 4 years old).
Trip to the motu: you might be able to see some leopard whiprays and manta rays or baby sharks.
Diving: I did my third diving lesson with Yannick from Maupiti diving (the only diving center in Maupiti) and it was the best one. Yannick taught me everything from taking the water off your mask underwater to taking off the regulator underwater before taking me to the manta rays point at 10 meters deep for more than an hour! We were lucky enough to see three manta rays passing upon our head and curiously coming back to see what kind of living beings we were before going back to their coral reef where they get cleaned.
I stayed at Pension Tereia and it was the best place ever. Sandra and hers are such a warm and hospitable family. They will do everything to make you feel at home and enjoy their beautiful island. The homemade breakfasts and dinners are lavish and the excursions on the lagoon are a must! We really feel like we've gained a new home! It's super close to the beach and we can only recommend you to stay there while in Maupiti!
---
My itinerary day by day
Day 1 – Tahiti
[7:00] arrival at Faa'a International Airport & rent a car at Avis
🍴Breakfast: Le Captain Blight
[12:00]
– Belvédère Pirae
– Phare de la Pointe de Vénus
– Plages de sable noir entre Papenoo et Ahonu
– Trou du souffleur
🛌Stay at: Fare d'hôtes Tutehau
(click here for a 10% discount on Booking!)
Day 2 – Huahine
🍴Breakfast: Fare Tutehau (included)
[7:00] return the car at the airport & flight for Huahine
[10:00] rent a car at Fare Maeva location (pick up at the airport) & drop off our luggage at the pension Tupuna
🍴Lunch: Hôtel Le Mahana
Relaxing at the beach and snorkeling
🍴Dinner: Pension Tupuna's restaurant
🛌Stay at: Pension Tupuna
Day 3 – Huahine
🍴Breakfast: Pension Tupuna (included)
Relaxing at the beach of the pension
🍴Lunch: Chez Tara (tahitian oven)
[13:30]
– Marae Anini
– Maison du Pareo (8:30-12:00 ; 13:30-17:30)
– Belvedere
– Sacred eels of Faie
– Maeva Marae
– Coral garden near the Sofitel
🍴Dinner: Kon est bien (snack in Fare)
🛌Stay at: Pension Tupuna
Day 4 – Huahine
🍴Breakfast: Pension Tupuna (included)
[10:00] return the car at Fare Maeva
[12:00] Kayaking and snorkeling in the lagoon of Huahine Iti, from Pension Tupuna to the Motu Vaiorea (in front of the Hana iti beach)
🍴Lunch: on the rocks near the secret coral garden
Kayaking to the Hana iti beach and relaxing
🍴Dinner: Pension Tupuna's restaurant
🛌Stay at: Pension Tupuna
Day 5 –Huahine | Bora-Bora
🍴Breakfast: Pension Tupuna (included)
[9:00] First scuba diving lesson with Mahana Dive
🍴Lunch: Chez Doumé
[12:30] Flight to Bora-Bora
[13:30] Arrival at Bora-Bora & pick up by the Four Seasons
[14:00]
– Exploring the resort
– Relaxing on our private bungalow
🍴Dinner: in-bungalow dining
🛌Stay at: Four Seasons Resort Bora-Bora
Day 6 – Bora-Bora
🍴Breakfast: Four Seasons (included)
[9:30-10:45] Guided snorkeling tour in the Lagoon Sanctuary
Relaxing on our bungalow before snorkeling in the lagoon sanctuary again.
[17:30] Cocktail party at TAHIA
🍴Dinner: Beach bar grill
🛌Stay at: Four Seasons Resort Bora-Bora
Day 7 – Bora-Bora
[8:30] Spa & massage (8:30-17:00)
🍴Brunch: Four Seasons (included)
[14:00]
– Relaxing at the pool and beach
– Paddle
– Snorkeling
[17:30] boat ride to the airport
[18:30] Flight to Raiatea
🍴Dinner: Snack Tonoï
🛌Stay at: Teavapiti Lodge
Day 8 – Raiatea
[11:30] Marae Taputapuatea
🍴Lunch: sandwiches on the beach next to the marae
[14:30] Mount Tapioi hike
[18:00] Boat ride to Taha'a
🍴Dinner: Pension Hibiscus Taha'a's restaurant
🛌Stay at: Pension Hibiscus Taha'a
Day 13 – Tahiti
🍴Breakfast: With our hosts
[9:30] Exploring Papeete
– Papeete market
– Place Vai'ete
– Waterfront (under reconstruction in 2019)
🍴Lunch: from the market
[14:00] Faarumai waterfalls
Driving around the island to Teahupoo.
🍴Dinner: Noix de Coco by Teva (our hosts!)
🛌Stay at: Kanahau Lodge
Day 14 – Tahiti
🍴Breakfast: With our hosts
[10:00] Musée de Tahiti et des îles – Te Fare Manaha (9:00-17:00)
Pointe des pêcheurs to see the black sand beach next to the white sand beach.
🍴Lunch: Chinese restaurant with a friend
Relaxing on the beach Vaiava and last swim in the lagoon.
🍴Dinner: Noix de Coco by Teva (so delicious we went back!)
🛌Sleep at: the airport
I hope this travel guide to French Polynesia, the Society Islands, will be useful for you! You can also mix your trip with other islands and atolls, such as the Tuamotu Archipelago or the Marquesas Islands!
---
If you liked this post, pin it for later!